NEWS
Armie Hammer Cannibal Sex Scandal: Actor Dropped By Agency WME & Publicist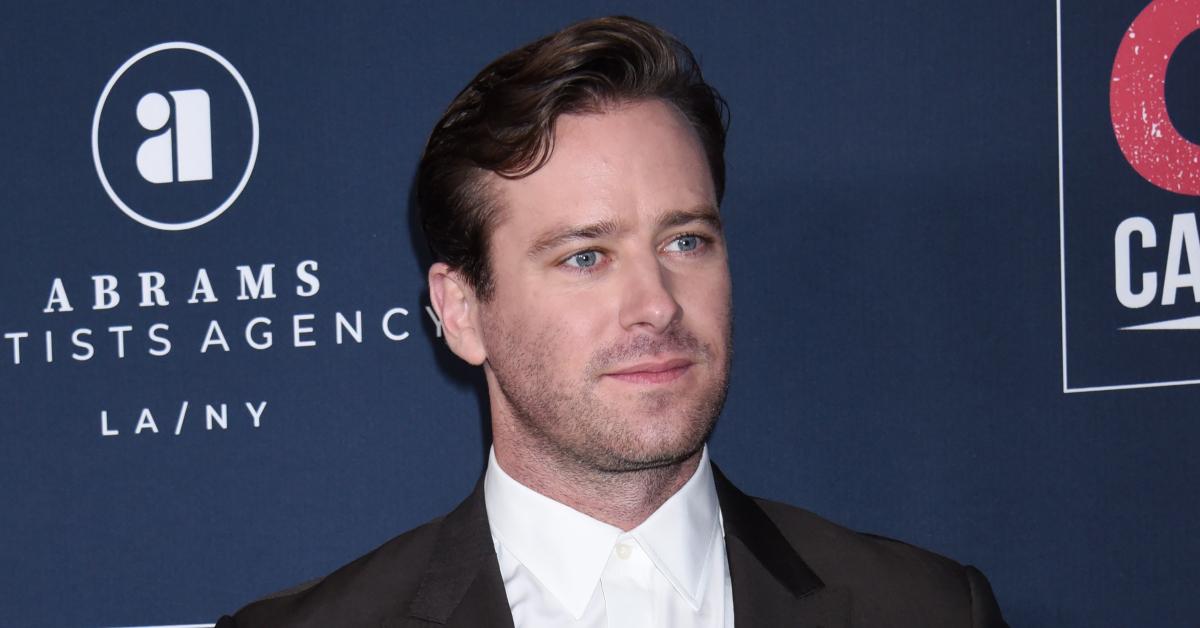 Armie Hammer has been dropped by his agency William Morris Endeavor (WME) and his personal publicist as his cannibal sex scandal continues to dominate the internet.
Article continues below advertisement
The scandal began in January, when the Instagram account House of Effie leaked DMs that the 34-year-old allegedly sent to an unidentified women. In the disturbing unverified messages, Hammer allegedly detailed graphic sexual fantasies.
Article continues below advertisement
After the messages leaked, several woman who had dated Hammer came forward with similar allegations against the Rebecca actor.
Article continues below advertisement
"He was talking about finding a doctor to remove my ribs that I don't need — the ribs that are on the bottom — and that he had a smoker at his house. He wanted to smoke them and eat them. He wondered how they would taste and he basically was like, 'I bet you they would taste good,'" Paige Lorenze told Fox News.
"I think he really has a desire to hurt women."
Courtney Vucekovich told Page Six that Hammer wanted to "break my rib and barbecue and eat it."
Jessica Ciencin Henriquez, who was also linked to Hammer, did not share her experiences with him but said she believes the messages are "real."
Article continues below advertisement
Hammer initially refused to respond to the "b****it claims," and his team denied the allegations as "patently untrue," adding that any interactions with sexual partners were "completely consensual in that they were fully discussed, agreed upon, and mutually participatory."
Article continues below advertisement
"The stories being perpetuated in the media are a misguided attempt to present a one-sided narrative with the goal of tarnishing Mr. Hammer's reputation, and communications from the individuals involved prove that," Hammer's attorney Andrew Brettler previously said.
Additionally, Hammer's ex-wife, Elizabeth Chambers, broke her silence about the allegations earlier this week. "Heartbreak aside, I am listening, and will continue to listen and educate myself on these delicate matters. I didn't realize how much I didn't know," she posted on Instagram. "I support any victim of assault or abuse and urge anyone who has experienced this pain to seek the help she or he needs to heal. At this time, I will not be commenting further on this matter."
Article continues below advertisement
Hammer can't seem to stay out of the spotlight. In January 2021, he was in another scandal when he allegedly posted a photo of a lingerie-clad woman on his private Instagram account and called her "Miss Cayman."
Miss Cayman Islands Universe Committee denounced the video, insisting that the woman in the photo had nothing to do with their organization.
"On January 15, 2021, the RCIPS received an allegation of misuse of ICT in relation to a suggestive video which had been posted on social media. Officers investigated the matter and spoke to the suspect, who was warned about his conduct, in accordance with the wishes of the complainant," the Royal Cayman Islands Police Service stated.
"My deep sympathies to Miss Cayman, who I don't know, and to the entire organization as I had no intentions of implying she was actually Miss Cayman," Hammer said.