NEWS
Armie Hammer Drops Out Of Broadway Show 'The Minutes' Amid LAPD Investigation Into Abuse Allegations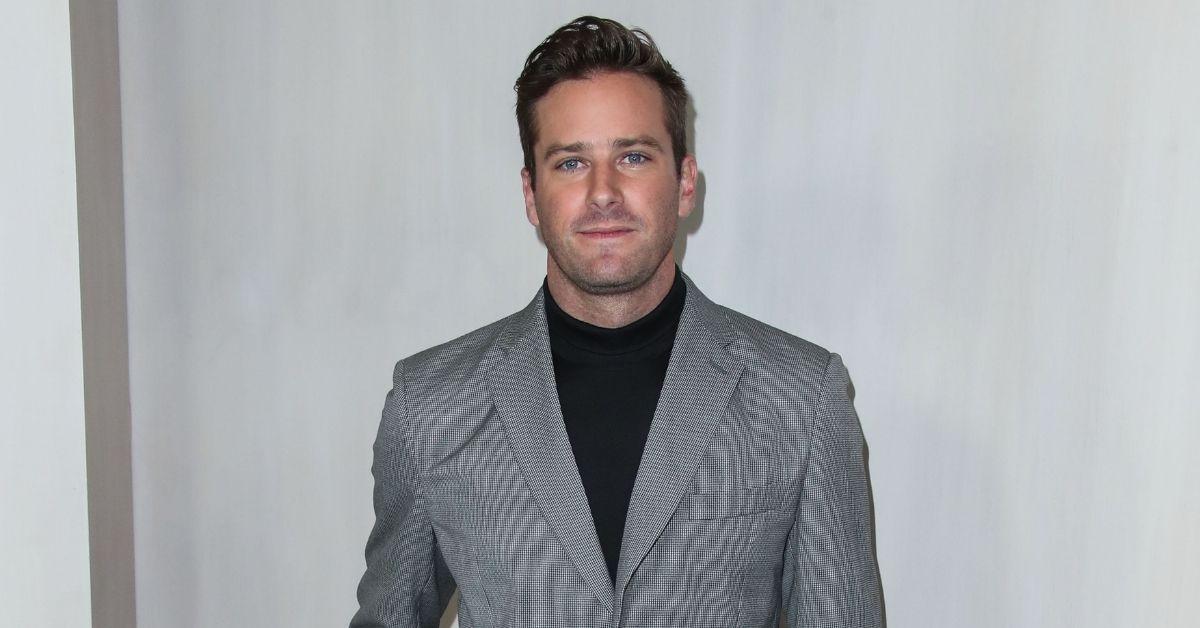 Better call the understudy! Armie Hammer has reportedly dropped out of an upcoming Broadway production of The Minutes after LAPD began to investigate rape allegations made against the 34-year-old.
Article continues below advertisement
"I have loved every single second of working on The Minutes with the family I made from Steppenwolf. But right now I need to focus on myself and my health for the sake of my family. Consequently, I will not be returning to Broadway with the production," Hammer said in a statement on Friday, April 2.
Article continues below advertisement
"Armie remains a valued colleague to all of us who have worked with him onstage and offstage on The Minutes. We wish only the best for him and respect his decision," the production team also said in a statement.
This was reportedly Hammer's last project on his agenda. He exited cold war flick Billion Dollar Spy, a series called Gaslit, Shotgun Wedding, The Offer and was also dropped by his publicist and WME after allegations of sexual misconduct broke earlier this year.
Article continues below advertisement
He previously refused to acknowledge the "bulls**t" claims made against him after stepping down from Shotgun Wedding, but his attorney Andrew Brettler said the reports were a "misguided attempt to present a one-sided narrative with the goal of tarnishing Mr. Hammer's reputation, and communications from the individuals involved prove that."
The scandal began in January when an Instagram account called House of Effie released unverified DMs that were allegedly between Hammer and an unnamed woman where he detailed NSFW fantasies and discussed cannibalism. Then, last month, a woman named Effie Angelova accused the Call Me By Your Name Star of raping her almost four years ago.
Article continues below advertisement
"On April 24, 2017, Armie Hammer violently raped me for over four hours in Los Angeles," the 24-year-old, who is being represented by high-profile attorney Gloria Allred, claimed. "During which he repeatedly slapped my head against a wall bruising my face. He also committed other acts of violence against me to which I did not consent."
Article continues below advertisement
Several exes Hammer also came forward with allegations of their own. Paige Lorenze claimed he told her he wanted to eat her ribs and carved the letter "A" into her pubic area. Courtney Vucekovich alleged he said he wanted to take a bite out of her. LAPD opened an investigation into Hammer on February 3.
"Effie's own correspondence with Mr. Hammer undermines and refutes her outrageous allegations," Brettler responded. "As recently as July 18, 2020, [she] sent graphic texts to Mr. Hammer telling him what she wanted him to do to her. Mr. Hammer responded making it clear that he did not want to maintain that type of relationship with her," the attorney added. "[Effie]'s attention seeking and ill-advised legal bid will only make it more difficult for real victims of sexual violence to get the justice they deserve."
Article continues below advertisement
Variety was the first to report that Hammer stepped down from The Minutes.