NEWS
Armie Hammer Reportedly Axed From 'Billion Dollar Spy' Film Following Rape Claims, DMs Scandal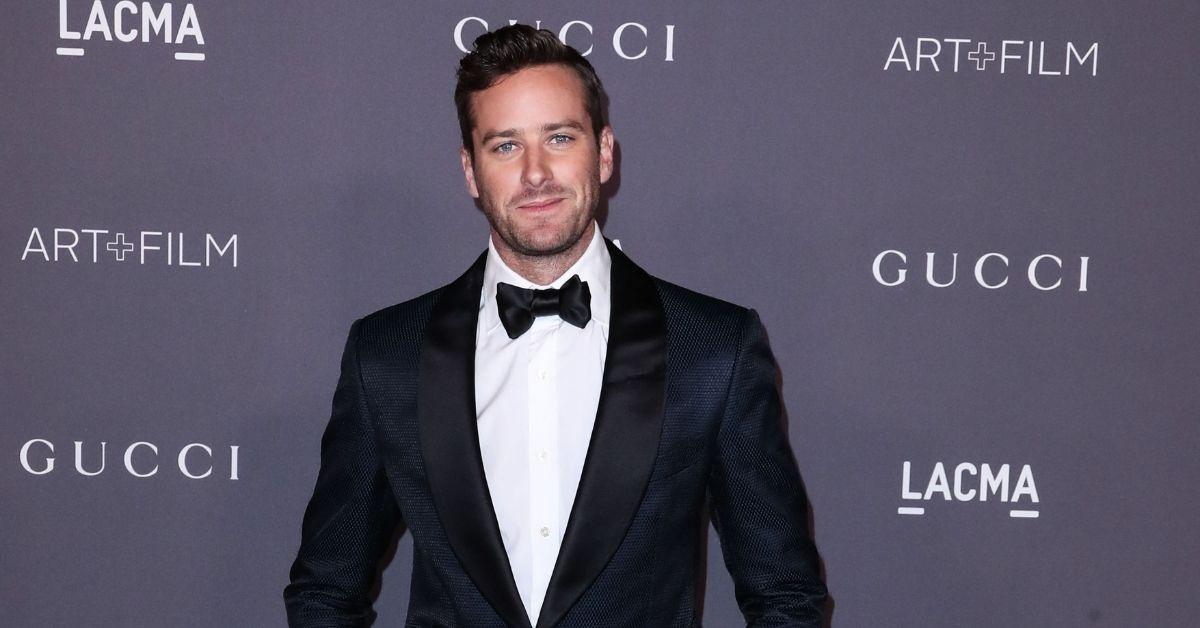 Another loss for troubled actor Armie Hammer. Following allegations of rape, Hammer has reportedly been dropped from another film.
Article continues below advertisement
The 34-year-old is said to have been axed from the upcoming thriller Billion Dollar Spy. He was set to star alongside Mads Mikkelsen in the Cold War drama, but there is no word yet on who will take his role. Representatives for filmmaker Amma Asante and film company Waden Media did not provide comment, and Hammer has not made a statement about exiting the flick.
Article continues below advertisement
Billion Dollar Spy was reportedly the last film on Hammer's agenda after he was dropped from other projects since he began making headlines in January, when unverified DMs allegedly between the Call Me By Your Name Star and a then-unnamed women were leaked by Instagram account House of Effie. The NSFW messages detailed sexual and cannibalistic fantasies, and the actor even allegedly said he once shot a deer and ate its heart raw.
Several women then came forward with allegations against Hammer. Paige Lorenze claimed: "He was talking about finding a doctor to remove my ribs that I don't need — the ribs that are on the bottom — and that he had a smoker at his house."
Article continues below advertisement
During a recent press conference, the woman behind the House of Effie Instagram account came forward with allegations of rape. Effie Angelova said she first started talking to Hammer when she was 20. "On April 24, 2017, Armie Hammer violently raped me for over four hours in Los Angeles," the 24-year-old claimed.
Article continues below advertisement
"During which he repeatedly slapped my head against a wall bruising my face. He also committed other acts of violence against me to which I did not consent," she said. The woman claimed Hammer "abused me mentally, emotionally and sexually" and used "clear manipulation tactics" on her.
Article continues below advertisement
Hammer's camp has denied the claims. "Effie's own correspondence with Mr. Hammer undermines and refutes her outrageous allegations...As recently as July 18, 2020, [she] sent graphic texts to Mr. Hammer telling him what she wanted him to do to her. Mr. Hammer responded making it clear that he did not want to maintain that type of relationship with her," Hammer's attorney Andrew Bretter said in a statement.
"From day one, Mr. Hammer has maintained that all of his interactions with [Effie] — and every other sexual partner of his for that matter — have been completely consensual, discussed and agreed upon in advance, and mutually participatory. [Effie's] attention seeking and ill-advised legal bid will only make it more difficult for real victims of sexual violence to get the justice they deserve."
Article continues below advertisement
Of the various allegations made against Hammer, Brettler previously said, "The stories being perpetuated in the media are a misguided attempt to present a one-sided narrative with the goal of tarnishing Mr. Hammer's reputation, and communications from the individuals involved prove that."
Article continues below advertisement
The LAPD is investigating the allegations, as previously reported by OK!. Before being axed from Billion Dollar Spy, Hammer previously exited Shotgun Wedding, The Offer and was dropped by his publicist and WME.
Variety was the first to report that Hammer has been dropped from Billion Dollar Spy.