COUPLES
'The Final Straw': Elizabeth Chambers Reportedly Filed For Divorce After Armie Hammer Sent Her 'Raunchy' Text Meant For Someone Else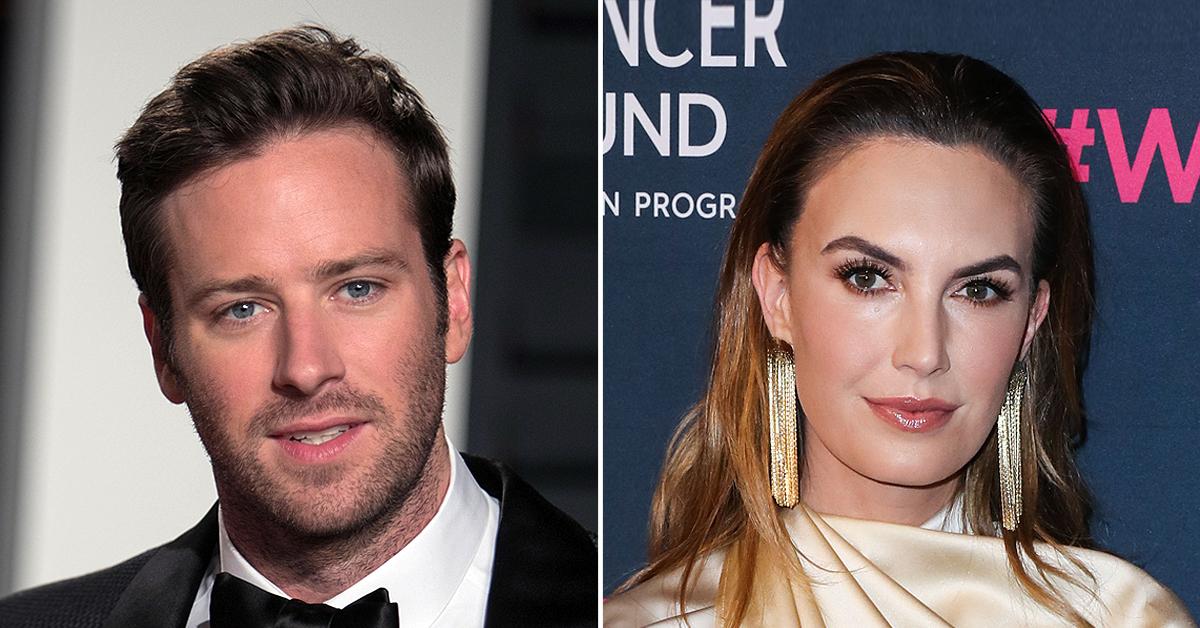 Elizabeth Chambers, the wife of troubled Hollywood star Armie Hammer, reportedly filed for divorce last summer after receiving a "raunchy" text from Hammer that was said to be for somebody else.
Prior to Hammer making headlines for being at the center of a cannibal sex scandal, Chambers, 38, called it quits with the actor amid him leaving her and their children, Harper, 6, and Ford, 4, in the middle of quarantine.
Article continues below advertisement
As OK! previously reported, Chambers, Hammer and their kids flew down to the Cayman Islands at the start of the coronavirus pandemic; however, he returned to the U.S. following the former couple's separation announcement in July.
"The Hammers had been in expensive family therapy, but, to Elizabeth, the indiscretions — and more notably his decision to flee the family during a global pandemic — were the final straw," Vanity Fair's Julie Miller reported in a new exposé. "When Armie touched down in the U.S., he mistakenly sent a raunchy text message meant for someone else to his estranged spouse. Elizabeth filed for divorce shortly after."
Article continues below advertisement
Shortly after the coparents separated — which their kids reportedly weren't aware of at the time — Hammer was photographed with a string of women. And only a few months later in January, the Call Me By Your Name star, 34, began trending on social media after alleged messages, which instantly went viral but have not been verified, from the actor discussing his detailed sexual fantasies with an unidentified woman were posted.
Despite Chambers feeling "blindsided left, right and center" by her estranged husband's controversial sex scandal, her real concern is apparently what will happen when their kids learn the truth about Hammer.
"The internet is forever, and it kills her that one day her children will see how brazen their father has been, not only with his casual dating and drug use, but with these deeply disturbing allegations," a source close to Chambers dished, according to the Vanity Fair report.
Article continues below advertisement
"He was talking about finding a doctor to remove my ribs that I don't need — the ribs that are on the bottom — and that he had a smoker at his house. He wanted to smoke them and eat them. He wondered how they would taste and he basically was like, 'I bet you they would taste good,'" Lorenze told Fox News. "I think he really has a desire to hurt women."
"He said to me he wants to break my rib and barbecue and eat it," one of his other exes, Courtney Vucekovich, claimed. "He says, I want to take a bite out of you. If I had a little cut on my hand he'd like suck it or lick it."