NEWS
'Are You Not Self Aware?': Barstool Sports CEO Dave Portnoy At War With Patrick Mahomes' Brother Jackson On Instagram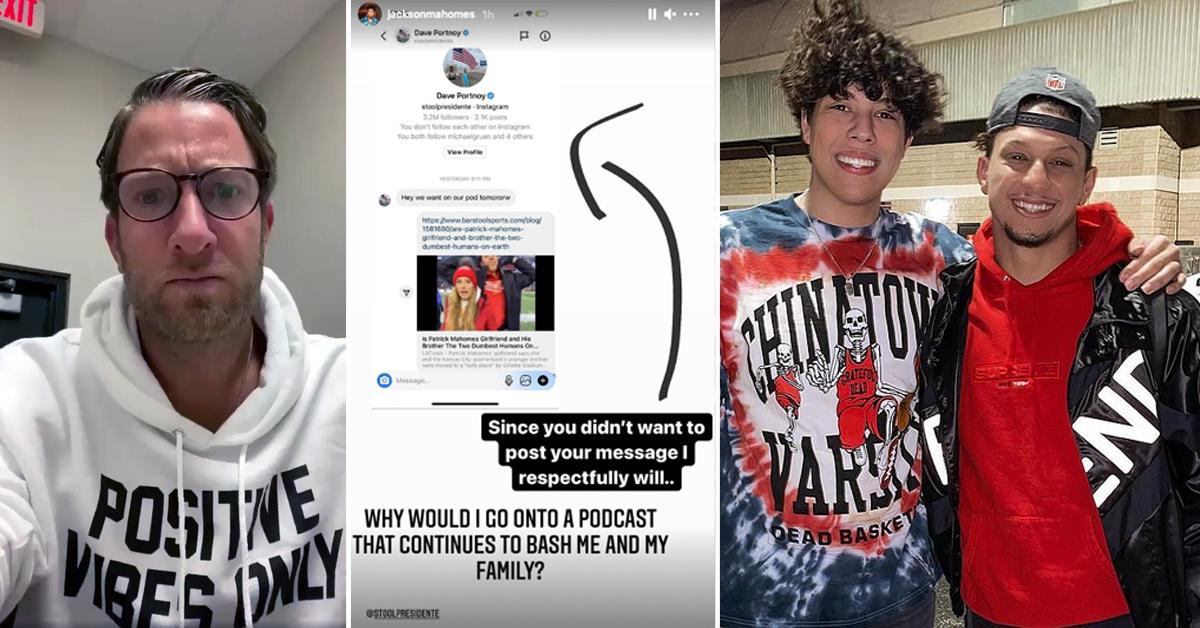 The claws are (virtually) out when it comes to Dave Portnoy's feud with Patrick Mahomes' younger brother, TikTok star Jackson Mahomes, on Instagram.
The Barstool Sports CEO previously bashed the Kansas City Chiefs quarterback's brother as well as his fiancée, Brittany Matthews, in 2019. Portnoy shared a video of Jackson, 20, and Brittany, 25, at Gillette Stadium during a Patriots-Chiefs game where they were seen chanting: "Nah…nah…nah…nah…hey..hey..hey..Goodbye" at Patriots fans after the team lost.
Article continues below advertisement
Brittany apparently claimed she was harassed by fans at the game and said she and Jackson had to be moved to a "safe place" after being heckled by New England fans. Jackson corroborated her claims and tweeted: "Patriots fans are rude as hell!! Everyone was sleeping on us, so we woke em up."
Article continues below advertisement
The young TikToker also shared a video of himself dancing on the field with Brittany — who is pregnant with Patrick's child, their first together — and wrote: "Since everyone likes to hate on my TikToks I made one today in honor of @barstoolsports," via Twitter.
Two days later, Portnoy shared the viral video — which he posted on his Barstool Sports blog — of the two mocking Patriots fans and wrote, "Is Patrick Mahomes Girlfriend and His Brother The Two Dumbest Humans On Earth? @jacksonmahomes."
Article continues below advertisement
Fast forward two years, and the feud seems far from over. Jackson recently posted a screenshot of an Instagram DM from Portnoy, asking if he wanted to be on Barstool Sports' podcast.
In response, Jackson sent Portnoy back his Barstool Sports blog from 2019, writing: "This you?"
"Why would I go onto a podcast that continues to bash me and my family," he wrote alongside his post on his Instagram Story. Jackson proceeded to share three more requests from Barstool Sports for him to join as a guest on their podcast recording.
Portnoy shared the remainder of the DM conversation between the two via his respective Instagram Story. "Yup," Portnoy replied to Jackson's question of if he wrote the blog. "That you in the vid?"
Article continues below advertisement
"Yup," Jackson answered before telling Portnoy he'll pass on joining his podcast. "Wait are you not self aware?" Portnoy responded to the rejection. "I thought you were."
He took it a step further by answering Jackson's rhetorical question of why he would go on a podcast that bashes his family.
Article continues below advertisement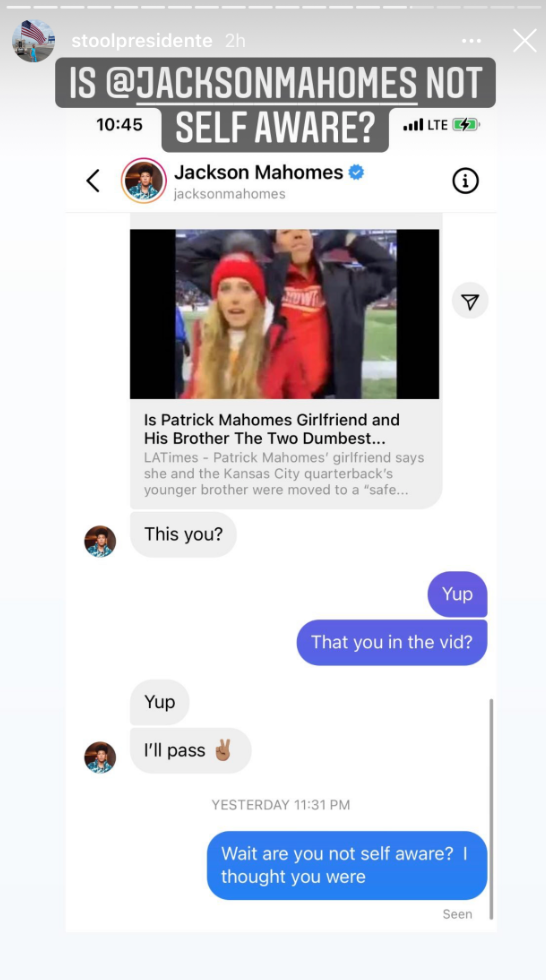 "Cause you make Tik Toks dancing like an a**hole? Isn't that part of the joke," he wrote before adding: "And you're trying to f*ck @joshrichards girlfriend. So yeah seems like you should come on @BffSPOD," Portnoy added, referring to a fellow TikTok star Josh Richards.
Article continues below advertisement