Bindi Irwin Sings To 'Adorable' Daughter Grace Warrior In Husband Chandler's Instagram Video As Rift With Grandfather Heats Up
Cuteness overload! Proud mama Bindi Irwin gave her daughter Grace Warrior a geography lesson when she sang to her the name of the 50 states, while the adorable 3-month-old couldn't stop giggling.
Article continues below advertisement
Bindi's hunky hubby, Chandler Powell, shared the sweet clip on Tuesday, July 6. "Sound on! 🔊 Our little Grace Warrior learning about her dad's home country from her beautiful mama," he captioned the post.
Article continues below advertisement
Powell — who was born in Florida and married Bindi in March 2020 — continued, saying, "P.S. Bindi wanted to send a shoutout to New Hampshire! Grace's laugh was too adorable to remember every state!"
Article continues below advertisement
The precious post comes two days after Powell posted a snap of his wife introducing their daughter to some baby kangaroos at their family zoo. "Introducing our @australiazoo kangaroo joey to our human joey🦘 Grace absolutely loved meeting the littlest roos with her mama❤️," he captioned the post on July 4.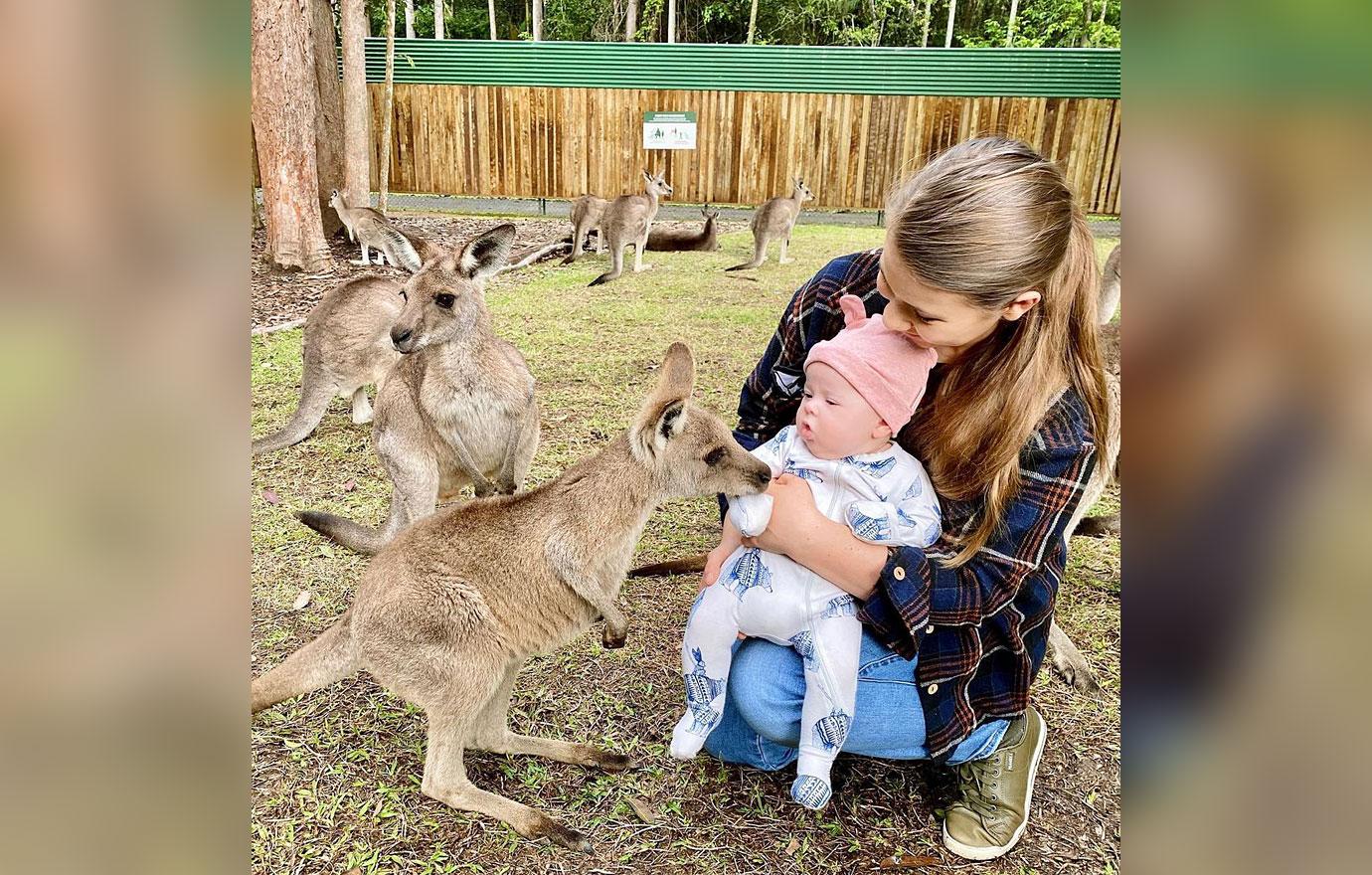 Article continues below advertisement
The series of posts from Powell comes after Bindi announced she was taking a social media break after unmasking a family feud between the late Crocodile Hunter Steve Irwin's wife, Terri, his children and their grandfather, Bob.
Bindi claimed she has endured years of abuse from her grandfather in a Father's Day post praising her late dad and husband. "Appreciation post for the three most incredible fathers in my life," Bindi captioned a series of family portraits via Instagram. "My dad, my husband and my father-in-law."
Article continues below advertisement
When a curious fan asked why she excluded her grandfather from the post, she responded, saying the elder Irwin has "shown no interest" in spending time with her or her family.
Article continues below advertisement
"He has returned gifts I've sent him after he opened them, he has ignored my correspondence and from the time I was a little girl he has ignored me, preferring to spend time doing anything else rather than being with me," Bindi wrote in a since-deleted post, OK! reported. "He has never said a single kind word to me personally. It breaks my heart but it is not healthy to engage in an abusive relationship."
Following Bindi's shocking claims, Terri posted a cryptic message via Twitter about steering clear of toxic people in your life. "Avoiding certain people to protect your mental health is not weakness… it's wisdom," Terri's quote by author and military veteran Steve Maraboli read on Sunday, June 20. "Thank you @SteveMaraboli. Another jewel. Caring for others seems to be easier than caring for ourselves."
A source exclusively dished to OK! that after Bindi and Terri aired their family secrets out for the world to see, things could get ugly — as the grandfather might retaliate. "Bob doesn't have a history of holding his tongue, and after Bindi's accusations, a lot of skeletons may come out of the Irwin family's closet," an insider spilled.