Terri Irwin Shares Cryptic Message About 'Avoiding Certain People' After Daughter Bindi Exposed Feud With Estranged Grandfather Bob
Shots fired. After Bindi Irwin claimed her grandfather, Bob Irwin, has "ignored her" since she was a little girl, Bindi's mom, Terri Irwin, seemed to chime in on the family feud.
Article continues below advertisement
Terri, Bob's daughter-in-law, posted a cryptic message about steering clear of toxic people to Twitter just one day after Bindi made her shocking claims against her grandfather on Sunday, June 20.
"Avoiding certain people to protect your mental health is not weakness… it's wisdom," Terri's quote by author and military veteran Steve Maraboli read. The 56-year-old captioned the post: "Thank you @SteveMaraboli. Another jewel. Caring for others seems to be easier than caring for ourselves."
Article continues below advertisement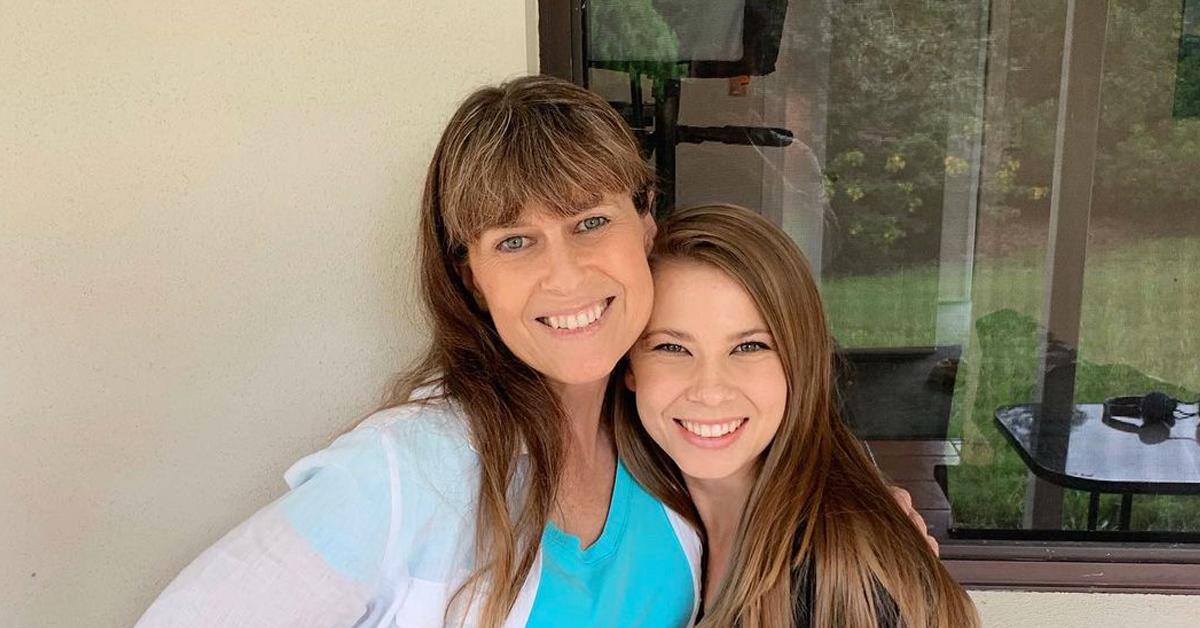 Terri emphasized that it "takes courage to follow through on what we know is the right thing to do," before adding that she is "wishing everyone the best to be brave and wise. It's worth it!"
Article continues below advertisement
While the mother-of-two didn't directly address who she had in mind when sharing her message, many can assume her post coincided with her daughter's previous social media comment about Bob.
Article continues below advertisement
As OK! previously reported, on Sunday, Bindi posted photos of her father, Steve Irwin, husband Chandler Powell — who is the father of her daughter Grace Warrior Irwin Powell — and father-in-law Chris, captioning the touching snap: "Three most incredible fathers in my life." When one fan asked about grandfather Bob, the 22-year-old claimed he has "shown no interest" in spending time with her or her family.
The brunette beauty also claimed her estranged grandfather "has returned gifts I've sent him" and "never said a single kind word to me personally." To conclude, Bindi said she refuses to "engage in an abusive relationship" with Bob.
Article continues below advertisement
OK! reported that days after Bindi's searing comment made headlines, she announced she was taking a break from social media to focus on her and her hubby's daughter and their family. "Hi guys, Just a note to say thank you for your support," she began her Tuesday, June 22, Instagram post alongside a black-and-white photo of her and Grace.
"I'm taking a break from social media and most of my work in the public eye for a month to be with my beautiful daughter and my wonderful family," she concluded.
Article continues below advertisement
Chandler was quick to praise his wife on his respective Instagram page, sharing that Bindi inspires him with her "unwavering kindness" and the "ability to stand up for what is right."
Article continues below advertisement
And while Bob has remained tight-lipped about the family rift, his apparent pal, Amanda French, recently spoke on the 82-year-old's behalf.
During an interview with B105's Stav, Abby and Matt on Tuesday, June 22, French — who co-authored Bob's 2016 autobiography The Last Crocodile Hunter — claimed Bob loves his grandchildren, Bindi and 17-year-old brother Robert Irwin, although he hasn't seen them since leaving Australia Zoo in 2008.
Article continues below advertisement
Bob has said "nothing but great things" about his grandchildren, French insisted, adding that it's been 13 years since Bob visited his son's grave because he's buried at Australia Zoo. "Steve's burial place is inside the zoo... That's hard for [Bob], not to be able to return to his son's resting place. He hasn't been back to Australia Zoo since 2008," she added.
French also addressed the claim that Bob has returned gifts sent to him by the family. While she acknowledged that this was true, French explained that he hasn't had a relationship with the family since "2007 or 2008," adding that "the gifts were returned because they were odd."
Eighteen months after Steve died in 2006, Terri and Bob apparently had a falling out, with the late wildlife warrior's dad leaving the Zoo. However, the family still sends him funds every week, according to Bindi's Facebook comment.