NEWS
Striking Out? Derek Jeter Lowers Greenwood Lake Family Castle Price To $12.75 Million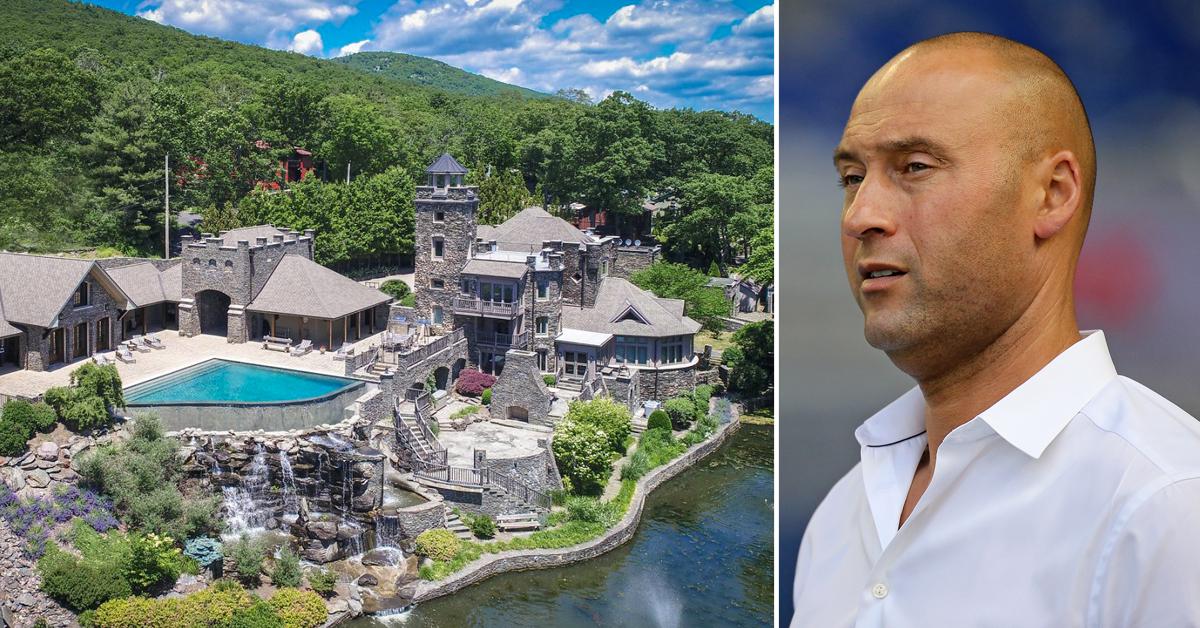 It looks like former New York Yankee icon Derek Jeter didn't hit a home run with his initial listing on his Greenwood Lake mansion in New York, as he decided to lower the price by $2 million. While the home was first listed in 2018 for $14.75 million, he put it back on the market for $12.75 million.
Jeter's historic-family castle is easily one of the most unique properties on the market right now. The mansion offers ample space throughout the compound and an unprecedented amount of amenities including, four indoor kitchens, one outside kitchen and an extra-large, infinity-edged pool and more.
Article continues below advertisement
The area has also become a hot spot for celebrities. Greenwood Lake has been a popular tourist destination since the late 1800s, attracting those who enjoy living the life of luxury — including icons like Greta Garbo and Babe Ruth. The seven-mile lake offers restaurants, such as one of Ruth's favorite spots, Maplewood Inn, and beautiful sights of mother nature at its finest.
Article continues below advertisement
Jeter's dramatic compound actually consists of two castles, the master castle with a connected tower and a guest castle.
LOOK INSIDE DEREK JETER'S MASSIVE $29 MILLION MANSION THAT'S UP FOR SALE
With 12,590 square feet of living space between the main and guest castles, there are endless opportunities for the most extravagant parties imaginable. The living areas include six bedrooms, seven full and five half baths, multiple dens, a great room, game room, sunroom, formal dining room, office, gym and family room with a bar.
In addition, there is a turret that opens to a widow's walk, which is duplicated on the guest house — offering exceptional views of the lake and woods. While the entire estate is exquisite, the highlight of the enchanting home is the outdoor space.
Between the extensive gardens, with a Statue of Liberty replica, and mesmerizing backyard, it's impossible to call the compound anything but a masterpiece.
Jeter previously resided in his historic family home with his wife, Hannah — the two wed in 2016 — and daughters, Bella, 3, and Story, 2.