Donald Trump Jr. Joins Cameo, Sells Video Messages for $500 Each
Ever dreamt of getting a personal video message from Donald Trump Jr.? Well, you're in luck: The former President's eldest son has joined Cameo!
Article continues below advertisement
The 43-year-old is selling clips on the custom video creation platform for $500 each, but the clips can cost up to $787 if the customer wants to receive it within 24 hours, The Independent reported.
"It's good to be here," Trump said in his introductory clip. According to his bio, "A portion of proceeds will be donated to Shadow Warriors Project" which supports military contractors. (However, he did not specify what percentage of the profits will be donated.)
Article continues below advertisement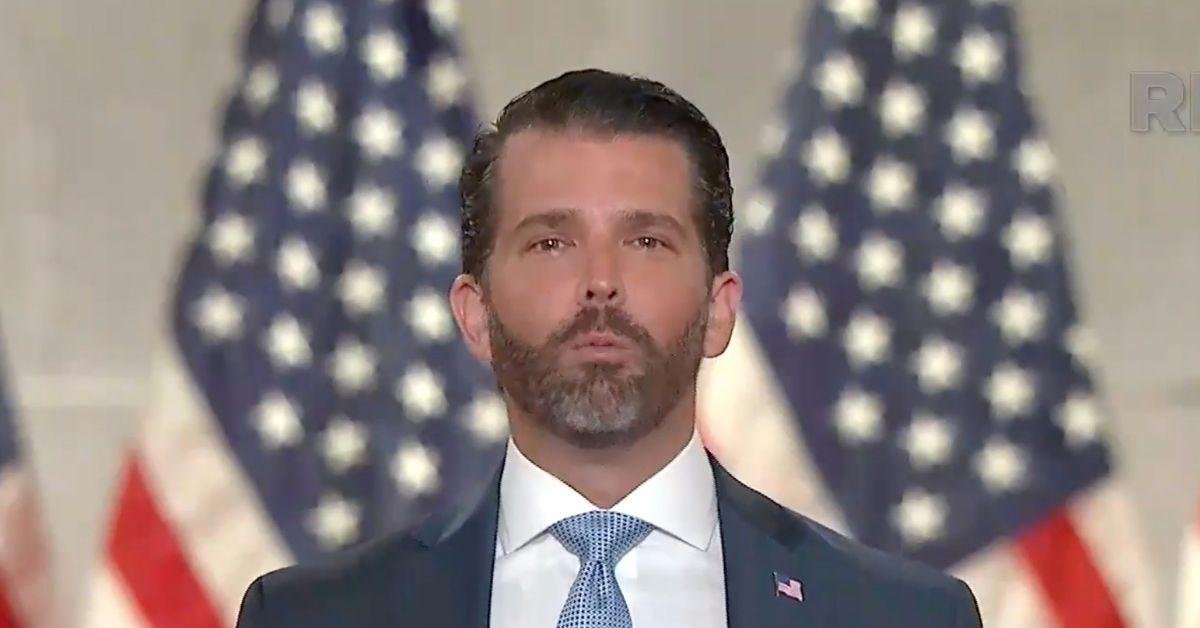 Article continues below advertisement
The dad-of-five — who shares Kai, Donald John III, Tristan, Spencer, and Chloe with ex-wife Vanessa — categorized himself as an "activist" on the site. He joins the ranks of other public figures and celebrities, including former presidential advisor (and current girlfriend) Kimberly Guilfoyle and other notable names such as Michael Rapaport, Sean Astin and Charlie Sheen.
Article continues below advertisement
According to The Guardian, he made a political remark in one video for a customer named Peter. "Fortunately for you, at least you have a family that has the sense to not be a lib and that they're full of Trump supporters," he said. "So that's pretty awesome. I hope your family rides you like Seabiscuit."
Article continues below advertisement
Manhattan prosecutors have been investigating whether or not the Trump Organization misled lenders and insurance companies about the value of properties and paid appropriate taxes.
Article continues below advertisement
With the probe close to the end, a grand jury has convened to decide if the former President will be indicted. The panel will also debate if executives at the organization or business will be indicted if criminal charges are presented, according to The Washington Post. The grand jury will reportedly meet three days a week for six months to discuss possible indictments.
Trump admitted to Fox News host Tucker Carlson on Wednesday, June 2, that the investigation racked up "tens of millions of dollars" worth of legal bills. The Triggered author, who is an executive vice president at the company, also called the investigation "a political persecution."
Article continues below advertisement
Meanwhile, his father, former President Donald Trump, released a statement on Tuesday, May 25, where he claimed the investigation is "purely political" and called it a "continuation of the greatest witch hunt in American history" and proof "our country is broken."
"No other President in history has had to put up with what I have had to, and on top of all that, I have done a great job for our Country, whether it's taxes, regulations, our Military, Veterans, Space Force, our Borders, speedy creation of a great vaccine (said to be a miracle!), and protecting the Second Amendment," the statement concluded.