COUPLES
Jill Biden Vs. Melania Trump: Who's More Affectionate? See The PDA-Packed Photographic Evidence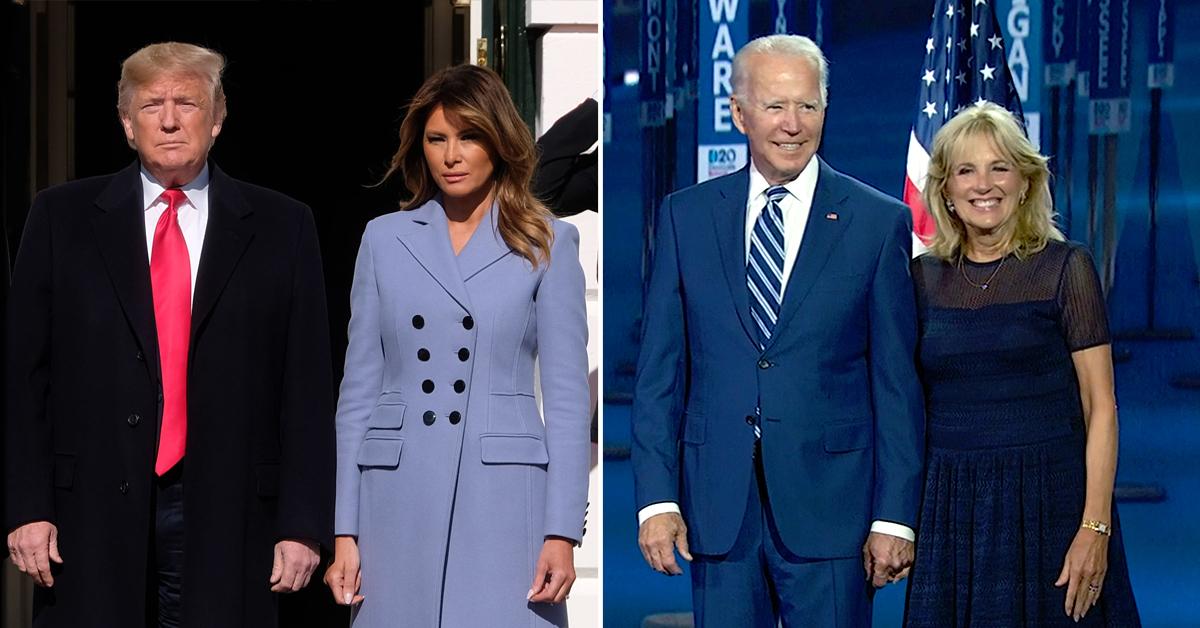 Moments before he was sworn in as the 46th President of the United States, Joe Biden shared a very personal clip showing a tender, private moment between him and his wife, Dr. Jill Biden, as she reached for his hand to let him know she was there for him.
Article continues below advertisement
When Joe and Jill first met in 1975, they were at very different points in their lives. Three years earlier, Joe lost both his wife, Neilia Biden, and his 1-year-old daughter, Naomi, in a horrific car accident in which a tractor-trailer slammed into their family vehicle. Their two young sons, Hunter and Beau, survived.
Jill, meanwhile, was a senior at the University of Delaware, who was just about to graduate. The blonde beauty was pondering what to do next with her life when Joe's brother Frank Biden introduced the pair.
Article continues below advertisement
Tonya Reiman, author of three books on body language and human behavior, exclusively tells OK!, that when you look at pictures of Joe and Jill together, they are still reminiscent of a "young couple in love," which is a stark contrast from the previous President, Donald Trump, and his wife, Melania Trump.
"With the Biden's we see a couple who are very comfortable with one another and it seems natural for the two to lock hands whether interlaced or palm to palm," she said, while the Trump's seem like "two individuals who are uncomfortable with each other."
Article continues below advertisement
It's hard to forget about the time that Melania pulled her hand away from Donald after the presidential debate in October. This wasn't the first time that the First Lady had recoiled at the touch of her husband's hand, either. In the past, she would pull away or simply walk ahead of Donald to avoid any personal connection.
Melania and Donald's love story is a little different than the Biden's. In September 1998, as part of New York City's Fashion Week festivities, then 28-year-old model Melania Knauss attended a party at the Kit Kat Club in Times Square, where she caught the eye of the 52-year-old real-estate mogul, who was in the midst of divorcing his second wife, Marla Maples.
After several break-ups, the two tied the knot in 2005. They share one child together, Barron Trump. Donald has four other children from his previous relationships: Don Jr., Ivanka, Eric and Tiffany Trump.