NEWS
Video Surfaces From Donald Trump Viewing Party At The Capitol On Day Of Deadly Riots, With Dancing Kimberly Guilfoyle Urging Followers To 'Fight'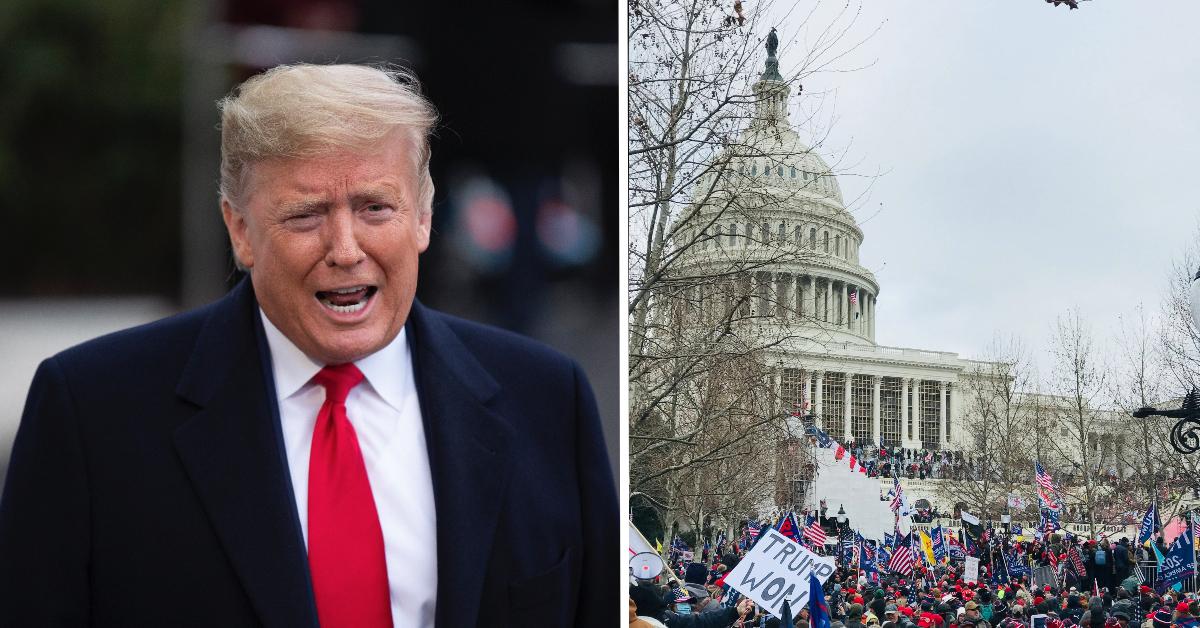 Donald Trump supporters wreaked havoc on the D.C. Capitol on Wednesday, January 6, and on that same day, video — seemingly captured before the deadly violence ensued — shows the 74-year-old and his family watching screens of live footage from inside a tent, with Donald Trump Jr. and his girlfriend, Kimberly Guilfoyle, all smiles.
Though the timeline of events is unclear as to when Donald Jr. began live-streaming for his followers, multiple Twitter users have posted the shocking content. See the footage below.
Article continues below advertisement
Article continues below advertisement
In the tent, Trump and others looked at a video screen, and unsurprisingly, no one was wearing masks.
The video has sent social media users over the edge. One person wrote, "Arrest them NOW," while another echoed, "I feel sick to my stomach." A third social media user added, "LOCK THEM UP!!"
Trump's supporters broke into the Capitol and caused a scene earlier this week. After the chaos ensued, Trump had a weak response and advised them to "go home" but said he "loves" them and they're very "special."
"I know your pain, I know you're hurt. We had an election that was stolen from us. It was a landslide election and everyone knows it, especially the other side. But you have to go home now… This was a fraudulent election, but we can't play into the hands of these people. We have to have peace," he added.
Article continues below advertisement
As a result, five people died, including Capitol police officer Brian D. Sicknick.
The next day, Trump made an announcement where he then condemned the incident.
"The demonstrators who infiltrated the Capitol have defiled the seat of American democracy," he said. "To those who engaged in the acts of violence and destruction, you do not represent our country. And to those who broke the law, you will pay."
"The quickest and most effective way — it can be done today — to remove this president from office would be for the Vice President to immediately invoke the 25th Amendment," Schumer explained on January 7. "If the Vice President and the cabinet refuse to stand up, Congress should reconvene to impeach the president."