NEWS
Donald & Melania Trump Condemned For Hiding Their COVID Vaccination From The Public — They Could've Helped 'Melt Away' Vaccine Hesitancy, 'Saved Lives'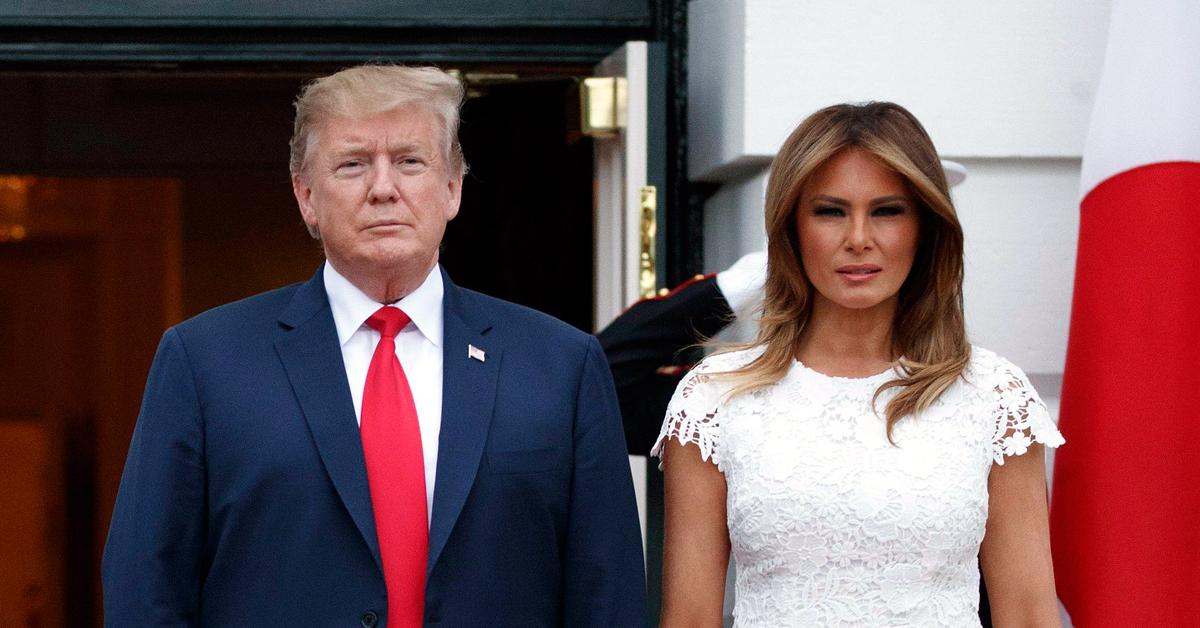 Former president Donald Trump and former first lady Melania both received the vaccine while they were still living in the White House in January — and decided not to tell anyone about it!
On Monday, March 1, an advisor from the Trump administration reportedly confirmed that the duo both received the vaccine. The shocking news came one day after Trump said for the first time that "everyone" should get the coronavirus vaccine during his speech at the Conservative Political Action Conference on Sunday, February 28.
Article continues below advertisement
Dr. Peter Hotez explained that if the former president and first lady decided to reveal that they got the COVID-19 vaccine, it would've helped "melt away" a lot of vaccine uncertainty, given that various reports have suggested his supporters are more hesitant to receive the vaccine than those in the Democratic party.
JILL BIDEN VS. MELANIA TRUMP: WHO'S MORE AFFECTIONATE? SEE THE PDA-PACKED PHOTOGRAPHIC EVIDENCE
Earlier on Monday, Axios published a poll, which showed that a whopping 56% of white Republicans are unsure if they'll get vaccinated, despite the fact that all three available vaccines have been deemed safe and effective by the Food and Drug Administration.
Article continues below advertisement
Since the COVID-19 pandemic began over a year ago, Trump has repeatedly downplayed the severity of the virus — which he admitted to doing because he didn't want to "create a panic" — routinely mocked the idea of masks and often contradicted public health experts. The former president's nonchalant attitude toward the deadly virus undoubtedly inspired millions of Americans to disregard safety precaution and any efforts to stop the spread of the virus.
News of the Trumps' vaccination spread like wildfire on Twitter, with many calling out the former first family for hiding crucial information that could have saved lives. Activist Erin Brockovich took to social media, writing, "Trump got the vaccine but didn't want you to know. He didn't want you to believe it was safe. His persona is more important to him than your life. It's all an act."
Article continues below advertisement
Political commentator Brian Tyler Cohen wrote, "So Trump got the vaccine in January, but because his entire identity is predicated on pretending that following science/public health are signs of weakness, he did it in private and refused to tell anyone."
Article continues below advertisement
Meanwhile, Rachel Maddow was clearly overcome with emotion on a news segment discussing the matter. "And now we find out that [Trump] also took the vaccine, but kept it secret. At a time when simply being straight with people about that might have saved thousands of American lives, or more," she said. "It's just unbelievable. Who did that benefit?"
Article continues below advertisement
Article continues below advertisement
As OK! previously reported, Trump indicated that he and Melania, 50, will make their way back into the White House during his CPAC speech, which his wife wasn't present at.
He told the audience that Melania would soon be the "future first lady" and claimed he would "beat" the Democrats for a "third time," referring to his false claims that the Democrats were responsible for the alleged voter fraud that caused him to lose the 2020 election.
He then went on to slam the "radical Democrats" and "the fake news media and their toxic cancel culture," before he confirmed that the "Republican Party is united." Trump further insisted that the only division "is between a handful of Washington D.C. establishment political hacks, and everybody else all over the country."