Ex-President Donald Trump Sues Facebook's Mark Zuckerberg, Twitter's Jack Dorsey Following Social Ban: Report
Update: Donald Trump officially filed a class-action lawsuit on Wednesday targeting Facebook, Google and Twitter. The suits were reportedly filed in Florida and Trump declared at a news conference he would call for the court to issue an order blocking the social media giants from being allowed to censor its users.
Article continues below advertisement
"We're demanding an end to the shadowbanning, a stop to the silencing, and a stop to the blacklisting, banishing and canceling that you know so well," Trump said, reported The Washington Post.
Trump argues that the companies violated his First Amendment rights when they suspended his accounts following the deadly Capitol riot. He targeted Facebook in particular, and claims they should no longer be considered a private company but a "state actor," which would place them under the First Amendment guidelines and prohibit them from limiting free speech. The lawsuits also reportedly seek unspecified punitive damages.
Article continues below advertisement
Earlier in the day it was reported that Donald Trump was set to speak out about his social media ban — though he obviously can't tweet about it! According to Axios, the former president planned to announce class action lawsuits against Facebook CEO Mark Zuckerberg and Twitter CEO Jack Dorsey.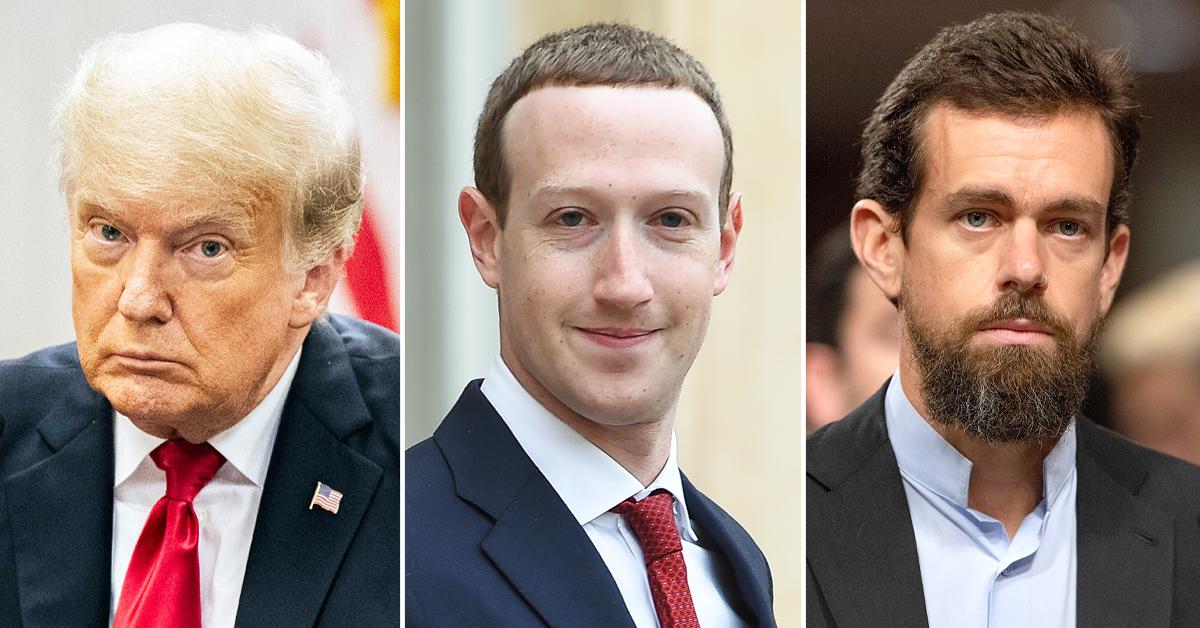 Article continues below advertisement
The legal effort from the 75-year-old will be supported by the America First Policy Institute — a non-profit focused on perpetuating Trump's policies — according to the outlet, who also reports that Trump would be joined by the group's president and CEO and board chair, former Trump officials Linda McMahon and Brooke Rollins, during the announcement.
Article continues below advertisement
Though Facebook and Twitter declined to comment on the impending legal action, OK! previously reported that Facebook announced last month that Trump's suspension will remain in effect for two years.
Article continues below advertisement
"Given the gravity of the circumstances that led to Mr. Trump's suspension, we believe his actions constituted a severe violation of our rules which merit the highest penalty available under the new enforcement protocols," Facebook VP Nick Clegg said in a blog post at the time.
Trump, who has repeatedly complained about censorship, was thrown in social media jail earlier this year when he was deemed a "risk" following his actions on January 6. Two days following the insurrection at the Capitol, Twitter put a permanent ban on Trump's account, @realDonaldTrump, to avoid "further incitement of violence."
Article continues below advertisement
He was simultaneously shut out of Facebook by Zuckerberg, who wrote on Facebook at the time: "The shocking events of the last 24 hours clearly demonstrate that President Donald Trump intends to use his remaining time in office to undermine the peaceful and lawful transition of power to his elected successor, Joe Biden."
Article continues below advertisement
Trump's Facebook suspension is set to lift on January 7, 2023 — however, there are some stipulations before the former president can start sending out friend requests.
Clegg stated that Facebook will "look to experts to assess whether the risk to public safety has receded" by the time Trump's suspension is set to expire. The company will also evaluate several "external factors," Clegg explained, "including instances of violence, restrictions on peaceful assembly and other markers of civil unrest," when making its decision regarding Trump's fate.