NEWS
Photos Of Donald Trump's Mar-a-Lago Office Revealed After Surprise FBI Raid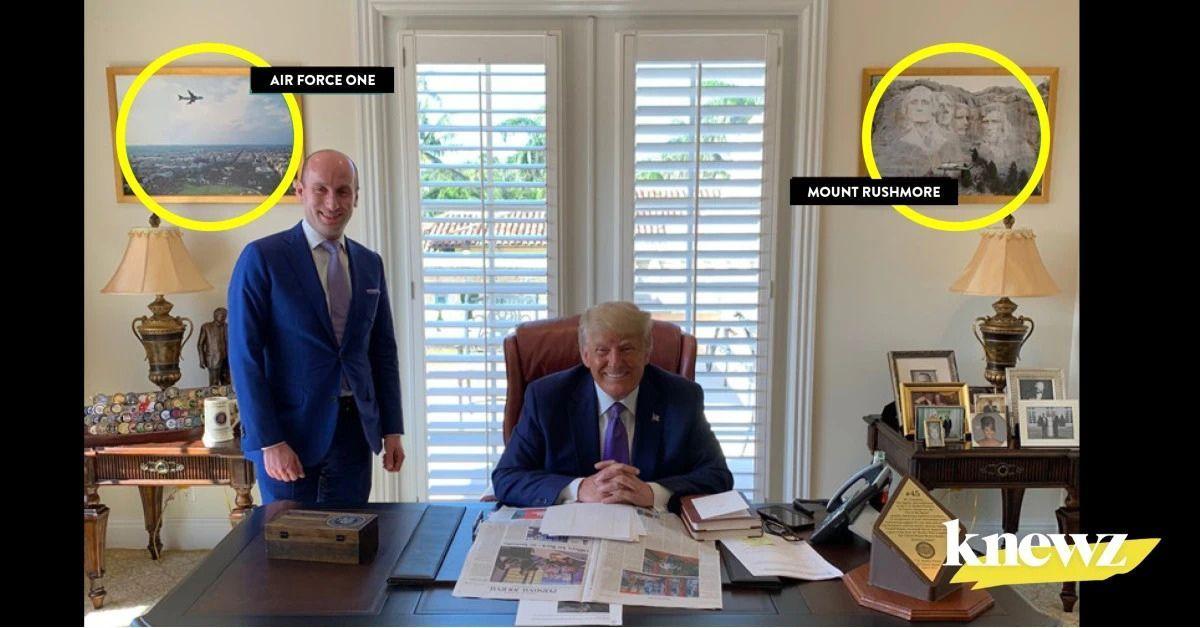 Rare photos of former President Donald Trump's Mar-a-Lago office have been revealed after the FBI "ransacked" the embattled politician's Palm Beach home on Monday, August 8.
The pictures obtained by Knewz were first shared last year after former White House aide Stephen Miller visited the luxurious Florida property.
Article continues below advertisement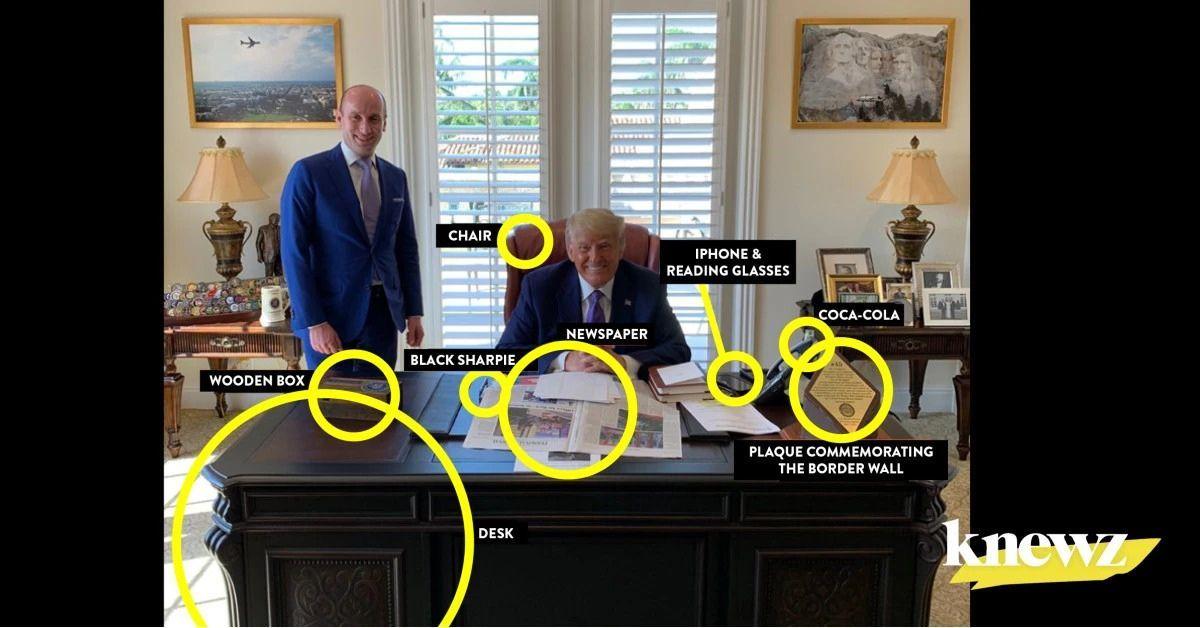 The FBI broke into Trump's personal office at the upscale resort and reportedly opened a safe during their raid. Authorities are believed to have been searching for any documentation and other items taken to Mar-a-Lago after he left the White House when Joe Biden was named president in the 2020 election.
NEW BOOK CONTAINS PHOTOS OF THE DOCUMENTS DONALD TRUMP ALLEGEDLY TRIED TO FLUSH DOWN TOILETS
According to a source familiar with the investigation, the FBI found boxes full of pages of classified documents at the controversial politician's residence.
Article continues below advertisement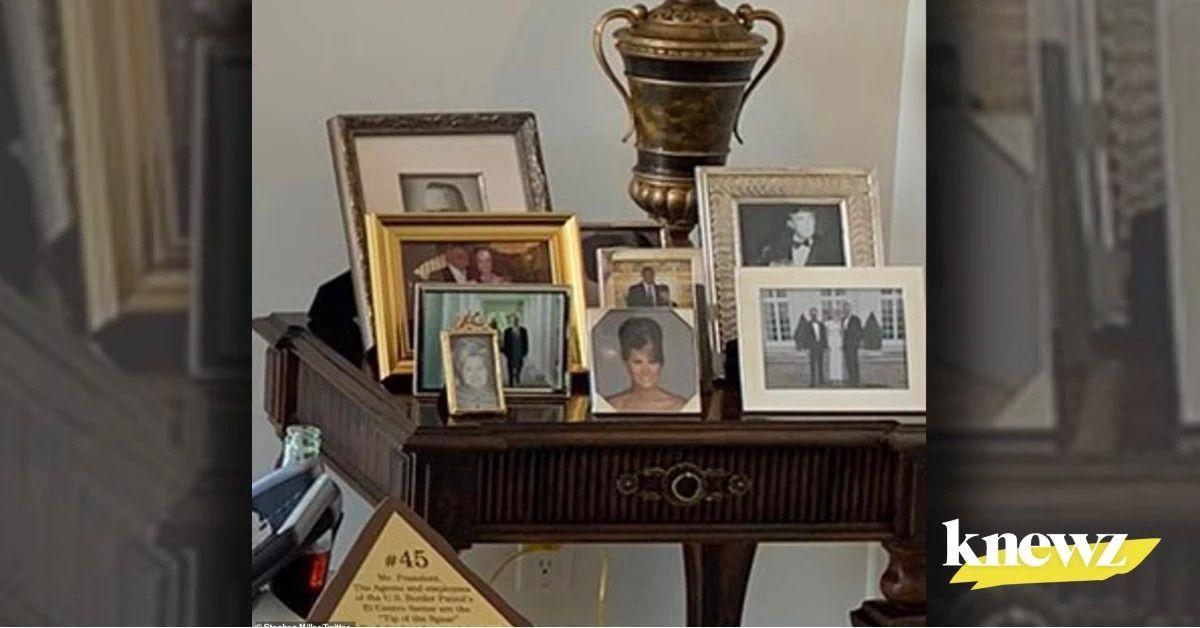 Along with family photos, a picture of Mount Rushmore and a plaque commemorating the border wall sitting on Trump's desk, there is also a snapshot of the former leader of the United States shaking hands with North Korean dictator Kim Jong Un from a political meeting that took place back in 2019.
DONALD TRUMP'S FORMER PRESS SECRETARY STEPHANIE GRISHAM CLAIMS SHE WATCHED HIM 'RIP UP' & 'THROW OUT' DOCUMENTS
Among various knickknacks, newspapers and furniture in the lavish office, there is also small statue of Trump himself sitting next a large display of military coins, which he is said to have brought back with him from the White House.
Article continues below advertisement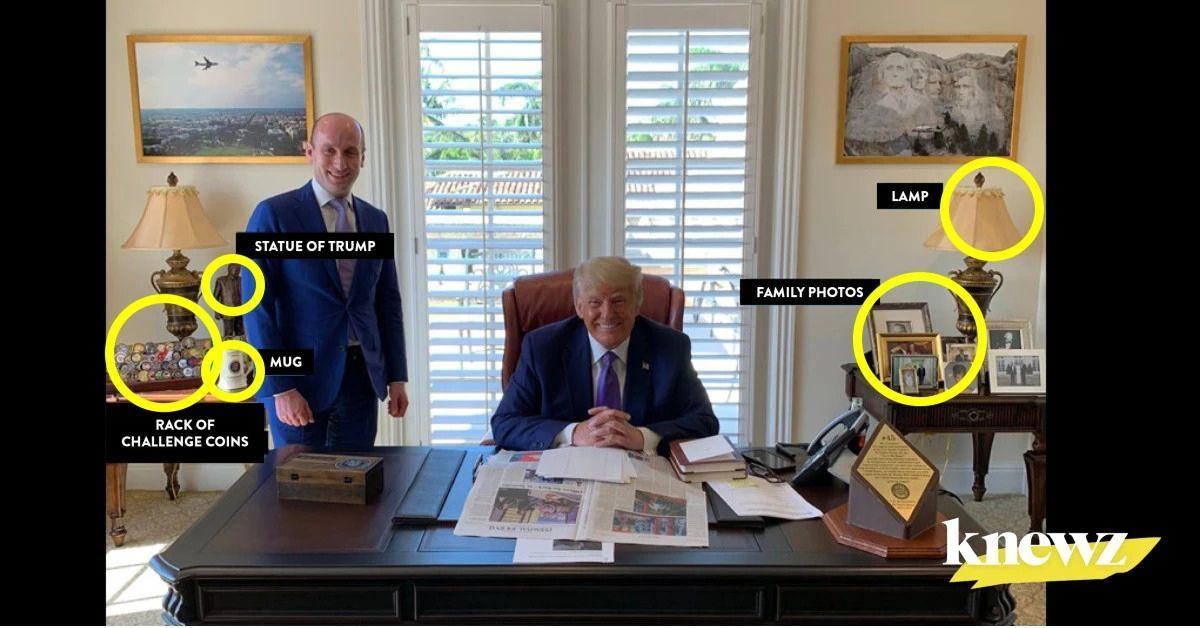 As OK! previously reported, Trump is readying himself to go to court in order to block authorities from conducting a thorough investigation on the items taken from his office in Monday night's search.
"Donald is furious yet scared," a source claimed shortly after the FBI's bombshell raid of Mar-a-Lago. "He feels victimized and is calling everyone he trusts to give him advice and reassure him that this is a witch hunt."
Article continues below advertisement
Shortly after the search took place, Trump spoke out against the raid in a scathing social media post.
"After working and cooperating with the relevant Government agencies, this unannounced raid on my home was not necessary or appropriate," he wrote. "It is prosecutorial misconduct, the weaponization of the Justice System, and an attack by Radical Left Democrats who desperately don't want me to run for President in 2024, especially based on recent polls, and who will likewise do anything to stop Republicans and Conservatives in the upcoming Midterm Elections. Such an assault could only take place in broken, Third-World Countries."
"Sadly, America has now become one of those countries, corrupt at a level not seen before. They even broke into my safe!" he continued. "What is the difference between this and Watergate, where operatives broke into the Democrat National Committee? Here, in reverse, Democrats broke into the home of the 45th President of the United States."