NEWS
Gina Carano Dropped From 'The Mandalorian' On Disney+ After Controversial Social Media Comments, Posts Deemed 'Abhorrent And Unacceptable'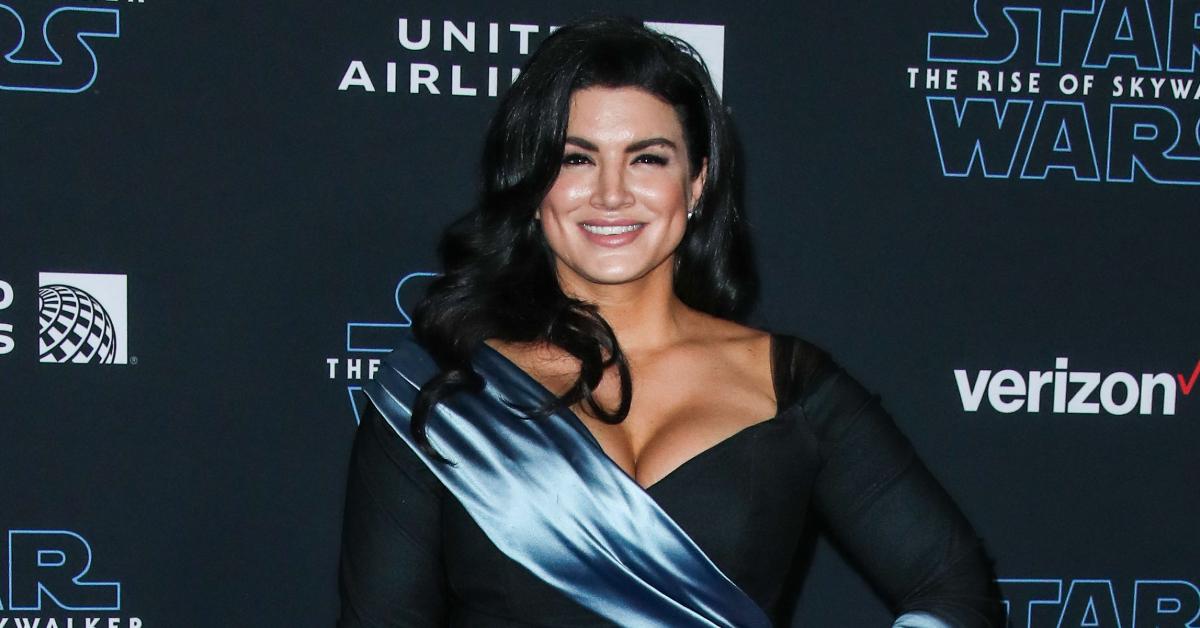 After she made highly controversial comments on social media, wrester-turned-actress Gina Carano will not be returning to The Mandalorian on Disney+ or related Star Wars projects. 
Article continues below advertisement
"Gina Carano is not currently employed by Lucasfilm and there are no plans for her to be in the future," a Lucasfilm spokesperson said in a statement. "Nevertheless, her social media posts denigrating people based on their cultural and religious identities are abhorrent and unacceptable."
Article continues below advertisement
This comes after Carano was heavily criticized for comments she made on her Instagram Story on Tuesday, February 9, where the 38-year-old compared hatred for members of different political parties to the Nazi's antisemitism during the Holocaust. 
"Jews were beaten in the streets, not by Nazi soldiers but by their neighbors…even by children," Carano posted. "Because history is edited, most people don't realize that to get to the point where Nazi soldiers could easily round up thousands of Jews, the government first made their own neighbors hate them simply for being Jews. How is that any different from hating someone for their political views?"
Article continues below advertisement
Carano removed the post but then shared a quote that reportedly read, "Expecting everyone you encounter to agree with every belief or view you hold is f**king wild," to her Instagram Story. 
Soon after, Twitter users campaigned for Carano to be canned from the projects with hashtag #FireGinaCarano.
Article continues below advertisement
"You have the right to free speech. That doesn't give you immunity from the consequences of what you say. She endangered people with anti mask posts. Shared election fraud disinformation. Liked posts from the Capitol Hill riot terrorists. And more. #FireGinaCarano," one user wrote. 
Article continues below advertisement
"Me watching Gina Carano collecting her things in the office befor [sic] never returning," another shared with a GIF of baby Yoda. 
Article continues below advertisement
This is not the first time Carano has been a controversial figure. She once reportedly listed her gender pronouns as "boop/bop/beep," which many people thought mocked the transgender community. 
Article continues below advertisement
"I didn't know [why people put pronouns in their bios], but I do now," Carano said, adding that The Mandalorian costar Pedro Pascal explained it to her. "I won't be putting them in my bio but good for all of you who choose to."
Article continues below advertisement
Last November, Carano also reportedly sent out mocking tweets about wearing a mask during the coronavirus pandemic and others where she suggested that voter fraud had occurred during the 2020 presidential election.
"We need to clean up the election process so we are not left feeling the way we do today. Put laws in place that protect us against voter fraud," she tweeted at the time.
Article continues below advertisement
Sources told THR that Lucasfilm had allegedly planned to unveil Carano as the star of her own Disney+ series in December but scrapped the plans after her tweets from November. 
Several The Mandalorian spinoffs are reportedly in the works, which could have featured Carano. She previously starred in Deadpool, Fast & Furious 6 and Haywire.
Carano and her team are yet to publicly respond to her Mandalorian exit.