Ivanka Trump And Jared Kushner Reportedly Distancing Themselves From Donald Trump To 'Rehabilitate Their Image'
Ivanka Trump and Jared Kushner were once some of the closest people to Donald Trump — but now, the couple is reportedly distancing themselves from the former President in an attempt to improve their image.
Article continues below advertisement
Former White House officials say that former administration officials, acquaintances, family — including his daughter, 39, and son-in-law — friends and members of his team have been backing away from the former Commander-In-Chief, CNN reported.
Article continues below advertisement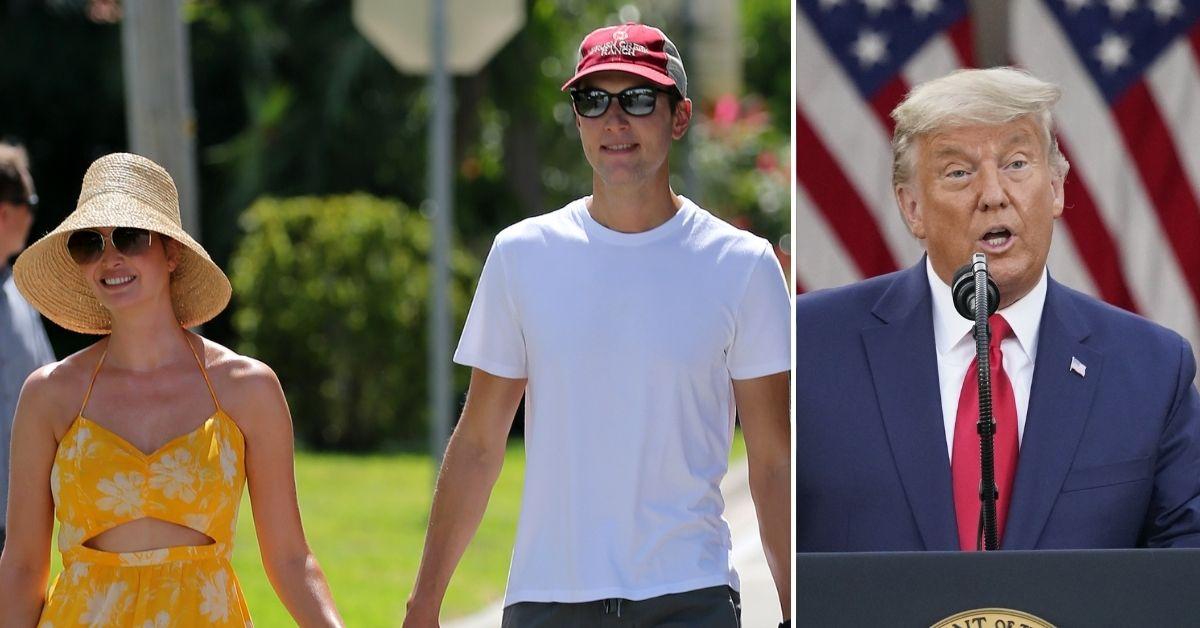 Former White House correspondent Jim Acosta claimed that the distance was a deliberate choice from Ivanka and Kushner, per The Independent.
Article continues below advertisement
"It's interesting that Jared and Ivanka are trying to distance themselves from Donald Trump, because he could use a family intervention right now with all the crazy conspiracy theories that he's been glomming onto," Acosta noted.
"It's a little hard for them now to separate themselves from the former president when they were so intimately involved throughout the entire administration," he added. According to Acosta, a former senior White House official told him that Kushner and Ivanka were the Chiefs of Staff during Trump's presidential term.
Article continues below advertisement
"This sounds like a rehab tour on the part of Jared and Ivanka. They want to rehabilitate their image somewhat, because as you and I both know, they're just not as welcome in polite society as they once were," he explained.
Following President Joe Biden's inauguration, Trump, Melania and their son Barron relocated to his Mar-a-Lago resort in Florida, while Ivanka and Kushner, 40, followed suit to Miami's Indian Creek a.k.a Billionaire's Bunker. However, Trump is reportedly spending the summer in Bedminster, New Jersey.
Article continues below advertisement
"They weren't around for the usual spring and summer events at Mar-a-Lago," a family friend told CNN of the couple. However, while Trump might not be getting as much input from Ivanka and Kushner, his son-in-law "still speaks on the phone" to the former President, one source spilled.
Article continues below advertisement
"It is not a secret President Trump doesn't like when he thinks other people are getting attention for something he feels he has facilitated," a former Trump White House official told the outlet. "There's a sweet spot between saying nothing about work you did and saying too much that everyone has to find — or else he gets triggered."
Article continues below advertisement
However, when reportedly asked by several authors if he blames Kushner for losing the election, Trump is said to have said no. "He knows Trump acknowledges his successes," someone close to Kushner noted.
"After spending four years serving and traveling the country extensively, Ivanka is taking time with family and friends," Ivanka's former chief of staff, Julie Radford, told CNN.
Article continues below advertisement
"Listen, you lose an election, things happen, people get over it, they move on, these are natural consequences," someone close to Kushner said. It was also noted that Ivanka wants to spend time with their children Arabella, 9, Joseph, 7, and 5-year-old Theodore.
Another source said that no one was "removed" from Trump's inner circle and that the hazy distinction between Kushner as an adviser, employee and family member is there because they both made them that way. "This is family, and family is in its own category," the source said.