NEWS
Jill Biden Slammed As 'Too Old' For Wearing Sexy Fishnet Stockings, FLOTUS Compared To Melania Trump's Modeling Days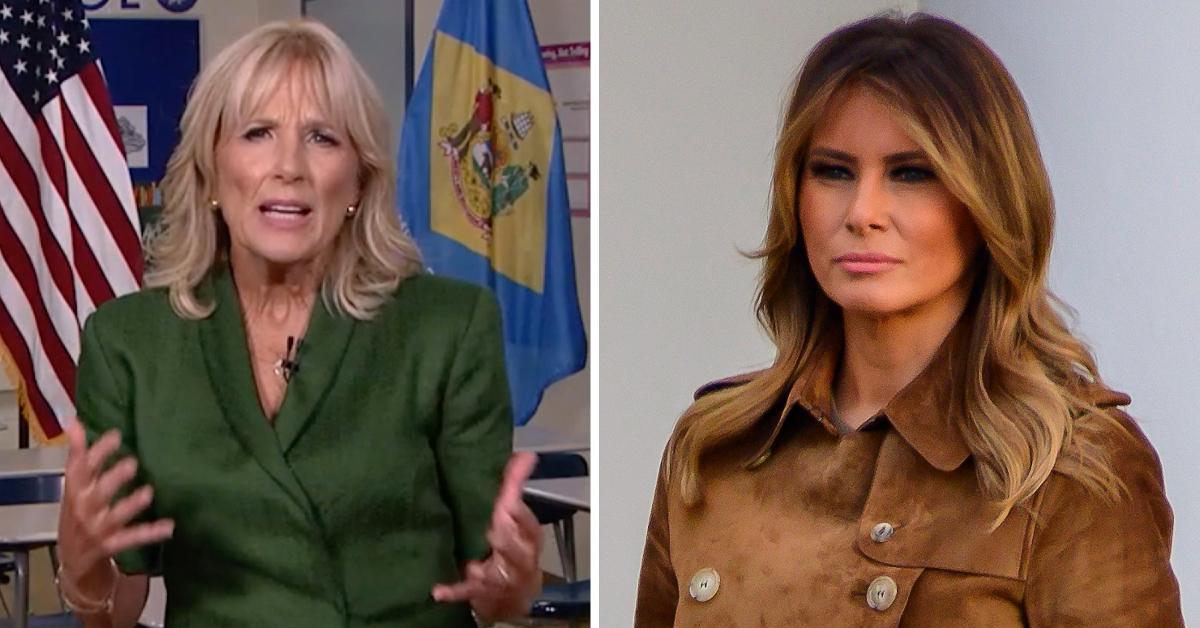 Article continues below advertisement
After Jill donned a set of black floral fishnet tights, black heeled booties, a leather skirt and a fitted black blazer, many took to social media to slam the 69-year-old for dressing too young and not representing the U.S. with "class."
"Hey Jill Biden. It's not called Forever61 for a reason. Forever21 needs a cut off date!!" one user wrote, while another said: "Jill is WAY too old to be wearing a skirt that short and those stockings, in public."
Article continues below advertisement
Many defended the first lady by bringing up Melania's former nude modeling career. "Republicans are really criticizing Jill Biden over fishnets when you couldn't ask kindergartners to Google Melania without porn showing up," Santiago Mayer, executive director of Voters of Tomorrow tweeted. "You can't make this sh*t up."
Article continues below advertisement
"Republicans criticizing Jill Biden for wearing fishnets can just shut the f**k up," another user wrote. "By the way, this is Melania Trump," they captioned a risqué photo of the former FLOTUS.
Article continues below advertisement
The style comparison of Jill and Melania comes after President Joe Biden's wife was slammed recently for a little gaffe made during a recent speech in Delano, Calif., in which many compared her to Melania, saying she never would have made the same mistake.
MORE ON:
President Donald Trump
Jill was speaking a few words of praise to a group of local workers in honor of civil rights activist César Chávez's birthday, when she tried to pronounce the union's motto "sí se puede" — which roughly translates to "yes we can" — but it didn't necessarily come out exactly how she wanted, with many attacking her for mispronouncing the final word.
Article continues below advertisement
Users on social media claimed that Melania never would have made such an error, repeating her previously stated claim that she was fluent in five different languages (Italian, French, German, Slovene and English), which is still unproven to this day.
Article continues below advertisement
Scroll through to see more reactions to Jill Biden's fishnet stockings.
Article continues below advertisement
Article continues below advertisement
Article continues below advertisement