NEWS
Melania Trump's Twitter Troubles: Platform Refused To Remove Her Nude Photos, Former First Lady Slammed For Barron's Birthday Post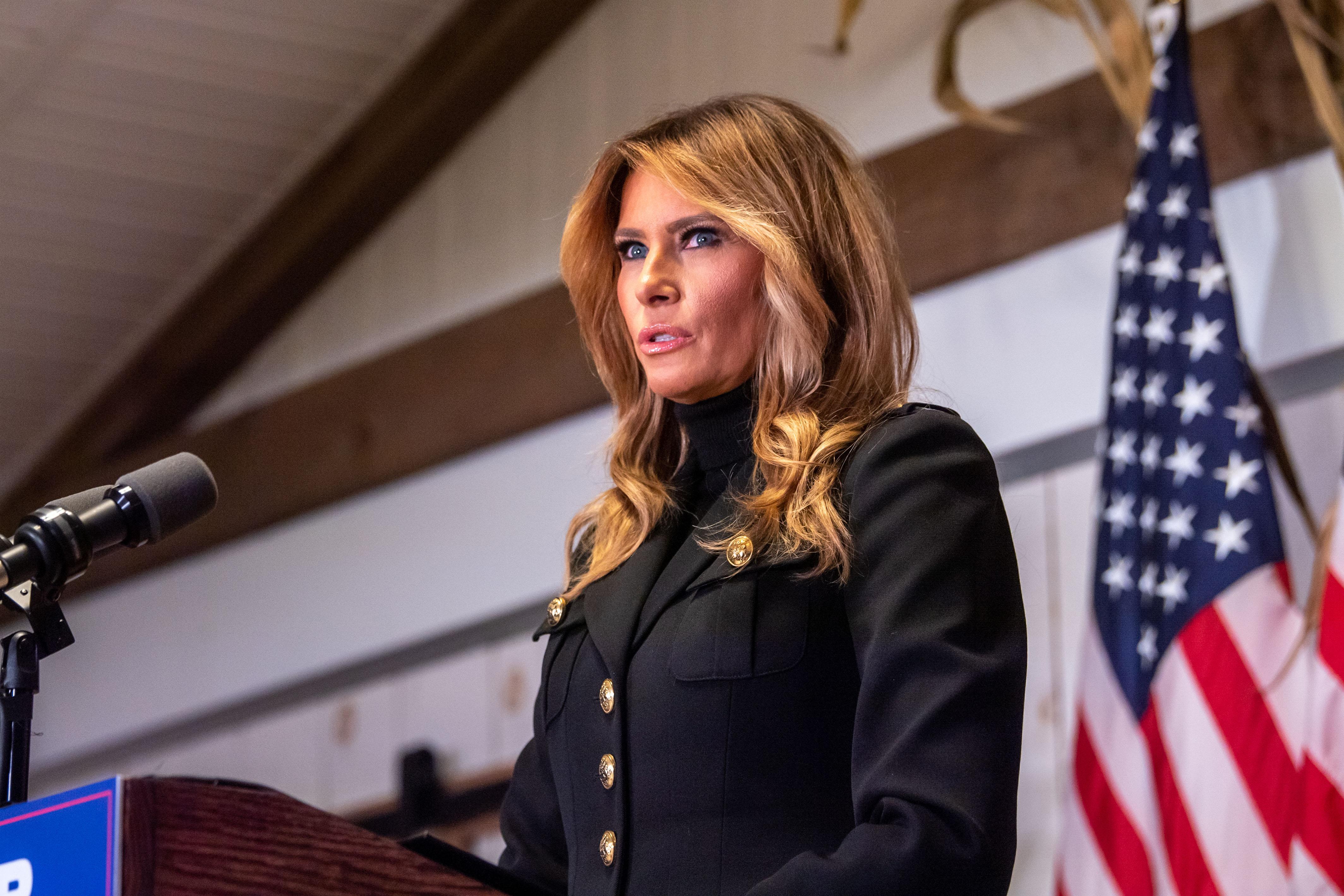 Rapper Cardi B and conservative pundit Candace Owens got into an all-out Twitter war last week when Owens slammed Cardi B and Megan Thee Stallion's racy "WAP" performance from the March 14 Grammy Awards — which resulted in both threatening to sue and Cardi B dragging in former First Lady Melania Trump into the fight to prove her point.
Article continues below advertisement
The "Bodak Yellow" rapper was outraged that many conservative media outlets and Owens were criticizing her Grammys performance for being too outrageous — but not speaking out in regards to Melania's naked photos, which have made their rounds on the internet.
Article continues below advertisement
Since Owens mentioned being offended by Cardi B's nudity, the singer shared a risqué photo of Melania and wrote the following message to promote her new song: "STREAM 'UP' ON ALL PLATFORMS… Candy [Owens] DONT like it but Melania B approves."
Article continues below advertisement
Owens responded by saying, "What is your obsession with the Trump family? You are digging up modeling shots from our former First Lady from 3 decades ago," she wrote. "She has evolved, you have not."
Article continues below advertisement
Cardi B also released (and has since-deleted) a full-frontal nude snap of the former first lady during her argument with Owens. The image dates back to a 1996 photoshoot published in a French magazine before it resurfaced during former president Donald Trump's 2016 presidential campaign. It had previously been shared on Twitter by Cardi B in 2020 in a post that has since been removed by the rapper.
Article continues below advertisement
Many were outraged, calling for the photos to be deleted by Twitter, but the social media platform refused to remove them before Cardi B did, as they didn't violate the platform's policy. A spokesperson for Twitter told The Independent that, because the rapper posted images previously published with the former first lady's consent, it would not violate the company's terms of service.
The site does have a non-consensual nudity policy that would typically suspend that person's account — but this situation would not be against those rules, according to the spokesperson.
Article continues below advertisement
Melania can't catch a break when it comes to social media. Most recently, the mother-of-one posted a message to her son, Barron Trump, on Twitter wishing him a happy birthday on Saturday, March 20. "Happy birthday BWT❤️❤️❤️," she captioned a photo of dark balloons with the numbers one and five. Social media users were quick to slam the former FLOTUS for her "morbid" post.
Article continues below advertisement
"How festive! Nothing quite says Happy Birthday to a 15 year old quite like a black balloon that appears to be dripping blood," a user wrote. "But then...#BeBest never really made it either…"
"Wow....that is a very dark meme for a birthday. Very bad vibe to it," another user wrote, while another added, "Even the birthday picture is all dark sepia tones, very strange lol."