NEWS
John Oliver Slams Meghan McCain, Prompting 'The View' Cohost To Apologize For Remarks Aiding Donald Trump's 'Racist Rhetoric'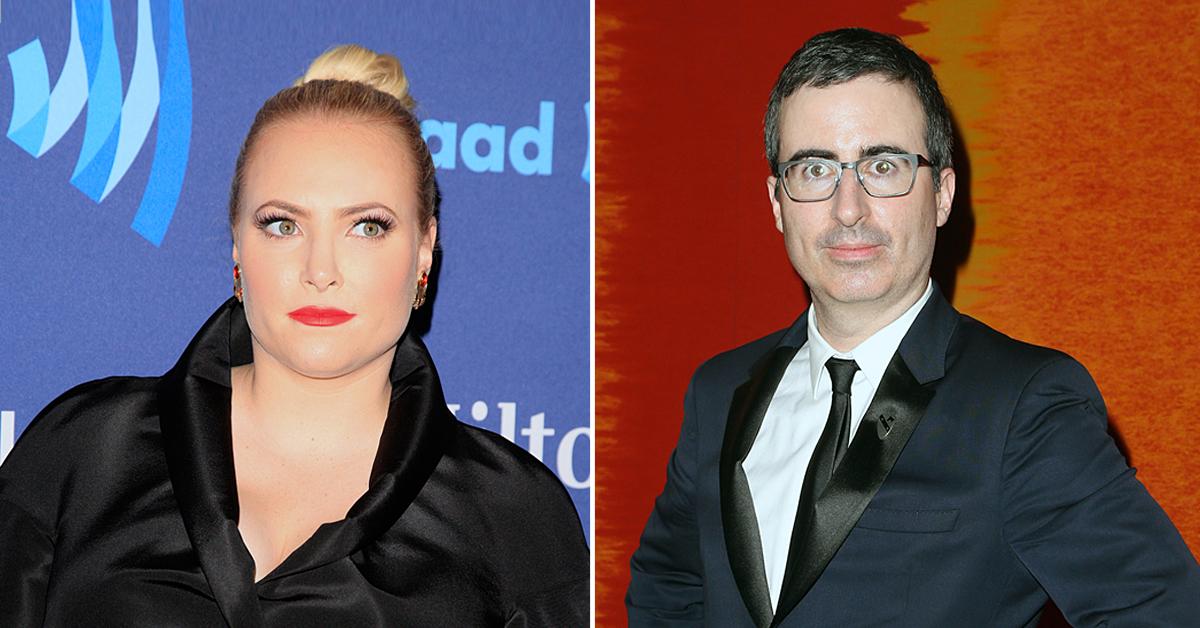 After John Oliver called out Meghan McCain for failing to denounce Donald Trump at the start of the coronavirus pandemic — when the former president dubbed COVID-19 the "China virus" — The View cohost apologized for her past remarks.
Article continues below advertisement
"I condemn the reprehensible violence and vitriol that has been targeted towards the Asian-American community," the 36-year-old wrote on Twitter on Monday, March 22. "There is no doubt Donald Trump's racist rhetoric fueled many of these attacks and I apologize for any past comments that aided that agenda."
Article continues below advertisement
Her tweet was met by mixed reactions; some respected McCain for owning up to her mistakes, and others were quick to throw shade at the host. "Well done. Own up to it, apologize, and move on," one user replied. "I guess you saw John Oliver last night," another stated, while a third joked that she "is on board her apology tour bus."
Article continues below advertisement
McCain's apology came after Oliver, 43, pointed out that the TV personality may have added fuel to the former president's fire last year at the start of the COVID crisis. On the Sunday, March 21, episode of HBO's Last Week Tonight, Oliver spoke about the growing racism against Asian-Americans, noting that people warned using the rhetoric "China virus" could lead to violence against Asian-Americans.
He proceeded to show a clip of McCain on The View last March, saying: "I think if the Left wants to focus on PC [politically correct] labelling this virus, it is a great way to get Trump re-elected." The mother-of-one said she didn't "have a problem with people calling it whatever they want" because "it's a deadly virus that did originate in Wuhan."
Article continues below advertisement
After showing the clip, Oliver sarcastically said, "Oh good, Meghan McCain doesn't have a problem with it! Listen not to the scores of Asian-Americans telling everyone that the term is dangerous and offensive.
"Instead, gather around and take the word of a wealthy white woman who's dressed like she's about to lay off 47 people over Zoom," he quipped before showing a tweet from McCain on March 17 that read: "Stop Asian Hate."
Article continues below advertisement
Article continues below advertisement
While Oliver said her tweet was a "fine sentiment," he noted that it came after her previous comments regarding the name of the virus. He further explained that McCain's failure to denounce Trump's words "is very much giving space for that hate to grow."
The crime rate against Asian-Americans has skyrocketed over the past year, forcing president Joe Biden and other political figures to address the long-standing problem. After six women of Asian-American origin were killed in a mass shooting in Atlanta, Biden said he and Vice President Kamala Harris "sat down with Asian-American leaders in Atlanta."
"It was a heart-wrenching meeting that made clear the urgent work that lies ahead," the President tweeted. "We must come together as one America, stand against hate, and root out racism wherever we find it."