NEWS
Fox's Janice Dean Blasts 'The View,' Says Hosts 'Downplay' Deaths Related To Governor Andrew Cuomo Nursing Home Scandal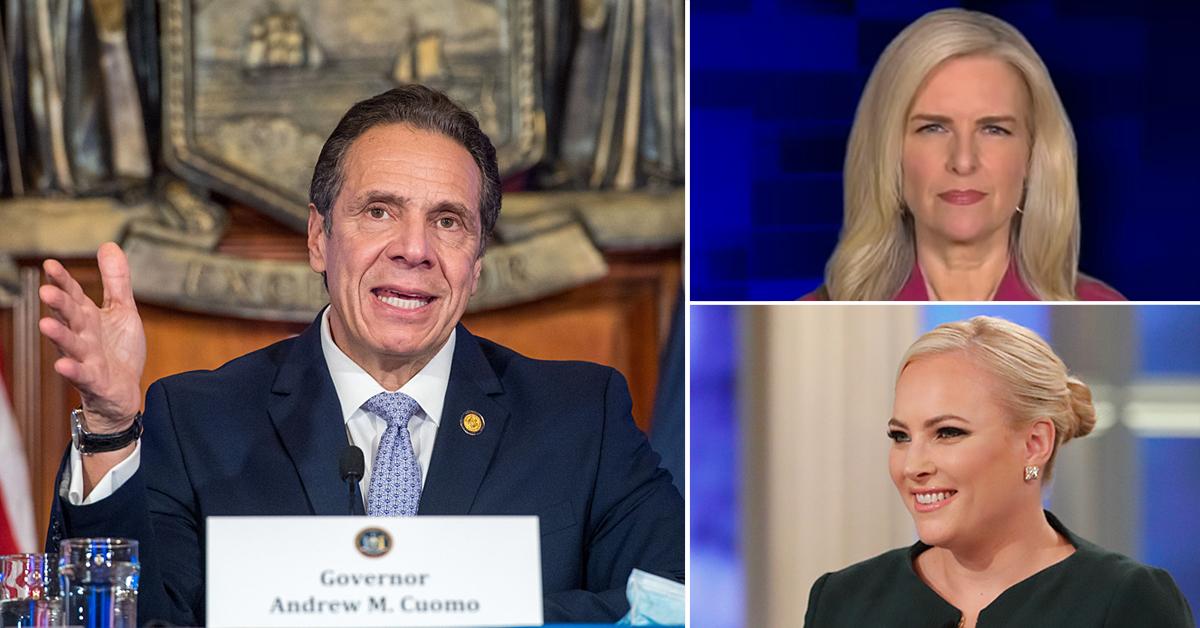 The View is being accused of showing favoritism to embattled Governor Andrew Cuomo — who has recently been accused of shocking sexual harassment claims by several women — after Meghan McCain's Fox News meteorologist pal Janice Dean wasn't booked to talk about the New York governor's nursing home scandal.
Article continues below advertisement
"The View was slow to cover Cuomo. They're notoriously slow when it comes to any scandal involving Democrats. It's hard to get it on-air. Cuomo is a New York guy. It's a New York show, and he has a lot of friends. Whoopi [Goldberg] hosted a fundraiser for him," an insider told Page Six. Even though the 50-year-old is friends with McCain, sources told the outlet that The View won't have Dean on the show.
Dean — who led the charge against Cuomo's nursing home scandal after her husband's parents died of COVID-19 in a nursing home — took to Twitter to slam the hosts, besides McCain, and call them out for bashing other governors while going easy on Cuomo.
Article continues below advertisement
But Dean didn't stop there, as she then called out Sunny Hostin for slamming "other governors (calling the governor of Florida 'Death-santis') instead of calling out Cuomo for ordering over 9,000 COVID patients into nursing homes, covering up their deaths and oh, sexually harassing at least 7 women."
Article continues below advertisement
The meteorologist even mentioned her pal in one of her many tweets, saying that McCain has "been trying to shout for months about Cuomo, but when you have all the other women drowning her out and saying NO to her good friend who has been screaming for 10 months, it's kinda telling where their loyalties are."
Article continues below advertisement
Dean further explained that she "would not have mentioned this, but seeing" Joy Behar and Hostin "saying they'd basically rather have criminal" Cuomo than a "Republican governor in office makes me sick."
To conclude her Twitter rant, Dean wrote: "People ask why I would want to go on that show? Because if even one of their viewers realizes @NYGovCuomo could be responsible for the thousands of lives we lost thanks to his deadly mandate, the criminal coverup and honor my husbands parents, then it's worth it."
Article continues below advertisement
Article continues below advertisement
"I would've never spoken out about not being invited back on the show, but seeing how the hosts — with exception to Meghan McCain — continue to downplay all the deaths in New York nursing homes and the other scandals surrounding Governor Cuomo made me furious," Dean told Fox News of her fury over The View dissing her.
Article continues below advertisement
As OK! previously reported, Cuomo has been involved in several scandals in recent months.
He is currently taking the heat for how he dealt with COVID-19 when it came to nursing homes. He has since apologized for his "mistake" in how his administration handled the reporting of deaths in New York nursing homes — critics claimed that the way his administration separated the death toll into two different categories obscured the true death toll for months.
Cuomo made his apology statement last month after the state was forced to acknowledge that they excluded thousands of residents who died after they were taken to the hospital.
And as growing allegations of sexual misconduct mount against him, more than 55 Democratic members of the New York State Assembly are demanding that Cuomo resigns, stating they no longer trust in his ability to govern. However, the Governor confirmed he would not be stepping down on Wednesday, March 3.
In his statement, Cuomo apologized to the women for any offense taken and said he was "embarrassed" by his actions — but claimed he never touched "anyone inappropriately."