COUPLES
Has Kanye West Always Had A Thing For Irina Shayk? Rapper Would 'Keep Track Of Where She Was' Throughout The Years
Article continues below advertisement
West and Shayk were first spotted together in June — months after Kardashian filed for divorce from West in February — but the father-of-four has apparently had a crush on the 35-year-old model since they first met back in 2010 on set of his music video.
"She made a definite impression on Kanye," a source said of when Shayk starred in West's "Power" video over a decade ago. "There was instant attraction."
Article continues below advertisement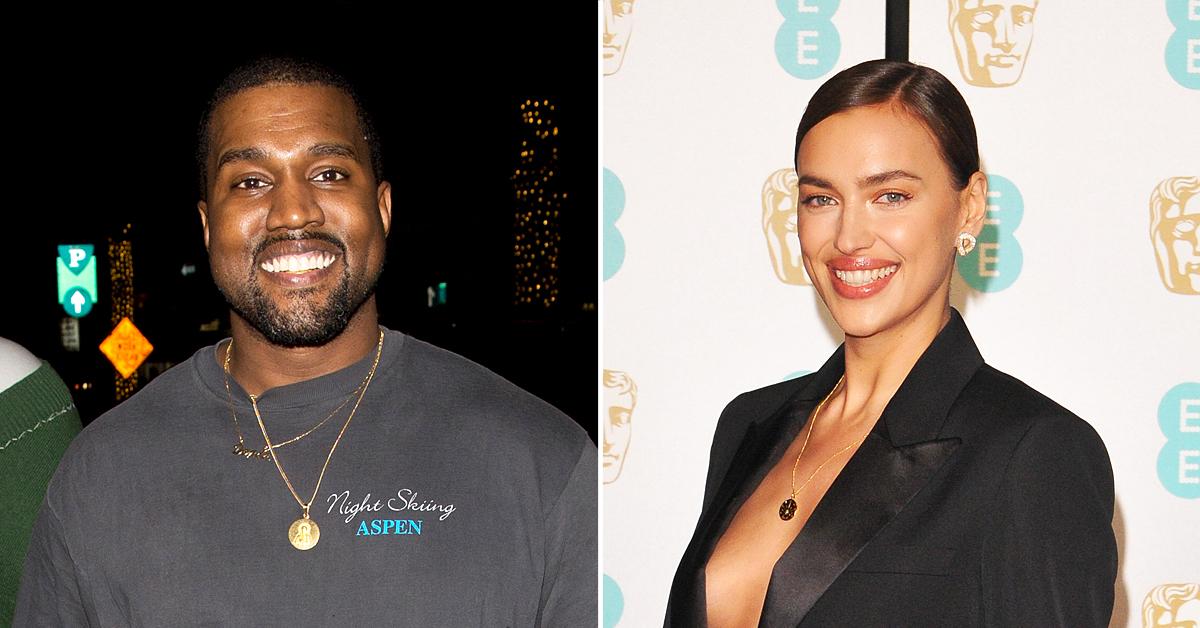 And even after West finally won over Kardashian, whom he had been pining over for years, he apparently still kept tabs on Shayk, who previously dated Cristiano Ronaldo and Bradley Cooper (the baby daddy of four-year-old daughter Lea). "[Kanye] was kind of mesmerized by her and kept track of where she was," the source insisted.
Article continues below advertisement
It seems like West, 44, hinted at his crush on Shayk in the past, with the 21-time Grammy winner dropping her name in his 2010 track "Christian Dior Denim Flow." Two years later, around the time West and Kardashian, 40, began debuting their romance, the Russian-born model took the runway for his 2012 Paris fashion show.
Article continues below advertisement
After Shayk and Cooper broke up following their four-year relationship and West's romance with the KUWTK reality star came to an end, the former U.S. presidential candidate decided to shoot his shot with the mother-of-one. "He got directly in touch with Irina," an insider dished, noting that "a guy like Kanye has ways of getting around handlers."
According to the source, the "Bound 2" rapper "started wooing" Shayk with "gifts and flowers and poems."
Article continues below advertisement
Meanwhile, West's soon-to-be ex-wife has been putting up a good front when it comes to how she's handling the father of her children's recent fling. She's "playing it cool, putting the word out that she's not bothered in the least by Kanye's new romance," the insider said, per the June 21 print issue of Star.
However, Kardashian apparently can't help but now notice the subtle hints West dropped about his crush on Shayk while the former flames were still together. "Behind the scenes, she's looking at the 'Power' video and lyrics that mention Irina, and her strutting her stuff in his fashion show when she and Kanye were a full-on couple," according to the source.
Article continues below advertisement
After all, the rapper used the same tactics to win over Kardashian after his nasty split from model Amber Rose. West had reportedly been admiring Kardashian since 2003. And while he waited for Kardashian's 2011 marriage to Kris Humphries to come to an end, he would hang around the KWW beauty founder as a flirty friend.
Article continues below advertisement
West and Shayk were first photographed together in Provence, France, while celebrating the rapper's birthday following rumors of their alleged relationship. The pair reportedly shacked up at the luxury 600-acre boutique hotel, Villa La Coste, where they stayed for three nights.