Was Meghan Markle Really 'Naïve' To Royal Life? Duchess Caught Posing With Kate Middleton Magazine Cover In Resurfaced Photo
Caught red handed! An old photo of Meghan Markle holding a magazine with Kate Middleton on the cover has resurfaced, sparking doubt about the Duchess of Sussex's previous claim that she was "naïve" to the duties of being a royal before joining the famous family.
Article continues below advertisement
The resurfaced snap was reportedly taken in 2014, two years before Meghan met her now-husband, Prince Harry, whom she wed in 2018.
In Meghan's shocking March interview with Oprah Winfrey, the 39-year-old said she "didn't grow up knowing much about the royal family." She told the talk show titan: "I didn't fully understand what the job was," regarding her duty as a duchess.
Article continues below advertisement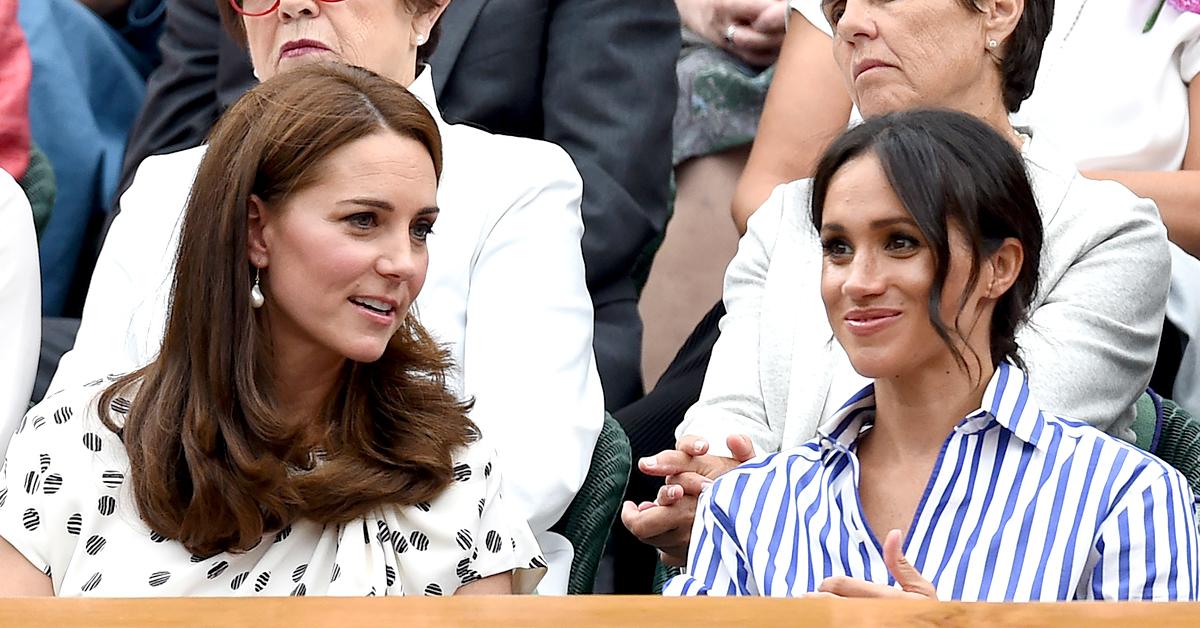 Twitter users were quick to call out Meghan, accusing her of making alleged false claims regarding what she knew about the royal family before joining The Firm.
Article continues below advertisement
"She said she didn't do any research on Harry or his family before she got married!" one person tweeted after seeing the resurfaced photo. "Was that because she was more interested in what Kate had?" Another insisted, "She has stalked the Royals for years!!!" A third wrote: "The lies are all coming to light."
Article continues below advertisement
However, other users came to Meghan's defense, pointing out that her holding a picture of Kate does not necessarily mean she was obsessed with the royal family nor knew the ins and outs of the institution. "And the problem/controversy is?" one user questioned, adding: "Kate happened to be on that cover."
Article continues below advertisement
This is not the first time Meghan has been called out for making what some to believe are false claims. In March, a report of an old blog post from the Suits alum talking about her dream to become a princess resurfaced.
"Grown women seem to retain this childhood fantasy," she wrote in a 2014 post, according to Page Six, who claimed the resurfaced photo was from the same year. "Just look at the pomp and circumstance surrounding the royal wedding and endless conversation about Princess Kate."
Article continues below advertisement
The irony of the resurfaced photo has not gone unnoticed, as the two duchesses have allegedly been at odds for years. During Meghan and Harry's interview with Oprah, Meghan addressed the widespread reports that she "made Kate cry" over flower-girl dresses ahead of the her 2018 wedding to Harry. Meghan insisted: "The reverse happened."
Article continues below advertisement
Since Harry and Meghan not only dragged Kate's name through the mud during their interview, but also other royal members — including Kate's husband, Prince William, and father-in-law Prince Charles — Kate has been "reluctant" to make "peace" with Meghan, OK! learned via The Royal Observer sources, as she is nervous that Meghan may leak her attempt at trying to salvage their relationship.
After their talks made headlines, the royals have allegedly been hesitant to reach out to Harry and Meghan for fear that their conversations won't remain private. "Kate would pick up the phone in a second if she thought it would help," an insider explained, "but having another private call leaked to the press isn't going to help anyone."