NEWS
'Has She Ever Met A Camera She Probably Didn't Love?': Donald Trump Jr. Slams Meghan Markle — But His Remarks Misfire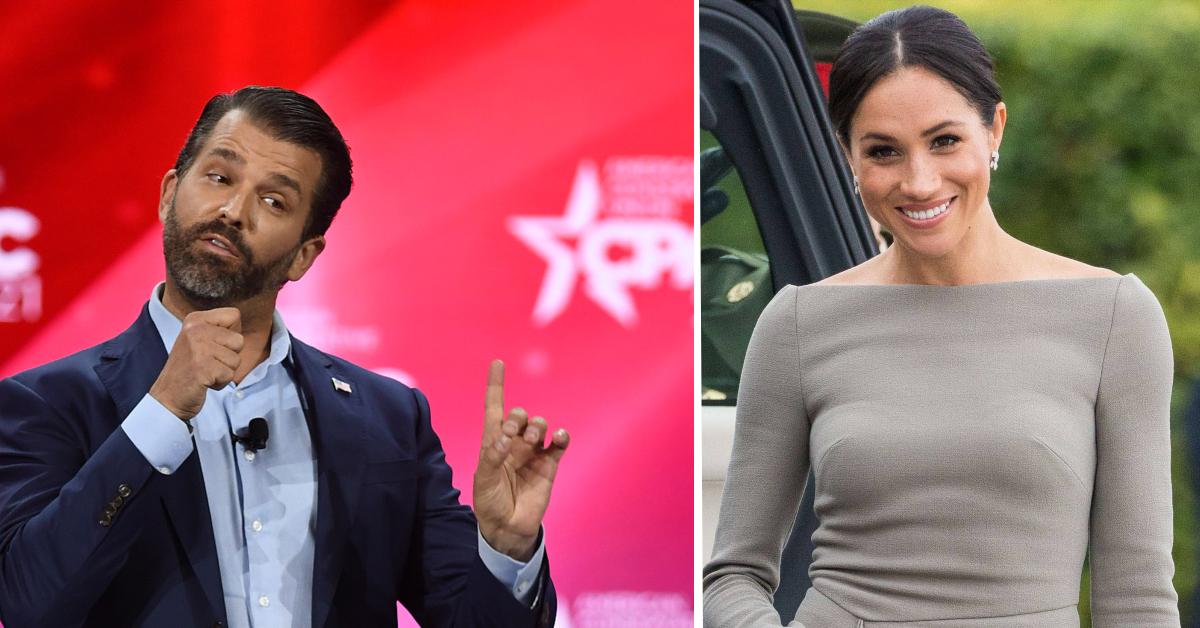 Article continues below advertisement
At first, former president Donald Trump's son said he "couldn't care less about this stuff," then proceeded to take shots at Meghan in the nearly eight-minute video.
"Are we pretending that Meghan Markle isn't the kind of person that was looking for all this attention?" Trump Jr. said. "Because it seems like literally all of her actions in life up until now were about getting that kind of attention for herself. She just wants it to be good attention. The problem is, if you don't have the personality to do that, it doesn't always work out as much."
The 43-year-old businessman continued: "Are we really pretending that she was like a victim in all of this?..." he said, adding, "Has she ever met a camera she probably didn't love?"
Article continues below advertisement
When he was done verbally attacking the Duchess of Sussex, he admitted that he sympathized with the Duke. "I actually feel bad for Harry. He's like a guy in a hostage video. He actually seems like a dude that I'd wanna have a beer with. I'm not sure what's happened to him over the last couple of years," Jr. said, noting that he feels Harry has been "brainwashed into some sort of woke reality" after marrying Meghan.
Article continues below advertisement
Others mocked Trump Jr. for saying he "could care less about it," then going out of his way to make a video on it.
"How many takes are there? Here's an idea: get a hobby," another user wrote. "I don't know what about going to work?" A third wrote: "Donnie giving up on his failing Trump Organization business and trying to make it as a social influencer?"
Article continues below advertisement
During Meghan and Harry's bombshell interview with Oprah, the Duchess of Sussex revealed that she had contemplated suicide while as a member of the royal family, and defended herself against allegations that she "calculated" the couple's exit from the royal family.
On Tuesday, Queen Elizabeth II released a statement on the controversial interview, noting that the "whole family is saddened to learn the full extent of how challenging the last few years have been for Harry and Meghan," concluding that: "Harry, Meghan and Archie will always be much loved family members."
Article continues below advertisement
Scroll through to see responses to Donald Trump Jr.'s video slamming Meghan Markle.
Article continues below advertisement
Article continues below advertisement