EXCLUSIVE
'The Prom' Star Meryl Streep Says Working With Nicole Kidman And James Corden Was 'Magic'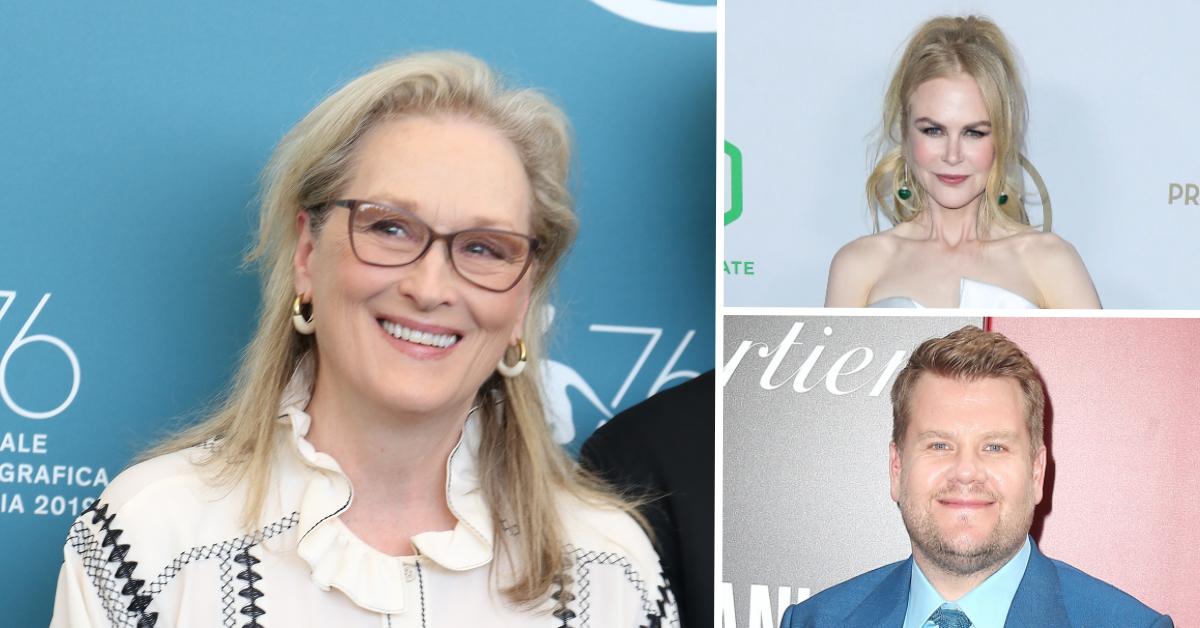 Article continues below advertisement
Here, the superstars talk about how they're not just playing it for laughs, but something more. "Hopefully," says Kidman, "the message of unconditional love will be felt through the screen."
Meryl, what was it like playing a Broadway diva?
I loved playing someone so vain and so overrated — a big, fat narcissist! She's someone who walks in and thinks she owns the room, which of course, she doesn't. And everyone takes the piss out of her.
Did you draw inspiration from any leading ladies you know?
Oh yes, I mean all of my friends! [Laughs.] Not just the women.
OOH LA, LA! THESE HOLLYWOOD MOVIE SEX SCENES ARE NSFW & *NOT* PARENT APPROVED
Article continues below advertisement
James, you're an old hand at musical theater. Was making this movie like doing a Broadway show?
It did feel a lot of the time like you were rehearsing for a [Broadway] production. Rehearsing all the numbers and the set pieces and all those things really grounded us as a company, and from day one, I already felt like I was with an incredible group of friends. I'd look around thinking, "This is the most extraordinary cast for a touring production!" It was a thrill from start to finish.
Nicole, were you nervous about your dancing skills playing a chorus girl?
When I started, I thought, "I'm never going to be able to climb this mountain." I was just so lucky because [director] Ryan Murphy organized for me to be surrounded by these extraordinary Broadway dancers. Being educated in every little detail, every finger that moves, and having this team of people cheerlead me and make me believe I could do it was just wonderful.
TOM CRUISE'S DAUGHTER BELLA IS SO PRIVATE SHE ONLY HAS 5 IG PICS OF HERSELF — SEE THEM HERE
Article continues below advertisement
James, there's a very moving scene where your character talks about being kicked out by his parents for being gay. Tell us about that.
We spent three days shooting it, and the whole time I was thinking of young friends of mine whose families don't know that they're "out" or who have disparate relationships with their families because of their sexuality. You really hope people would realize that however hard it is to address or confront those things, acceptance is everything. Those scenes bring so much weight to the story. I'm very proud of them.
Meryl, what's one word you'd pick to describe the experience of making this film?
Elation. The cast was magic, every single person. We had so much fun shooting it, but the most fun was sitting around and having some laughs in between shots. It was great.