Shade Alert! Pete Davidson Is 'Relieved' Chrissy Teigen Is 'Out Of Our Lives' Following Courtney Stodden Bullying Scandal — Watch
Article continues below advertisement
"If there's one good thing about the pandemic, besides getting Chrissy Teigen out of our lives, it's …" Davidson began, which was met by a mixture of shock, laughter and boos from the audience. "I'm relieved," the 27-year-old shrugged.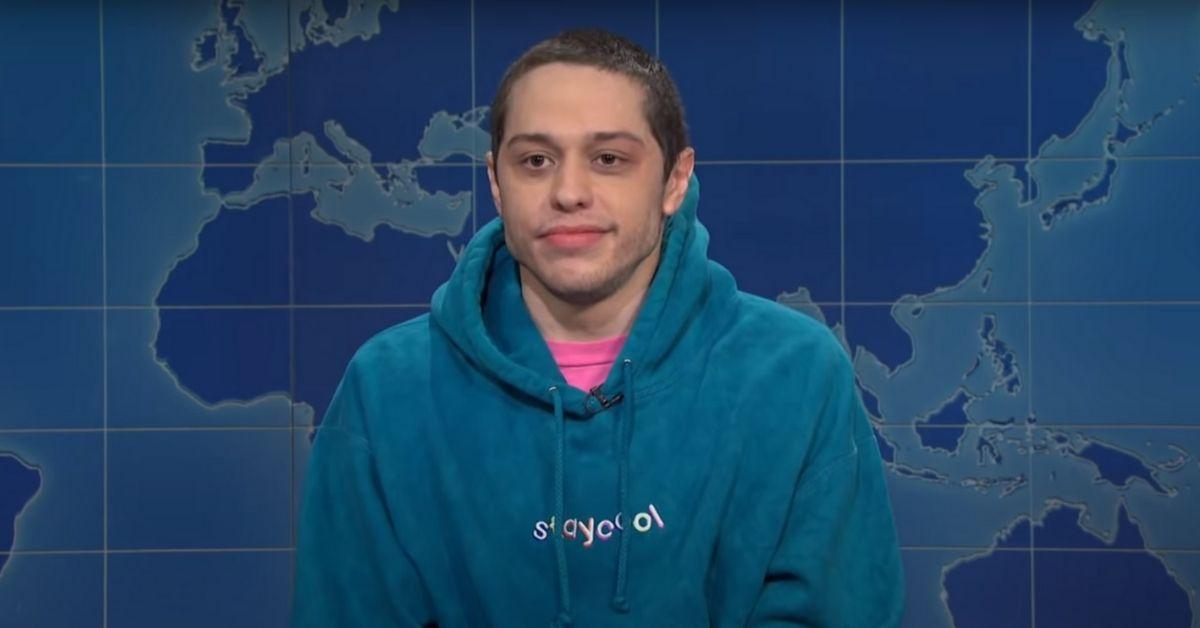 Article continues below advertisement
As OK! previously reported, Stodden, who came out as non-binary last month and uses they/them pronouns, made shocking claims about Teigen in a The Daily Beast interview published on Monday, May 10.
Article continues below advertisement
"She wouldn't just publicly tweet about wanting me to take 'a dirt nap' but would privately DM me and tell me to kill myself. Things like, 'I can't wait for you to die,'" the 26-year-old told the outlet.
In March, Stodden shaded Teigen's brief Twitter hiatus due to the negativity John Legend's wife faced on the platform. Stodden shared a screenshot of a tweet from March 2011, in which Teigen allegedly said: "Saying Courtney Stodden's FB page got shut down for being too sexy is like saying the Nazi's were just meanies. As in, not quite." Stodden added, "What a shame #chrissyteigen is leaving Twitter."
Article continues below advertisement
Article continues below advertisement
Things have gone from bad to worse for Teigen ever since Stodden called out the once-popular Twitter personality. "Chrissy's old, repulsive tweets are coming back to haunt her," a source previously told OK!. "How could she not know that it is impossible to delete anything on the internet? Once you say it, it is there forever even if you remove your entire account.
"Now, vile tweets Chrissy made years ago are coming back to bite her with the fear that more are going to be exposed," the source continued.
Article continues below advertisement
Teigen apologized for her remarks, but judging by Davidson's comment, not everyone has forgiven her. Teigen said she was "mortified and sad at who I used to be." She added, "I was an insecure, attention seeking troll. I am ashamed and completely embarrassed at my behavior."
Article continues below advertisement
"I have tried to connect with Courtney privately but since I publicly fueled all this, I want to also publicly apologize. I'm so sorry, Courtney. I hope you can heal now knowing how deeply sorry I am," she added.
Article continues below advertisement
"And I am so sorry I let you guys down. I will forever work on being better than I was 10 years ago, 1 year ago, 6 months ago," Teigen concluded.
In an exclusive interview with OK!, therapist Dr. Jenn Mann — who met Stodden back when they were married to actor Doug Hutchison — said that she was "quite stunned that someone like [Chrissy] in terms of her age, her life experience, her feminism, would bully a teenage girl who has been exploited."
Article continues below advertisement
Since the scandal erupted, Teigen's cookware line is no longer available at Macy's, and the model reportedly lost a Bloomingdale's deal before it was finalized.
Stodden has since said that they accept Teigen's apology and forgive her but alleged that they never heard privately from her. "All of me wants to believe this is a sincere apology, but it feels like a public attempt to save her partnerships with Target and other brands who are realizing her 'wokeness' is a broken record," they said.