NEWS
Courtney Stodden Claims Chrissy Teigen 'Bullied' Them, Says She Would 'Privately DM' Non-Binary Model To 'Kill' Themself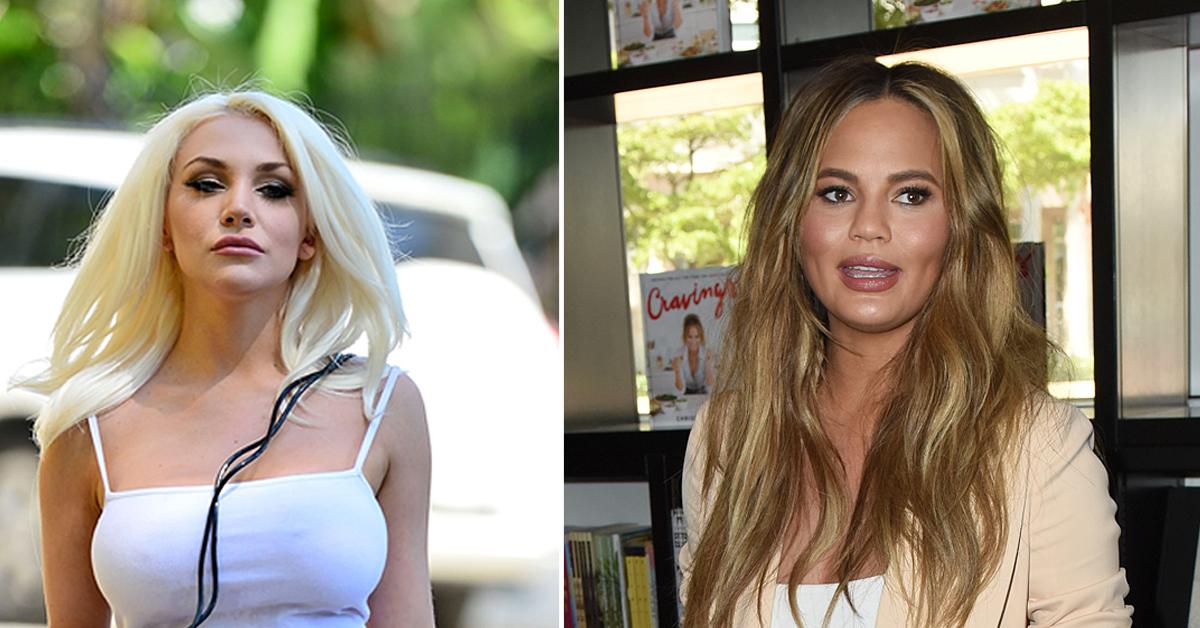 Article continues below advertisement
"She wouldn't just publicly tweet about wanting me to take 'a dirt nap' but would privately DM me and tell me to kill myself. Things like, 'I can't wait for you to die,'' the 26-year-old claimed of the past abusive remarks John Legend's wife, 35, would allegedly send them, who was 16 at the time.
Article continues below advertisement
A "dirt nap" refers to a dead person's burial. In one of Teigen's 2011 messages allegedly sent to Stodden, Stodden claimed Teigen wrote: "My friday fantasy: you. dirt nap. mmmmmm baby." Another supposed tweet from Teigen to Stodden, according to them, read: "go. to sleep. forever."
Article continues below advertisement
In March, model and singer Stodden threw shade at the social media personality, calling her a hypocrite for temporarily leaving Twitter over negative comments when she apparently made multiple hurtful remarks towards them in the past. Stodden explained that they felt "bullied" by Teigen on social media.
After Teigen announced her social media hiatus, Stodden shared a March 2011 tweet Teigen allegedly wrote. "Saying Courtney Stodden's FB age got shut down for being too sexy is like saying the Nazi's were just meanies. As in, not quite," her tweet read, according to Stodden's screenshot. "What a shame #chrissyteigen is leaving Twitter," Stodden wrote alongside the old post.
Article continues below advertisement
Article continues below advertisement
Stodden — who rose to fame in 2011 when she wed actor Doug Hutchinson, who was 50 at the time — also revealed that Teigen wasn't the only women in the entertainment industry who was cruel to them.
Article continues below advertisement
"There were a lot of celebrities acting like playground bullies. Some of the worst treatment I got was from women," they admitted, claiming The View's "Joy Behar had a field day with calling me a 'slut,'" and that "Courtney Love told me I was a 'whore.'"
Stodden explained that "people came out of the woodwork" to bully them as a kid because they were "in a situation that [they] shouldn't have been in."
Article continues below advertisement
Stodden candidly admitted that there have been dark times in their life where they didn't want to be alive anymore. "There have probably been five times that I've felt like I wanted to kill myself — and made the actions to go ahead and do it. So, there's been a lot of dark moments in my life," they confessed.
Despite the haters, the blonde babe exclusively told OK! that people's cruelty actually made them stronger. "I thank everyone who bullied me actually at the end of the day, cause it helped me and served me in a way that made me who I am. So thank you bullies," Stodden insisted.