NEWS
Courtney Stodden Claims They Did Not Actually Receive Personal Apology From Chrissy Teigen, Calls Her 'Wokeness' A 'Broken Record'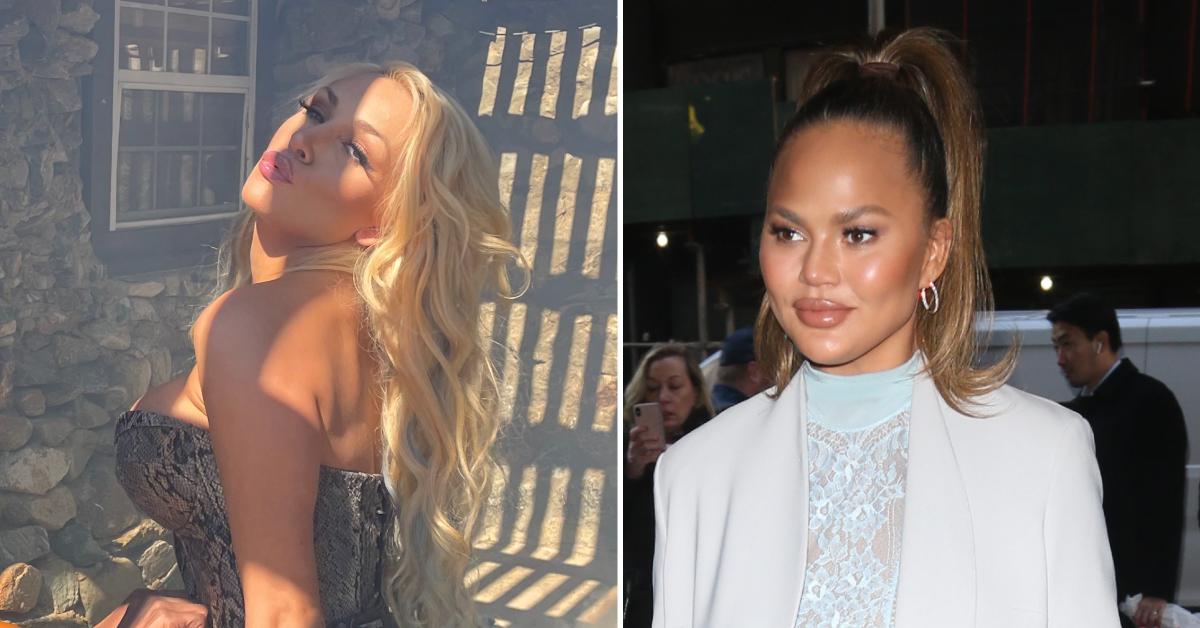 Model Courtney Stodden is doubting the sincerity of Chrissy Teigen's public apology after Teigen expressed regret for bullying them when they were a teenager and allegedly telling them to kill themself. Stodden pointed out that Teigen has them blocked on Twitter, where she gave the apology, and revealed that they have not in fact heard from Teigen personally.
Article continues below advertisement
"I accept her apology and forgive her. But the truth remains the same, I have never heard from her or her camp in private," Stodden — who recently declared they were non-binary last month (they/them) — wrote via Instagram on Wednesday, May 12, alongside a screenshot showing the cookbook author has them blocked on the social media platform. (Teigen had told followers she reached out to Stodden personally before making her apology public.)
Article continues below advertisement
Stodden continued: "All of me wants to believe this is a sincere apology, but it feels like a public attempt to save her partnerships with Target and other brands who are realizing her 'wokeness' is a broken record."
Article continues below advertisement
As OK! previously reported, the 26-year-old blonde beauty claimed that Teigen bullied them when they were only 16 — following Stodden's meteoric rise to fame after they married then 51-year-old actor, Doug Hutchinson. The cookbook author would hurl insults at the teen bride online and in private, Stodden claimed.
"She wouldn't just publicly tweet about wanting me to take 'a dirt nap' but would privately DM me and tell me to kill myself. Things like, 'I can't wait for you to die,'" they claimed. (A "dirt nap" refers to a dead person's burial.)
Article continues below advertisement
Teigen expressed remorse for her actions towards Stodden via Twitter following the bombshell accusations. "Not a lot of people are lucky enough to be held accountable for all their past bulls**t in front of the entire world," Teigen began as part of her four-part apology on May 12. "I'm mortified and sad at who I used to be."
Article continues below advertisement
While admitting she was an "insecure, attention seeking troll" when she sent those messages, noting she is "ashamed and completely embarrassed at my behavior," Teigen acknowledged that "nothing compared to how I made Courtney feel."
Article continues below advertisement
Teigen — who has won the public over with her hilarious online remarks and banter — explained that she's tried in recent years to "be beloved" and give online users "joy." She now feels she let everyone down — a feeling she described as "nearly unbearable, truly."
"These were not my only mistakes and surely won't be my last as hard as I try but god I will try!!" John Legend's wife continued.
Article continues below advertisement
Teigen told her Twitter followers that she tried connecting with "Courtney privately, but thought the public also needed to hear her words." She wrapped up her apology to Stodden by saying she hopes the Instagram influencer "can heal now knowing how deeply sorry I am."
Article continues below advertisement
Stodden has endured some hard times following their troubling childhood — where they say the bullying began as they developed faster than their female counterparts in school — they have insisted the haters made them who they are today.
Article continues below advertisement
"I thank everyone who bullied me actually at the end of the day, cause it helped me and served me in a way that made me who I am. So thank you bullies," Stodden exclusively told OK!.
The Couple's Therapy alum took their toxic relationship with their ex-husband as well as the ridicule they encountered from the media and used it as fuel to drive their art. Stodden recently released their seductive new single "Pleasure," so they could finally "tell a story of who I'm becoming," they dished to OK!.