ROYALS
Prince William & Prince Harry Were 'At Each Other's Throats As Fiercely As Ever' At Prince Philip's Funeral
Article continues below advertisement
In an op-ed for the Daily Mail, royal expert Robert Lacey explained that many hoped their grandfather's funeral in April would "bring the warring brothers together in an atmosphere of reflection" but instead, they "started quarrelling again."
"There they were, at each other's throats as fiercely as ever," a family friend told Lacey. "The rage and anger between those two has grown so incredibly deep. Too many harsh and wounding things have been said."
Article continues below advertisement
"The conflict between Diana's two bitterly divided sons does not seem likely to end any time soon," the royal historian added.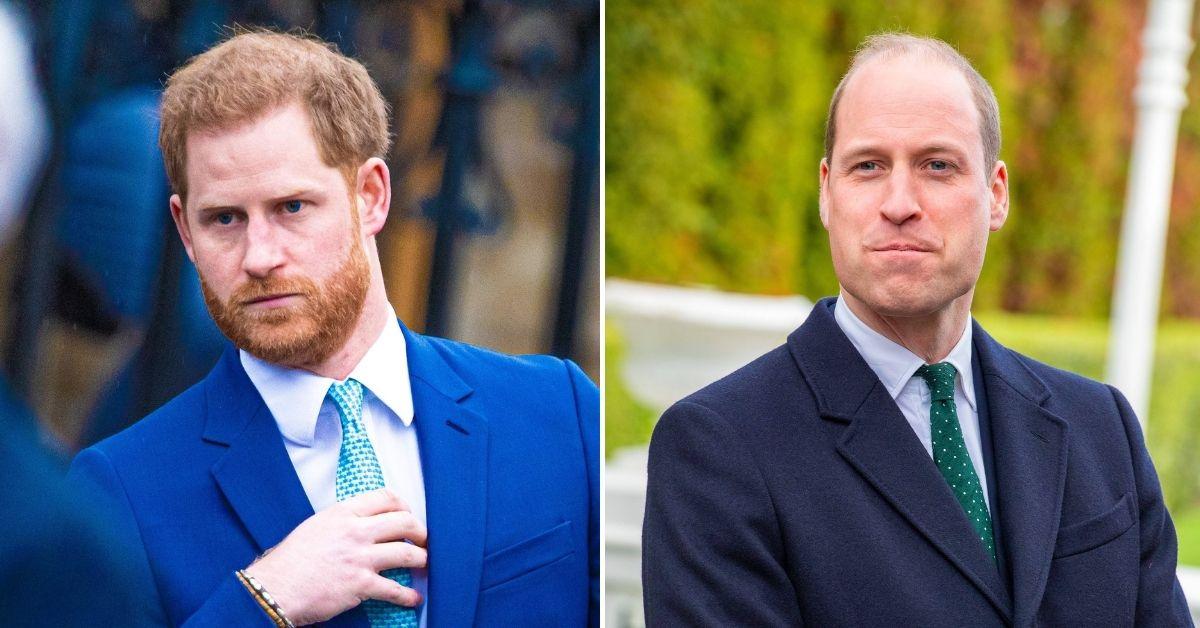 Article continues below advertisement
However, the consultant for The Crown noted that William and Harry have a close network of friends and even some family members around them working to help them mend the rift. "There is a peace plan in action — several plans, in fact," Lacey said.
Article continues below advertisement
"Harry did speak to William while he was in the U.K., so in that respect, they made some progress," an insider told Us Weekly. "But they definitely haven't reached the stage where all is forgiven nor have they buried the hatchet."
After the funeral, William reportedly did not speak fondly of Harry's wife Meghan Markle. "Look at the way that bloody woman treated my staff — merciless," he said, according to a Daily Mail source.
Article continues below advertisement
As previously reported by OK!, in a pre-released snippet of Lacey's book Battle of Brothers: William, Harry and the Inside Story of a Family in Tumult, Lacey wrote that Meghan and Harry's departure from Kensington Palace was at Prince William's request. "William wished to be separated from Meghan on a day-to-day basis — and that meant being separated from his brother as well," he wrote.
Article continues below advertisement
The brothers will come face-to-face again next week for the unveiling of a statue of Princess Diana. However, sources say it will "be a fleeting visit," and Harry will be "in and out."
"Prince William and Prince Harry will attend a small event to mark the unveiling of a statue they commissioned of their mother, Diana, Princess of Wales, in the Sunken Garden at Kensington Palace on Thursday 1st July," a Buckingham Palace spokesperson told Us Weekly.
Article continues below advertisement
"There is, of course, hope the memory of Diana can repair their relationship but that seems a long way off right now," an insider previously told The Sun. Harry and William will reportedly not be giving a joint address.
Earlier this year, Harry and Meghan's bombshell interview with Oprah Winfrey made global headlines and prompted the royal family to respond.
Article continues below advertisement
Harry told Winfrey that his relationship with William was "space," and he claimed that both William and their father Prince Charles were "trapped" in royal duties.
"I love William to bits," Harry said at the time. "We've been through hell together and we have a shared experience, but we are on different paths."
Article continues below advertisement
William told the press that the royals were "not a racist family" after the Sussexes said there had been "conversations" about what color skin their son Archie would have when he was born.
Buckingham Palace said the royal family was "saddened" to learn of "how challenging the last few years have been for Harry and Meghan," and noted that they "will always be much loved family members."