ROYALS
Meghan & Harry Snubbed! Princess Eugenie & Jack Brooksbank Move Back In With Her Parents Prince Andrew & Sarah Ferguson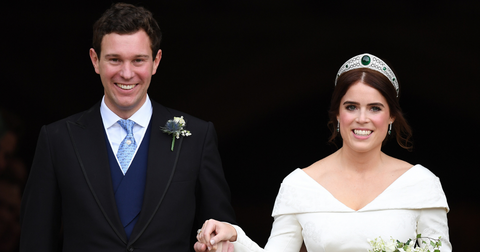 View all comments
Article continues below advertisement
The royal couple previously lived in Frogmore Cottage — which was lent to them by Prince Harry and Meghan Markle — but moved out after only six weeks.
On Finding Freedom author Omid Scobie's podcast, "The HierPod," he shared that the couple has moved back into the Royal Lodge, which is where Eugenie and her sister, Beatrice, grew up.
"We saw something in the news a few weeks ago about how Princess Eugenie and Jack Brooksbank had moved into Frogmore Cottage. Harry and Meghan had opened the doors to the home to the couple and then mysteriously there was a report that said they had moved out. And no one really knew exactly where they were," Maggie Rulli, an ABC News London correspondent, said.
Article continues below advertisement
The royal couple spent Christmas in the Royal Lodge, and Scobie said that he suspects "that's probably where they will remain up until much later in the year."
Article continues below advertisement
"During this lockdown period I've really loved spending more time with Eugenie and Jack. My daughter got married to Jack in, oh goodness, was it last October? No, it was October before, heavens! And so, of course, once she's gone to get married, they live away. So, I haven't seen her so much and so now it's been a total joy to spend real quality time with her," Ferguson said on Darlton Harris' "City Island" podcast.
As Princess Eugenie and her husband are expecting a baby this year, a source previously revealed that they want their child to have a normal life. "Even if the Queen offered them a title as a gift, it's not Eugenie or Jack's desire for their child to have a title. Eugenie knows that a title can be a curse as well as a blessing," the insider said.
The pair also wants their child to work to earn their living. "Titles really don't matter to Jack and Eugenie, they just want a happy, healthy child," the source said.
Article continues below advertisement
Article continues below advertisement
Prince Andrew stepped down from royal duties not too long after his bombshell Newsnight interview in 2019 when it became "clear to me over the last few days that the circumstances relating to my former association with Jeffrey Epstein has become a major disruption to my family's work and the valuable work going on in the many organizations and charities that I am proud to support."
"What is important is that the Royal Family, i.e. the Queen, Prince Charles and Prince William, have decided that Andrew does not represent them anymore. This is their way of standing up themselves," royal biographer Angela Levin previously said.
"He has tried very recently to come back and be helpful, particularly since Meghan and Harry are no longer around. But it was made very clear that he doesn't stand a chance. This is their way of being honorable themselves."
Vanity Fair was the first to report the news about Eugenie moving in with her parents.