BREAKING NEWS
Former Secretary Of Defense Donald Rumsfeld Dead At Age 88
Donald Rumsfeld has died at the age of 88, according to a family statement released Wednesday, June 30.
Article continues below advertisement
"It is with deep sadness that we share the news of the passing of Donald Rumsfeld, an American statesman and devoted husband, father, grandfather and great grandfather. At 88, he was surrounded by family in his beloved Taos, New Mexico," the statement read.
"History may remember him for his extraordinary accomplishments over six decades of public service, but for those who knew him best and whose lives were forever changed as a result, we will remember his unwavering love for his wife Joyce, his family and friends, and the integrity he brought to a life dedicated to country," the statement continued.
Article continues below advertisement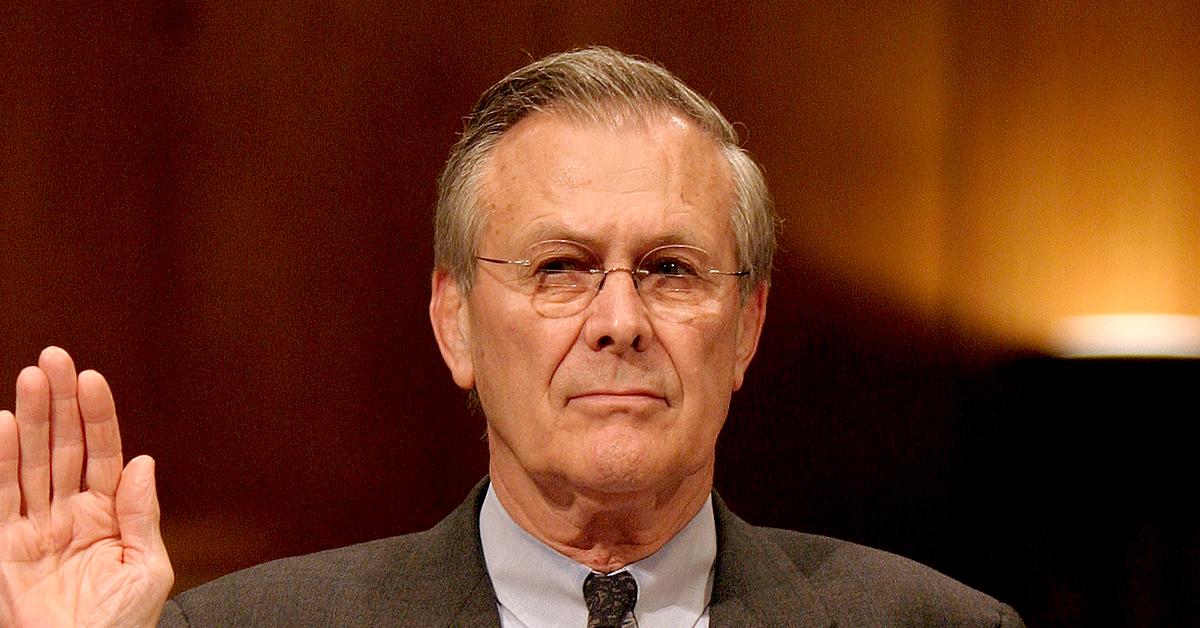 Article continues below advertisement
Rumsfeld famously served as Secretary of Defense from 1975-1977 under President Gerald Ford, and again from January 2001-December 2006 under President George W. Bush. He was both the youngest and the second-oldest person to have served in the cabinet position.
Article continues below advertisement
As Bush's Secretary of Defense, Rumsfeld played a central role in the United States' invasion of Afghanistan and invasion of Iraq. Before and during the Iraq War, he famously claimed that Iraq had an active weapons of mass destruction program; yet no stockpiles were ever found.
Article continues below advertisement
Additionally, Rumsfeld was a three-term U.S. Congressman from Illinois (1963-69), director of the Office of Economic Opportunity (1969-70), counsellor to the president (1969-73), the United States Permanent Representative to NATO (1973-74) and White House Chief of Staff (1974-75).
Article continues below advertisement
Between his terms as Secretary of Defense, he also served as the CEO and chairman of several companies.
In his retirement years, he notably published an autobiography Known and Unknown: A Memoir as well as Rumsfeld's Rules: Leadership Lessons in Business, Politics, War, and Life.
Article continues below advertisement
In 2007, he also established The Rumsfeld Foundation, which focuses on encouraging public service in the United States and supporting the growth of free political and free economic systems abroad. The educational foundation provides fellowships to talented individuals from the private sector who want to serve for some time in government. Rumsfeld personally financed the foundation.