VIDEOS
Like Mother, Like Daughter! Watch Pro Serena Williams Teach 3-Year-Old Daughter Olympia How To Play Tennis In Adorable Clip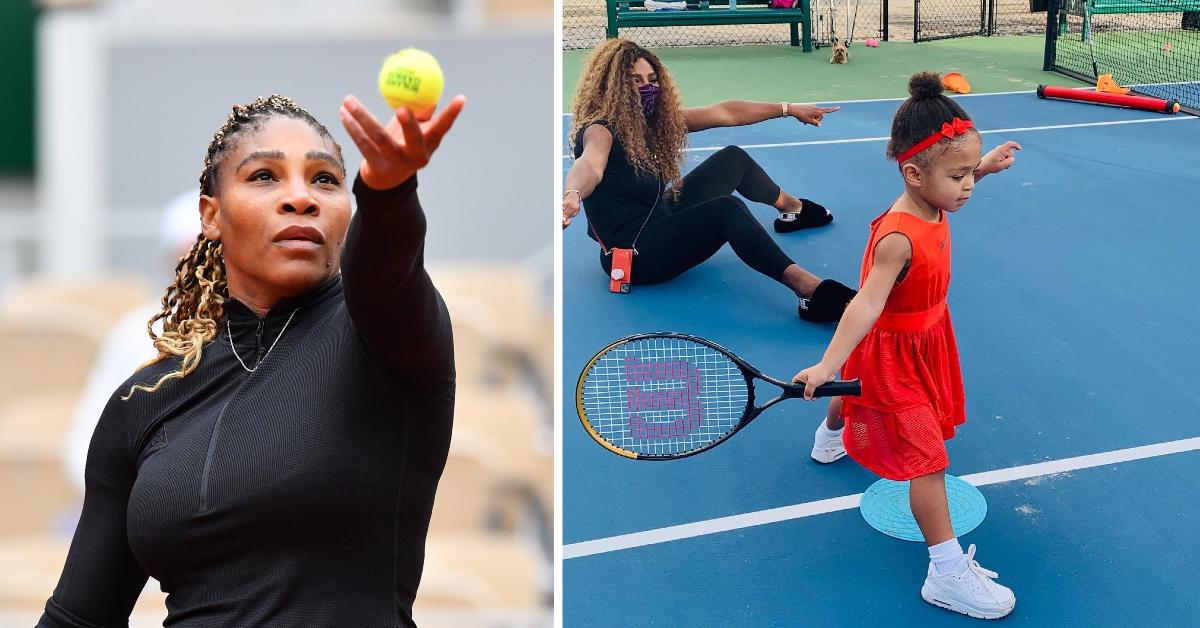 She got it from her mama!
Serena Williams shared an adorable video of her and daughter Olympia enjoying a game of tennis — or should we say: a video of Olympia running around the tennis court while Williams practiced?
"Footage from my practice before leaving with my training partner," the 39-year-old captioned her video on Tuesday, January 19, before tagging her daughter's Instagram account. Of course, fans and tennis pals couldn't help but gush over Williams' hilarious video.
Article continues below advertisement
"This is everything 😍❤️," Danish tennis pro Caroline Wozniacki responded. "I love the 'I'm okay' at the end😂😂😭She is so precious!" one fan raved. Another Instagram user wrote: "Momma & Baby GOAT.... 🙌🏾," as a third added, "Best doubles duo since you and Venus! 😍💕."
One week prior, the former No. 1 in women's single tennis — who shares Olympia with husband Alexis Ohanian — shared another snap of her little star in the making on the tennis court. "Turn, back, reach, head, follow through," she captioned the photo of her instructing Olympia.
Article continues below advertisement
To no one's surprise, Williams' celeb pals flooded her comment section to praise the three-year-old cutie. Eva Longoria commented a heart-eyes emoji and Quavo wrote, "Lil Rena 💪🏽🎾." Diddy also commented a black heart emoji and Tennis legend Billie Jean King wrote, "Look out, world! Keep going for it!"
Williams' daughter is sure to follow in her mama's footsteps, as Olympia often watches her take home win after win on the court.
Article continues below advertisement
In September, Ohanian, 37, and Olympia cheered on Williams in the 2020 US Open. "I hope that she saw her mama fighting," the mother-of-one said of Olympia after her third-round victory over Sloan Stevens.
"I don't think she was paying attention between you and me," Williams joked. "She may have been playing with some princesses upstairs."
From playing dress up and baking to spending time on the court, the 23-time Grand Slam winner often shares glimpses into the mother-daughter duo's lovable relationship. While Ohanian doesn't get featured on Williams' page as much as their baby girl, she previously shared a touching video of the three at the start of the pandemic.
"Staying inside and spending time with my family, my home team," she captioned the clip with her hubby.