COUPLES
Madison LeCroy Drops 'Receipts' About Alleged Jay Cutler Fling After He Sparks Reconciliation Rumors With Ex Kristin Cavallari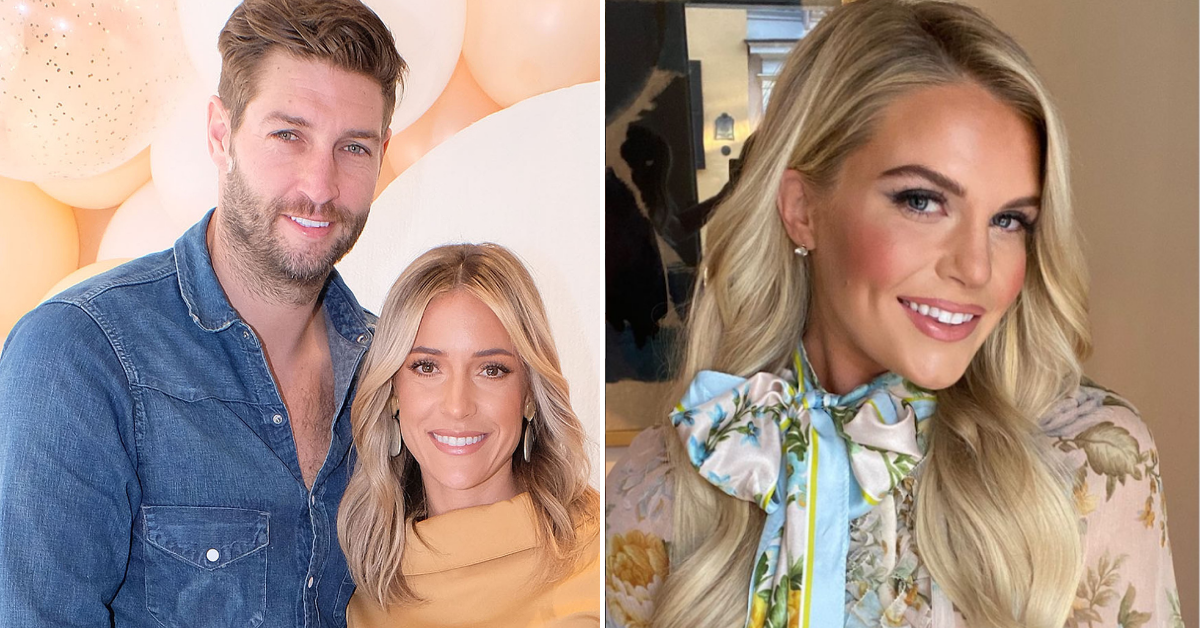 Social media blew up when Kristin Cavallari and Jay Cutler seemed to reconcile, but reality star Madison LeCroy stirred the pot when she dropped some "receipts" about her alleged fling with the former football player.
Article continues below advertisement
On Sunday, January 24, the Southern Charm star — who was linked to Cutler earlier this month — shared screenshots of what appears to be messages between her and Cutler.
The day before she decided to spill the beans about Cutler, LeCroy posted a snap on her Instagram Story with a margarita and the caption, "Cheatin."
Article continues below advertisement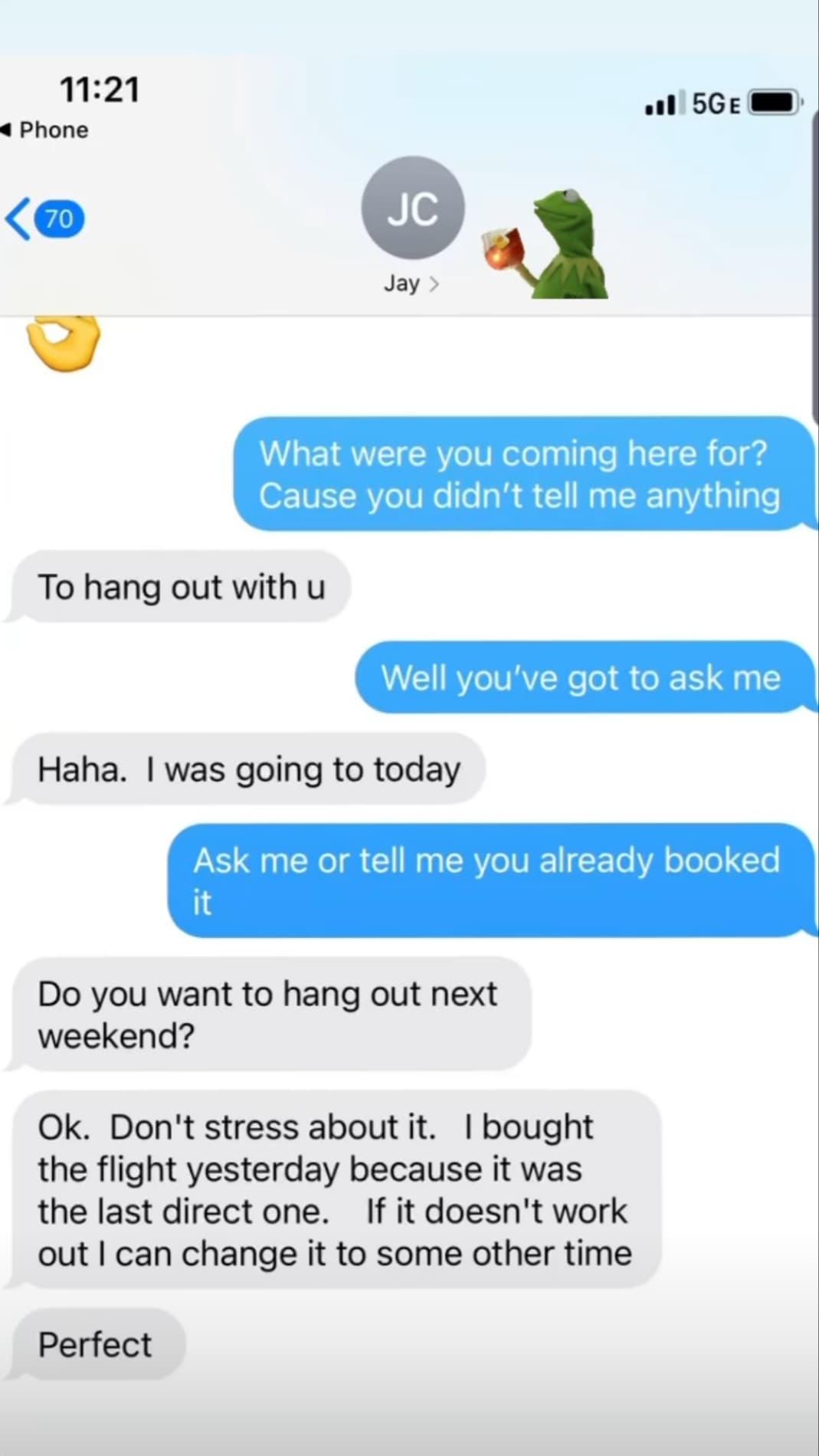 Article continues below advertisement
"What are you coming here for? Cause you didn't tell me anything," LeCroy said in the first message to Cutler, in which he seemingly booked a flight without telling her.
"To hang out with you," Cutler replied, to which the Bravo star responded, "Well you've got to ask me."
"Ask me or tell me you already booked it," LeCroy told Cutler.
"Don't stress about it," Cutler wrote. "I bought the flight yesterday because it was the last direct one. If it doesn't work out I can change it to some other time."
Article continues below advertisement
In another screenshot, Cutler seemed to get upset when she apparently brought his name up, which he didn't "appreciate."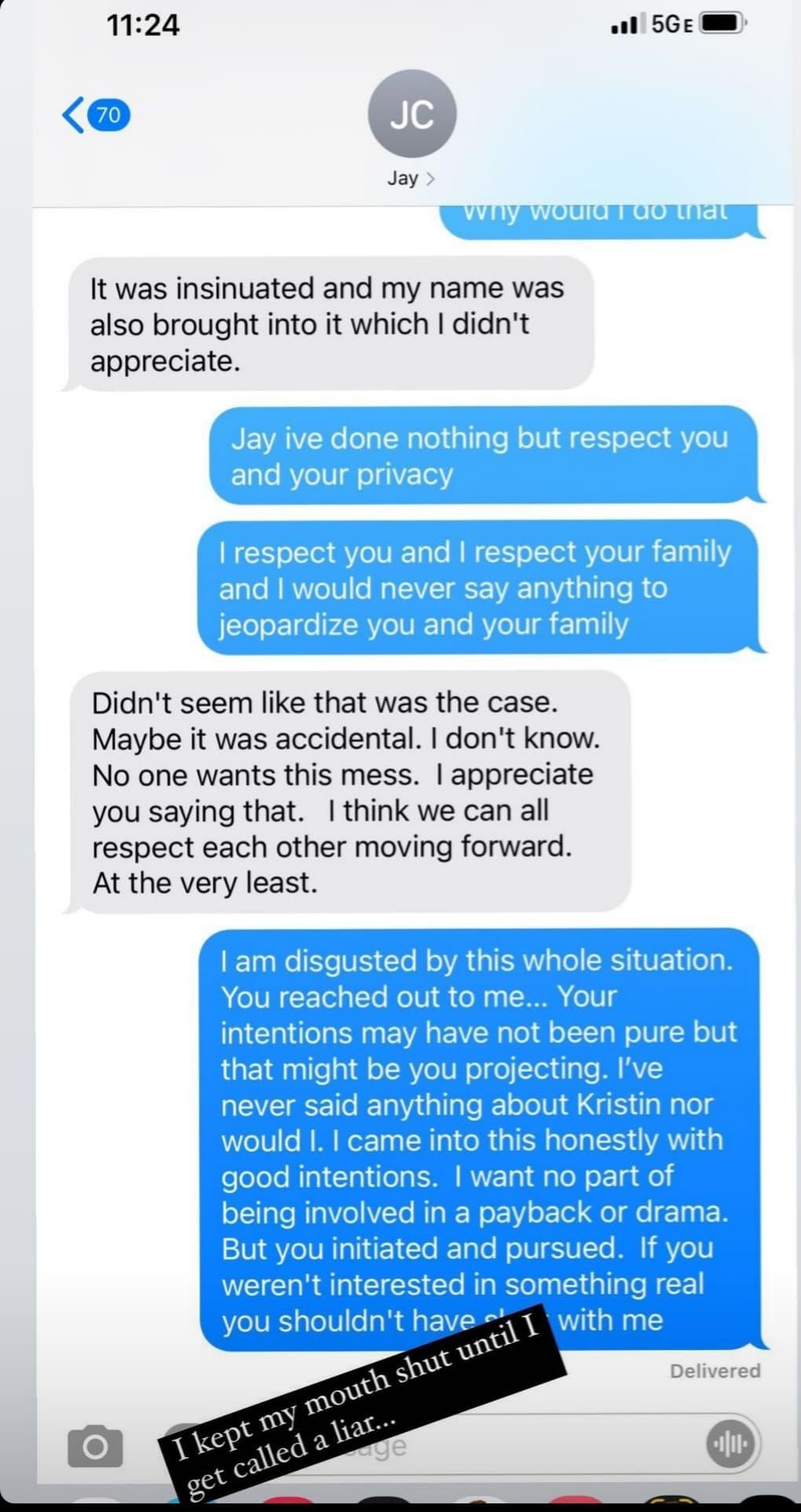 Article continues below advertisement
Article continues below advertisement
"Jay I've done nothing but respect you and your privacy. I respect you and I respect your family and I would never say anything to jeopardize you and your family," LeCroy told the 37-year-old.
"Didn't seem like that was the case," Cutler replied. "Maybe it was accidental. I don't know. No one wants this mess. I appreciate you saying that. I think we can all respect each other and move forward. At the very least. "
Article continues below advertisement
"I am disgusted by this whole situation. You reached out to me ... Your intentions may have not been pure but that may be you projecting. I've never said anything about Kristin nor would I. I came into this honestly with good intentions. I want no part of being involved in a payback or drama. But you initiated and pursued. If you weren't interesting in something real you shouldn't have..." LeCroy shot back but covered a word with the caption, "I kept my mouth shut until I get called a liar…"
Article continues below advertisement
"The world is full of users. 10 years. Can't break that," Cavallari and Cutler both captioned a photo of themselves on Friday, January 22.
However, it seems like the former flames are just pals for now. "They are friends and single. They will always have each other's back no matter what," a source told PEOPLE about the co-parents, who share children Camden, Jaxon and Saylor.
Cutler and Cavallari announced their divorce in 2020, and the 34-year-old was linked to Jeff Dye in late 2020.
"I have hard days, without a doubt, and right now I'm really just focusing on my kids and making sure that my kids are good," Cavallari told Entertainment Tonight about her life post-divorce. "That's my only priority at the moment, and they're handling it well. I'm just trying to stay positive and focus on all of the positive things. But I have sad days, without a doubt."