BABIES
Bindi Irwin Celebrates 'Little Wildlife Warrior' Grace's One-Month Milestone With Sweet Video Of Tortoises Hanging With Her Tot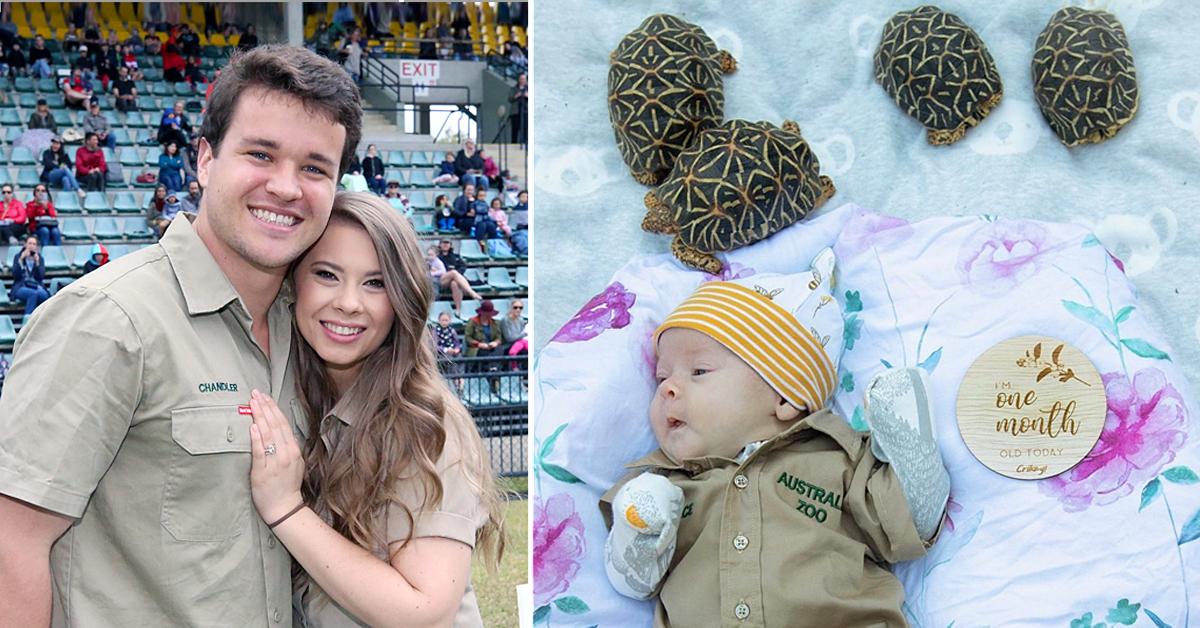 After only four weeks on Earth, it looks like Grace Warrior is ready to follow in parents Bindi Irwin and Chandler Powell's footsteps as wildlife connoisseurs!
Article continues below advertisement
"Our little Wildlife Warrior. 💗🐢," the 22-year-old captioned the clip on Monday, April 26, of Grace wearing a mini Australia Zoo khaki button-up embroidered with her name.
Article continues below advertisement
Article continues below advertisement
One day prior, Irwin shared photos of Grace in her "first khakis" with the "star tortoises" from the Australia Zoo to celebrate her one-month milestone. "We're so proud of our Wildlife Warrior princess," she captioned the array of photos. "I know our darling girl is going to grow up caring for Mother Earth and all her animals."
Article continues below advertisement
Powell, 24, also took to Instagram to celebrate the couple's first month with their daughter. "One month of life with our beautiful girl, She's already got her own khakis and is helping take care of star tortoises at #AustraliaZoo. We love you Grace!" he wrote alongside his post. His proud wife couldn't help but gush over his touching post, commenting: "Sweetheart ❤️."
As OK! reported, the lovebirds welcomed Grace on March 25, which also marked the duo's first wedding anniversary. At the time, Irwin paid tribute to both her daughter and husband via Instagram.
Article continues below advertisement
"Celebrating the two loves of my life. Happy first wedding anniversary to my sweetheart husband and day of birth to our beautiful daughter," she captioned the photo of her and Powell lovingly looking down at their bundle of joy.
Article continues below advertisement
The Bindi the Jungle Girl alum has kept her social media followers updated on her pregnancy journey and life as a new mother since first announcing her pregnancy last August.
Most recently, Irwin praised her hubby for being a wonderful husband and father to Grace. "A note of gratitude for this incredible man that I get to call my husband," she captioned the photo of Powell smiling while holding their sleeping daughter. "Grace and I are beyond blessed to have him in our lives. His strength, love and kindness are the greatest gifts in the world. ❤️"