PHOTOS
Amy Schumer's Most Powerful Naked Moments On Instagram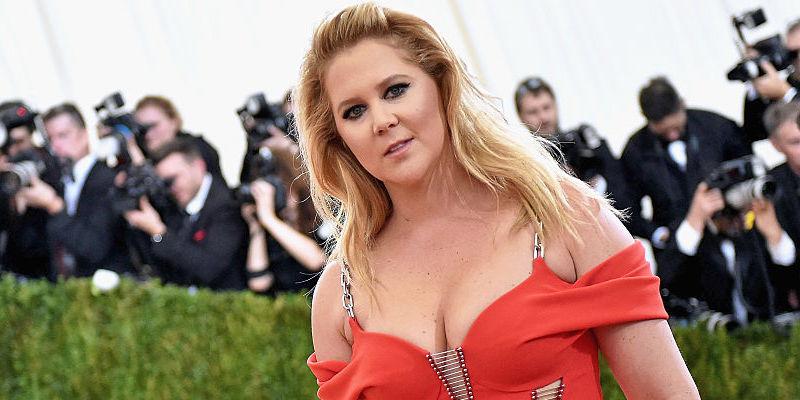 When comedian and actress Amy Schumer started getting famous people were more than cruel. She was constantly shamed online, especially for her body and became a major part of her standup. She's joked about how she is what Hollywood calls "fat" and how people said she couldn't weigh more than 140 pounds without hurting peoples eyes... ouch.
Instead of letting the hate get to her, Amy posts powerful photos of her naked body with no shame—and has even landed huge cover shoots for sexy magazines like GQ. Along with body positivity, she is also very vocal about female empowerment and has been quoted saying "I am a woman with thoughts, and questions, and s**t to say." She has even been open about the fact that she was raped.
Article continues below advertisement
MORE: WHY AMY SCHUMER REFUSES TO TAKE HER HUSBANDS LAST NAME
Amy is also very outspoken about the unfairness of female beauty standards. In an interview with Glamour she said, "for women, we're taught to eat less until we disappear. And trained to believe that if you don't look like everyone else, then you're unlovable. And men are not trained that way. Men can look like whatever and still date a supermodel. I'm proud of what I said. I think it's good to see somebody saying: I have a belly. And I have cellulite. And I still deserve love. And to catch the old D. And to not apologize."
Furthering her crusade on female body image, Amy even criticized the Kardashians on SNL calling them "bad role models" for losing so much weight and getting plastic surgery. Although she was later called out by Khloe Kardashian for body shaming, Amy had no regrets and stood by what she said.
The comedian recently got married and her carefree, body positive realness is an inspiration for everyone to be themselves. Not to mention she also has the coolest friends to frolic around in bikinis —Jennifer Lawrence, anyone?
MORE: AMY SCHUMER MAKES A BABY REVELATION
Proud of the skin she's in, Amy often uses her nakedness to focus attention on an all-inclusive and body-positive message. Here are 10 times Amy's most naked moments on Instagram sent that message loud and clear!
1. Amy For Gun Safety
Amy ditched the panties and sported an orange bra to support gun safety on National Gun Violence Awareness Day. This message was particularly powerful after all the recent shootings.
Article continues below advertisement
2. Amy's OK With This Wage Gap
Article continues below advertisement
3. Support Your Friends
Amy posted this hilarious photo of her friend Bridget Everett using her as table while in her bathing suit to help support and promote Bridget's show. Girl power!
Article continues below advertisement
4. #nationalbikiniday
On #nationalbikiniday Amy posted a spread eagle bikini picture that spread body positivity. While models posted stylized bikini pics, Amy's pic (clearly a thigh gap joke) was a breath of fresh air. No two thigh gaps are the same!
Article continues below advertisement
5. Amy > Models
Article continues below advertisement
6. Any Body Shape Is Okay For GQ
When it was announced Amy would be on the cover of GQ there were some major haters. Amy posted a sexy BTS picture to shut the haters up.
Article continues below advertisement
7. Amy For America
Amy saluted America in a hot bikini on July 4th. #patriotic
Article continues below advertisement
8. Always Been Positive
Amy has always been open showing herself just as she is, and posted a pic in a nude unitard back in 2003.
Article continues below advertisement
9. Amy for ALS
When the ALS ice bucket challenge went viral celebrities accepted the challenge and donated money to battle Lou Gehrigs disease. Amy took it one step further and covered herself in clam chowder while wearing a unitard! The stunt was hilarious and helped the donation gain more traction.
Article continues below advertisement
10. F Your Social Standards
Amy always breaks the rules and posted a naked photo of her bare cheeks on a chair wearing nothing but a small towel covering her lady parts. Talk about glamorous. While the haters went crazy in her comments it was likely just because they wished they were getting there makeup and hair done instead.