PHOTOS
Chrissy Teigen Confesses To Thinking Daughter Luna Loved John Legend More When She Was A Baby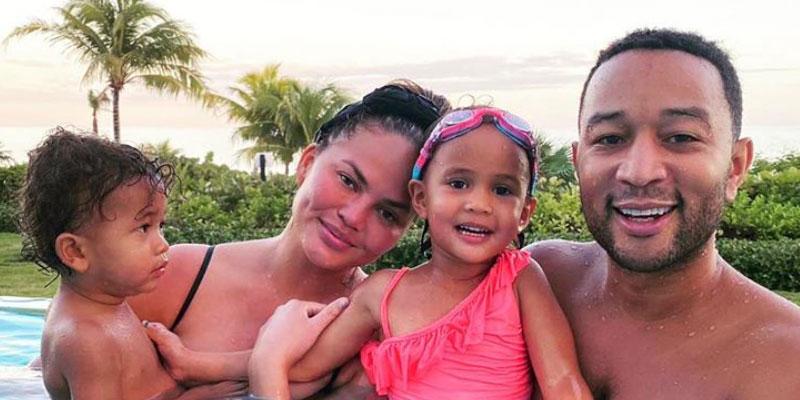 Chrissy Teigen confessed that she didn't think daughter Luna loved her as much as she did John Legend when she was a baby in a new interview. The model recalled being "bummed out" over thinking that their little girl preferred her father, but now that she's had her son Miles she views her children's rejections of affection in a different light.
Article continues below advertisement
"When Luna was a little baby, I would get so sad. I remember being bummed out because I felt like she didn't love me as much as she loved John. It was the dumbest silliest thing to worry about. Now, when Miles pulls away from me, I'm not taking it the same way. I know how strong Luna and my bond is, and I know Miles and I will be there too. You can't take anything personally," Chrissy, 34, said in an interview with Today Parents.
Chrissy went on to explain that she's mom-shamed over "pretty much everything," but there are some things in particular that trolls go after her for on social media. "Any time I post a picture of them holding ribs or eating sausage, I get a lot of criticism. Vegans and vegetarians are mad and feel that we're forcing meat upon them at a young age. They freak out," she divulged.
Article continues below advertisement
She continued, "If they trolls get a glimpse of the car seat, there is a lot of buckle talk. Maybe for one half of a second, the strap slipped down. And TV is another big one. We have TV on a lot in my house. John and I work on television; we love watching television."
Article continues below advertisement
"I felt bad about having postpartum depression because we had so many resources. John was great and helpful. My mom was here… I was embarrassed," she said. The Sports Illustrated stunner recovered with antidepressants and therapy, and revealed that it wasn't the first time she'd had to go on medication. "I was prescribed Lexapro an antidepressant when I was a teenager, and then I just quit cold turkey, not thinking it was a real thing. I thought everyone had problems like mine, like it was part of life," she added.
John explained how becoming parents had strengthened his and Chrissy's bond back in November 2019. "Parenthood deepens your love for your partner because you see them in a different light going through, in our case, the trouble of actually having a kid," he told People, referencing their need to undergo IVF. "Then Chrissy's going through postpartum depression. You just see different sides of that person, and if you go through it and you learn from it and you come out the other end better for it, then it deepens and strengthens your relationship."
Article continues below advertisement
What do you think of Chrissy's confession that she thought Luna loved John more? Sound off in the comments below!