PHOTOS
Vanessa Bryant Reveals Kobe Bryant's Sister Sharia Got A Giant Tattoo In Honor Of Her Late Brother & Niece Gianna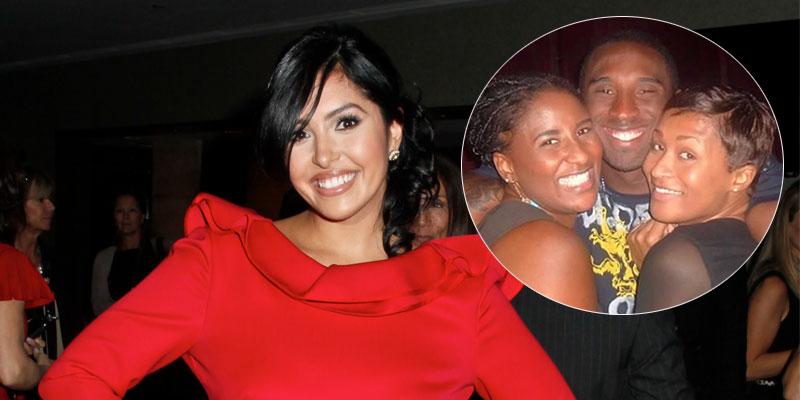 Vanessa Bryant revealed that Kobe Bryant's sister Sharia got a giant tattoo in honor of her brother and late niece Gianna on Instagram on Thursday, February 27. The NBA star's widow shared a pic of her sister-in-law's new ink, and her followers were quick to remark on the touching tribute.
Article continues below advertisement
Sharia, 44, got a black mamba snake in the shape of an infinity symbol around Kobe and Gianna's retired basketball numbers. "(My sister-in-law got this cool tattoo to honor #GigiBryant and #Kobe) ❤️❤️ 2~24 forever. Love you @shariawash -❤️," Vanessa captioned the snapshot.
"This is absolutely beautiful," one fan wrote in the comments section of Vanessa's post. "We can't forget Kobe's parents and siblings need prayers too," another person added. "This is the best one I've seen yet," a third person noted.
Article continues below advertisement
Kobe and Gianna's public memorial at the Staples Center in Los Angeles on February 24 drew a huge crowd of mourners. Vanessa gave a heartbreaking eulogy for her late husband and daughter and was praised for her bravery amid such an unspeakable tragedy. "We will not be able to see Gigi go to high school with sister Natalia and ask her how her day went. We didn't get the chance to teach her how to drive a car. I won't be able to tell her how gorgeous she looks on her wedding day. I'll never get to see my baby girl walk down the aisle, have a father-daughter dance with her daddy, dance on the dance floor with me or have babies of her own," Vanessa said of Gigi.
Vanessa's words for Kobe were equally as heartbreaking. "God knew they Kobe and Gianna couldn't be on this Earth without each other. He had to bring them home to have them together. Babe, you take care of our Gigi. And I got daughters Nani, Bibi and Coco. We're still the best team. We love and miss you, Boo-Boo and Gigi. May you both rest in peace and have fun in Heaven until we meet again one day. We love you both, and miss you, forever and always. Mommy," she said.
Article continues below advertisement
Vanessa recently filed a wrongful death lawsuit against Island Express, the aviation company that owned the helicopter Kobe and Gianna were traveling in at the time of their deaths.
Article continues below advertisement
What do you think of Sharia's new tattoo? Sound off in the comments below!