PHOTOS
Did Kourtney Kardashian Just Throw Shade At Sisters Kylie Jenner & Kim Kardashian?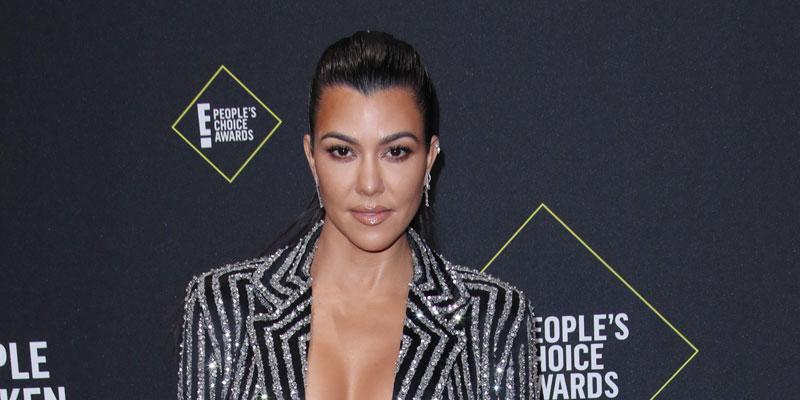 Kourtney Kardashian appeared to throw a little shade towards Kylie Jenner and Kim Kardashian on Instagram on Friday, February 21. The Poosh founder took to social media to ask her followers to recommend good beauty brands, and totally overlooked the fact that Kylie owns Kyle Cosmetics and Kim owns KKW Beauty.
Article continues below advertisement
"Been testing clean makeup, trying to find brands I love! Teach me please, favorites?" Kourtney, 40, captioned a pic of herself posing in her yard. "Apparently not KKW or Kylie," one fan wrote in the comments section while pointing out Kourtney's oversight. "You're kinda dissing your sisters' makeup lines," another person added. "Why don't you come out with your own line?" a third fan recommended.
Kourtney hasn't had the easiest time with her famous family in recent months. Khloe publicly dragged Kourt on Twitter on Monday, February 10 after they attended Beyonce and Jay-Z's Oscars afterparty together. "Ugh why did @KylieJenner and I allow @kourtneykardash to ruin our night last night? Ugh," the Good American founder wrote.
Article continues below advertisement
Kim hinted that she "might need an attorney" after a fight that is set to air on season 18 of Keeping Up with the Kardashians went down between her and Kourtney. The SKIMS founder explained on Laura Wasser's All's Fair podcast that things got "a little violent" during their altercation, but didn't specify what led to their confrontation. She went on divulge that the dynamic between them "gets a lot worse before it gets better."
Kim also admitted that Khloe is her favorite sister during an interview with Lisa Wilkinson on The Sunday Project in December 2019. "You've joked on the show for years with your sisters that you were the favorite daughter until Kylie Jenner became a billionaire. Do you have a favorite sister?" Lisa asked Kim. "I would say Khloe and I are really close in the last few years since she's had her baby. I don't know if it's like a favorite — I love each sister for a different reason. But as far as closeness, me and Khloe are just really close right now," Kim said.
Article continues below advertisement
"Rank your siblings Kim, Kylie, Khloe, Kourtney and Rob from best to worst parent," Harry told Kendall. "I will start by saying they are all amazing parents, they really are. I'd say Rob is number one, he is so good to his daughter Dream and then I mean that's so hard they're all amazing. Then it would be like Khloe, Kim, Kylie... Kourtney," Kendall confessed.
Article continues below advertisement
Do you think Kourtney was throwing shade at Kylie & Kim with her Instagram post? Sound off in the comments below!