PHOTOS
Lizzo Proudly Poses In A Bikini On The Beach Following Jillian Michaels' Controversial Comments About Her Weight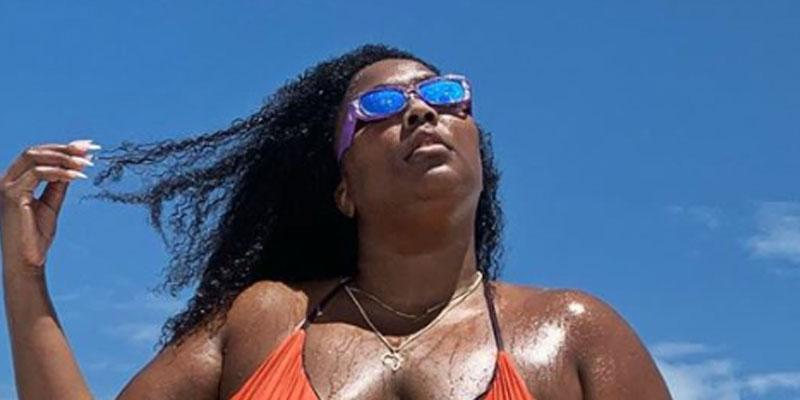 Lizzo proudly rocked a bikini on the beach in snapshots shared to Instagram on Friday, February 7. The singer donned a bright red swimsuit as she dipped her toes in the ocean and struck some poses on the sand. The Grammy winner recently dealt with some criticism over her body when celebrity trainer Jillian Michaels made controversial comments about her weight.
Article continues below advertisement
"Roll model," Lizzo, 31, captioned the pics. "Lizzo's be making a skinny girl like me craving to be curvy!" one fan wrote in the comments section of the post. "You are the reason I'm in a bikini on my island vaca w my hubs," another person added. "Thank you Lizzo for taking a stand to putting an effort to stop the ridiculous beauty and size standards of women," a third fan said.
Jillian, 45, found herself in hot water when she went on BuzzFeed News' AM to DM and made controversial comments about the "Truth Hurts" songstress' size and health. "Why are we celebrating Lizzo's body? Why does it matter? That's what I'm saying. Like why aren't we celebrating her music? Because it isn't going to be awesome if she gets diabetes. I'm just being honest. I love her music, my kid loves her music, but there's never a moment when I'm like, 'I'm so glad she's overweight.' Why do I even care? Why is it my job to care about her weight?" she said.
Article continues below advertisement
Jillian's former Biggest Loser costar Bob Harper thought she should have kept her opinions to herself. "I could never even think where she comes from. When it comes to my thoughts on anyone, I'm never going to give my opinion to anyone that's not asking for it. It's none of my business," Bob told Us Weekly at the Television Critics' Association's winter press tour.
He continued, "I want to listen to Lizzo and enjoy her music. You know, I'm going to work with people or give advice to people that are asking for it. All I know about Lizzo is — and I've never met the woman — I love her music and I know that she can play a mean flute."
Article continues below advertisement
Lizzo had a very NSFW response to Jillian's body shaming. "If my name is in your mouth, so is my p***y, b***h. Enjoy the flavor," Lizzo said in a video uploaded to her Instagram Stories.
Lizzo opened up about a toxic relationship she was in at age 19 that led to her past struggle with body dysmorphia in Rolling Stone. "Skinny guys like me. But I remember he was like, 'I'm a little guy. I need a little girl,'" she recalled. "I've come to terms with body dysmorphia and evolved. The body-positive movement is doing the same thing. We're growing together, and it's growing pains, but I'm just glad that I'm attached to something so organic and alive," she added.
Article continues below advertisement
What do you think of Lizzo's beach pics? Sound off in the comments below!