PHOTOS
Nikki Bella Shows Off Her Bare Baby Bump After Announcing She's Pregnant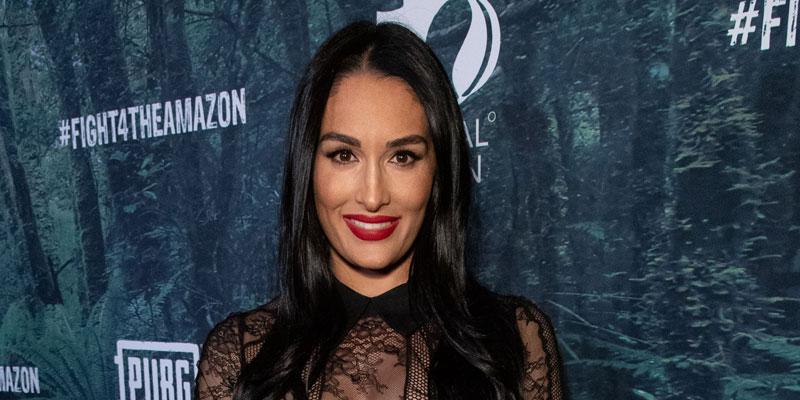 Nikki Bella took to Instagram Stories to show off her bare baby bump on Friday, January 31. The former WWE star announced she's expecting her first child with fiancé Artem Chigvintsev on January 29, and making things more exciting is the fact that her twin Brie Bella is also pregnant!
Article continues below advertisement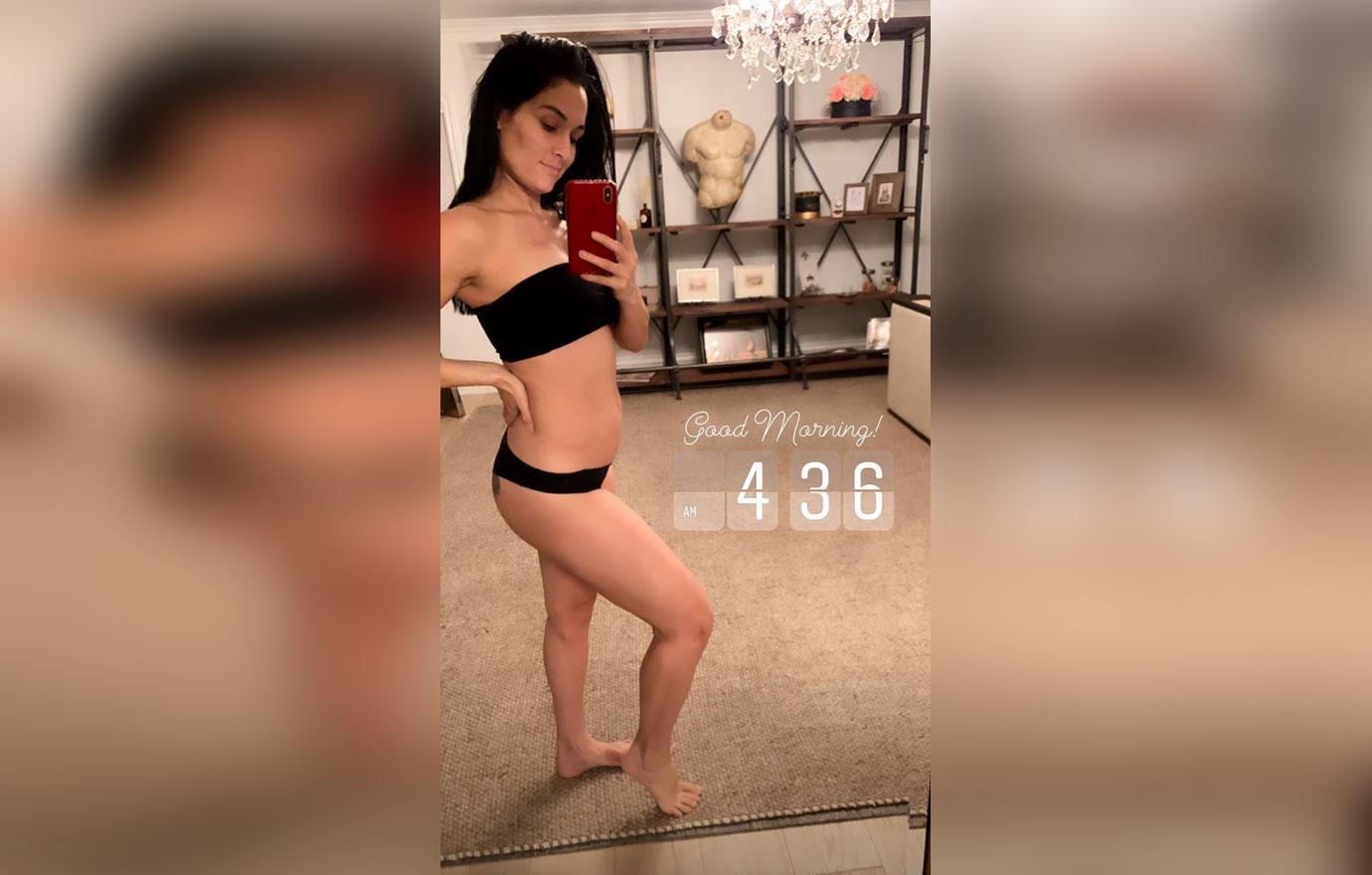 Nikki, 36, gave fans a peek at her growing belly as she filmed a series of videos in nothing but black underwear and a matching tube top. "Good morning everyone, it's super early, like 4:30 a.m. my time. So, still have some abs but my bump is getting bigger. It's so cute, it's like right here at the bottom. I love it. My placenta is like right at the front, right at the top, not in the back. But like, um yeah. It's so crazy to watch it grow and the scale, but I'm embracing it, I love it because my baby's in there," she said. She also posted a photo of Artem cradling her stomach after they got an envelope from their doctor that contained the baby's gender inside.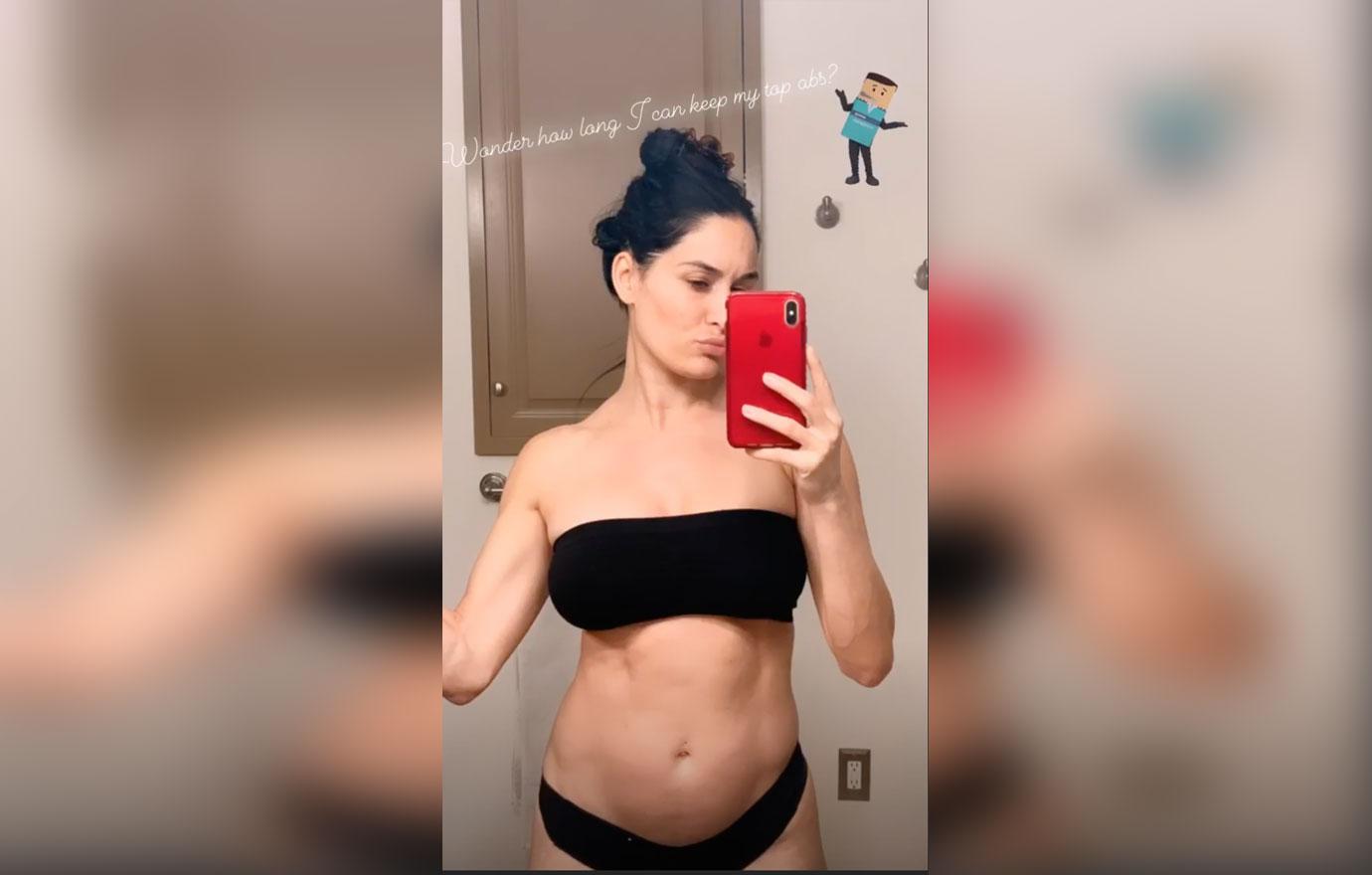 Nikki and Brie revealed that they are due only two weeks apart, but they swear they didn't plan to be pregnant at the same time. "Wait, twins being pregnant at the same time? People are going to think that's a joke. We both are shocked. People are going to think we planned it, but you can't really plan pregnancy!" Brie told People. "It was a total surprise," Nikki added. "It took even me a good week to come to terms with like, 'Oh my gosh, I'm pregnant.' I'm not ready for it."
Article continues below advertisement
Nikki had a hunch something was going on with her body, and decided to take a pregnancy test by herself before informing Artem about the joyous news.
"I was in yoga, and I kept getting this feeling that you need to take a pregnancy test, but I wasn't even late yet. And so I'm like, 'Why do I keep having this feeling? Am I getting twin vibes from her? Because she just told me she's pregnant?' I didn't tell Artem at this point. I just want to do this by myself. When I came back in, and it said pregnant, I had to sit down for a second," she added.
Article continues below advertisement
It has been a big few months for Nikki. Artem secretly popped the question during a trip to France to meet his parents in November 2019, and they shared the news with their fans on January 3. Nikki posted a photo of herself kissing Artem after he proposed in a church covered with rose petals and candles. "Excited for 2020 and the next decade with you @theartemc
I said yes in France in November! We have been trying to keep it a secret but really wanted to share our excitement for the New Year!" she captioned the sweet snapshot. They started dating in 2018 after she called off her engagement to John Cena.
Nikki recently dished on wedding planning with Artem and confessed that she wanted to wait a while before walking down the aisle. "I'm super excited — even though everything was really fast. I'm definitely going to take my time getting married. That was the one thing I told Artem is, I was like, 'I do not want to plan a wedding anytime soon. I really want to take our time being engaged and just soak it in.' But I'm extremely, extremely happy," she gushed on The Bellas podcast.
Article continues below advertisement
Do you think Nikki & Artem are expecting a boy or a girl? Sound off in the comments below!