PHOTOS
Nikki Bella Dishes On Wedding Planning With Fiancé Artem Chigvintsev & Reveals Her Dream Location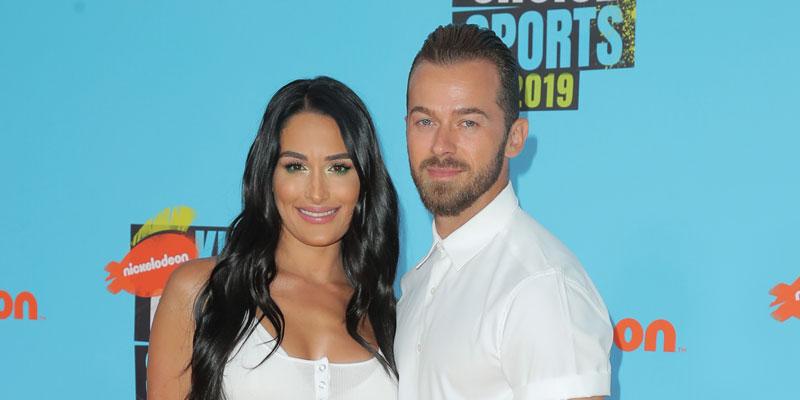 Nikki Bella dished on wedding planning with fiancé Artem Chigvintsev on the Wednesday episode of The Bellas podcast. The WWE star revealed that she wants a long engagement and she would even consider legally tying the knot at a courthouse in order to leave time to plan her dream nuptials.
Article continues below advertisement
Artem popped the question to Nikki on a trip to France while the Total Bellas cameras rolled in November 2019. They announced the joyous news to their fans on January 3. "I will admit: It was very shocking because Artem and I —we've been together a year. But it was very beautiful and, like, our families were there, and here we're in France, in this castle, it's my birthday and Artem proposed! He was so nervous, which made me so nervous. All of a sudden, when I could tell how nervous he was, I got really nervous and, in my head, I'm like, 'Oh my God! This isn't a birthday surprise anymore. This guy is about to propose to me,'" she recalled.
She continued, "One thing he said — how he opened it — was he goes, 'You know, you've come into my life and you've turned it upside down.' And I remember going, 'Is that a good or a bad thing?' But he was so nervous — you know when your words just lose you? But I have to say: Artem in his tux and what he set up ... I can't wait for you guys to see it."
Article continues below advertisement
Nikki confessed that her "dream" location for the wedding would be Paris, but she's not sure that her grandmother could travel the long distance overseas to Europe. She also said she liked the idea of a fall wedding somewhere like Napa Valley or Lake Tahoe. Nikki admitted that she could "see a courthouse thing" before holding the actual larger ceremony, as she's in no rush to walk down the aisle.
MORE ON:
Artem Chigvintsev
"I'm super excited — even though everything was really fast. I'm definitely going to take my time getting married. That was the one thing I told Artem is, I was like, 'I do not want to plan a wedding anytime soon. I really want to take our time being engaged and just soak it in.' But I'm extremely, extremely happy," she gushed.
Article continues below advertisement
Nikki and Artem started dating in 2018 after she called off her engagement to John Cena. She met Artem's parents for the first time shortly before he got down on one knee and asked her to be his wife. "It was the first time Artem saw his parents in five years and his brother. He was so nervous and excited and emotional. They all got really emotional when they saw each other. They cried. I'm not gonna lie — I was really nervous. They don't know English. I don't know Russian, but somehow we made it work. It's crazy when you're put in the situation where you have a language barrier and you're forced to communicate without speaking. They are the sweetest people in the world. Overall, Artem's parents did say they liked me a lot, which is amazing," she said on a podcast episode in December.
Her wedding isn't the only thing she wants to take her time with. She divulged to Health magazine that she decided to freeze her eggs after she was diagnosed with polycystic ovary syndrome. "I definitely want to be a mom one day, but I don't want it now. I'm in this unfortunate situation where I'm 36 and everyone is reminding me, 'Your eggs, your eggs!' So I'm freezing my eggs. I also found out I have PCOS — it kills your fertility. I'm getting brown spots all over my face, acne, weight fluctuations and hair loss. I actually just found out and was devastated. You research it, and there is no cure. I just pray I have some fertile eggs left and that I can still be a mom. So, yes, I do feel like being a mom is in my future. I am just not sure how soon," she explained.
Article continues below advertisement
What do you think of Nikki wanting a long engagement? Sound off in the comments below!