PHOTOS
Joe Giudice Shares Cringeworthy Clip Of Himself Partying With Women While Dancing To Daughter Milania's Song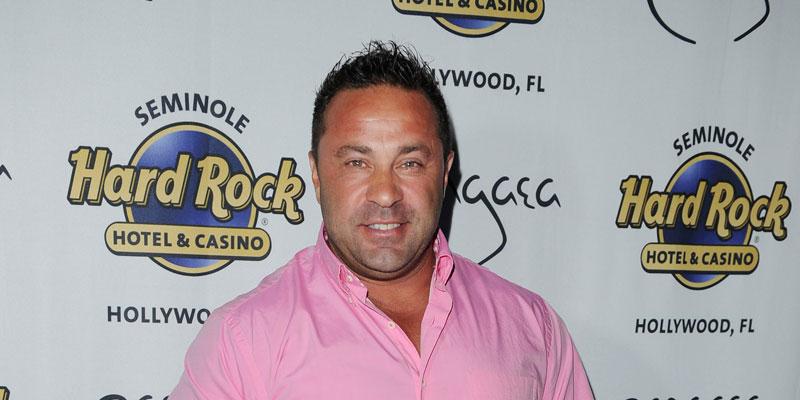 Real Housewives of New Jersey star Joe Giudice shared a cringeworthy Instagram video of himself partying with bikini-clad women in the Bahamas while dancing to daughter Milania's song on Sunday, February 16. The reality star originally took down the clip after getting criticism from fans, but decided to repost it because he's learning about "living without fear."
Article continues below advertisement
Joe, 47, and his young female companions boogied down to Milania's song "I Can't Wait to Grow Up" by the pool at their resort. "Milania these girls right here are dancing to your song," Joe said in the video. "Milania that's you baby. I'm gonna call you right now," he continued.
Joe explained his reasoning for posting the footage to Instagram. "On our last day of ?? trip, ? ?and I were? ? to my buddy song, 'I Can't Wait to Grow Up.' Stop what you're doing and dance 'Milania Style.' I took this down because of others comments! But today, I decided to live for me. In today's society, we are being dictated by our fears. We must consider life a process, not an event. For instance being in ?? is teaching me to be humble. I know it's hard many say Joe really?? Trust me living without fear you must trust that every outcome serves a greater purpose in our life. Sometimes the answer may not come immediately because it involves going on a long dreadful journey to discover it. It will involve work, but I am learning to embrace my fears, anxiety, and trust the process. Don't allow your emotions to distract your journey! #loveyourself #change #trust #fearoffailure #journey #growmindset @milania_giudice356," he captioned the video.
Article continues below advertisement
"Listen, he had a separate cell phone with one girl," Teresa told her costars. "You know that for a fact?" Jennifer Aydin asked. "Yeah! I found it. It was his ex-girlfriend's sister. He said she was going through her divorce ... he was helping her try to sell her house. Like, I quit my job. Gia was three, and I was like, what am I gonna do? I shoulda left then, right? I didn't because he denied it to me. I believed him," Teresa confessed. "Today, do you believe he cheated on you?" Teresa's brother Joe Gorga inquired. "Yeah now I do," she admitted.
Article continues below advertisement
Teresa and Joe are on amicable terms, and she is even open to meeting his future girlfriends. "We're doing good. First priority is our daughters, and that's it. I even told Joe, 'You know, when you find your significant other, I'll even come and hang out with you to make it good for my girls.' Obviously, if I'm fine with it, they'll be fine with it," Teresa said on Pop of the Morning on February 5.
What do you think of Joe's Instagram video? Sound off in the comments below!