PHOTOS
Down Home DeBoers! Teen Mom's Chelsea Houska & Cole DeBoer Build Their Dream Family Farmhouse — Photos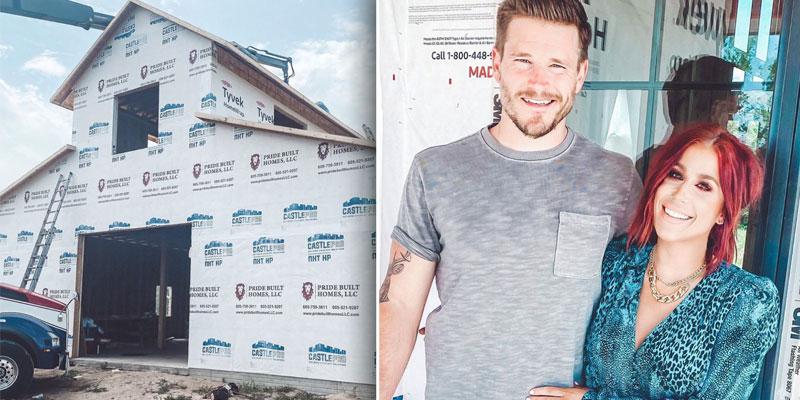 What dreams are made of! Teen Mom 2 star Chelsea Houska is documenting her and husband Cole DeBoer's journey as they build their home in South Dakota.
The loving couple broke ground on their new home in April, and Houska's last update on August 28 showed the kitchen cabinets being installed. The home for the soon-to-be-family of six is already looking super chic, and the reality star gushed back in March how "excited" she is for the new experience.
Article continues below advertisement
CHELSEA HOUSKA REFLECTS ON HER TEEN MOM 2 JOURNEY SAYS MAKES HER 'HEART ACHE'
"Holy crap. We are so excited for this journey. We don't know much about building a house, BUT I have been preparing for this for years if you count Pinterest-ing and allllll the farmhouse Instagram pages I follow," the MTV star wrote on Instagram.
The couple announced in August they were expecting their third child together. "One more DeBoer! Coming early 2021," she captioned the photo. The pair is already parents to 3-year-old son Watson and 1-year-old daughter Layne. Houska also shares 10-year-old daughter Aubree with estranged ex Adam Lind.
'TEEN MOM 2' STAR KAILYN LOWRY REVEALS 4TH SON'S NAME IN ADORABLE NEW PHOTO
The fabulous estate sits on an expansive piece of property, and the couple has been hard at work picking out their personal touches to add to the place. "We went into everything having an idea of what we wanted and got exactly that," she wrote on social media. Of course, there was some "compromising" that occurred between the two. "Things that Cole was set on and I was either or about so we went with his idea. Things I was dead set on so we went with mine," she continued.
Article continues below advertisement
"Get yourself some bomb ass builders because I can't stress enough how much they've been a part of making this process fun," the brunette beauty said.
TAKING A LOOK AT THE BEST TEEN MOM ALUM CLAP BACKS TO HATERS
Their dream farmhouse is coming together one step at a time, and we couldn't be more excited to see the end result.
Scroll through the photos below to see their chic family farmhouse.
The brick is being put on the house. The couple is doing a heavy whitewashed look, so the brick will look mostly white when finished. Also, it will be complete with a screened-in deck to keep the bugs away.
Article continues below advertisement
Custom wood floors were being put in the house. It definitely makes it easier to clean up the all the messes the kiddos make!
Moody! "I cannot tell you how many times we went back and forth on what color we wanted to do this house. Well ... our hearts said go dark SO DARK WE WENT ... AND WE ARE IN LOOOOOOVE," Houska wrote about the color.
Article continues below advertisement
The house comes with a matching barn that the couple will paint black. The barn also has a cool loft area the kids can play in when they get older.
The kitchen cabinets are already being installed. The soon-to-be mom of four will have lots of little mouths to feed in the kitchen when it's completed.
The farmhouse sits on an expansive piece of property with views that are incredible. The grass will give the young ones lots of space to run around.