PHOTOS
'Vanderpump Rules' Star Jax Taylor Explodes On Tom Sandoval On Twitter & Claims He 'Does Things For TV' To Get Attention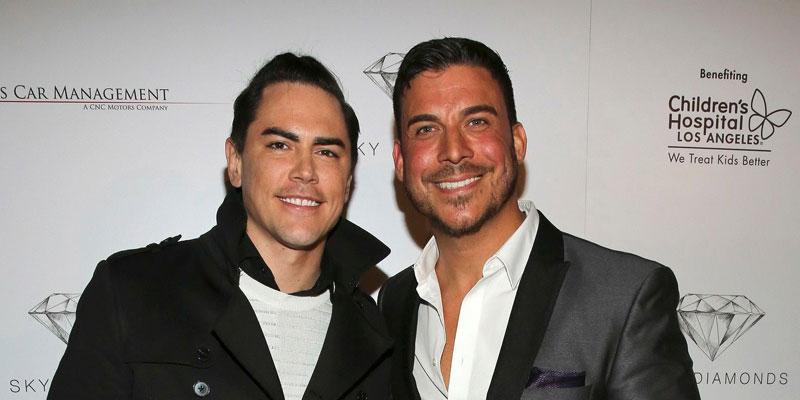 Jax Taylor went after former pal Tom Sandoval on Twitter after he caused drama on the Tuesday, February 18 episode of Vanderpump Rules. Tom stirred up trouble by slamming Jax and now wife Brittany Cartwright over their decision to choose a pastor for their wedding that had made past homophobic remarks, and Jax claimed that he was simply acting like he cared for attention and camera time.
Article continues below advertisement
Tom, 36, accused Jax and Brittany of turning a blind eye to the Christian pastor's homophobic comments at cast mate Peter Madigral's birthday party. After Lisa Vanderpump — who is an outspoken advocate of the gay community — raised her concerns to the couple, Jax and Brittany opted to fire the pastor and Lance Bass ended up officiating their wedding. However, Tom claimed that the pair only made the decision because of pressure from others.
Tom's accusations didn't sit well with Jax and he proceeded to attack his former friend on Twitter after the episode aired. "It's our wedding it's our choice. Period. I don't give a f**k what anyone thinks. We did what was right for Brittany and I. What Tom did was wrong, again, just like Stassi's party, he had no tact. That's the last I'll say about this," Jax wrote.
Article continues below advertisement
He continued, "Hey let's wait till we have a party for poor Peter who just wants to have a good time, and the cameras are up to bring this up… you had all day to talk to me about this. Purely ruined the party so you could get attention in my opinion."
Jax went on to claim that Tom was stirring the pot for camera time, and he also denied that Lisa played any part in their decision to fire the pastor. "Tom does things for tv so he looks good. Period. You all live in a fantasy world," he wrote. "@LisaVanderpump has zero to do with any decisions I have made. I make my own decisions, I think I have earned that over 8 years," he added.
Article continues below advertisement
Jax reserved his harshest words for Tom's treatment of TomTom business partner and pal Tom Schwartz. "A good friend/business partner? He constantly belittles Tom Schwartz and puts him down regarding his home, his marriage, how he handles business, but yeah he's a good friend? Are we watching the same show?" Jax questioned.
Jax originally chose Tom to be the co-best man with Tom Schwartz at his wedding, but he demoted him to groomsman, seemingly over the pastor drama. He also recently expressed that he wished he had excluded Tom from the wedding party all together. "I wish he was at the wedding, I just wish he wasn't in the wedding, if that makes any sense. It takes, you know — everybody up there plays a huge role in my life, huge role from the moment I moved to L.A., 'til the day I got married. That's why I had so many groomsmen and I couldn't just pick one. Each one of those guys, I love individually so much, and they've done so much for me, and I just, you know, the things that I was going through with Tom, it just ... it didn't make sense for him to be standing next to me," he told Entertainment Tonight.
Article continues below advertisement
Do you think Jax & Tom can move past their feud? Sound off in the comments below!