PHOTOS
Vicki Gunvalson Promises To Spill Untold Stories From 'Real Housewives Of Orange County' As She Plugs New Podcast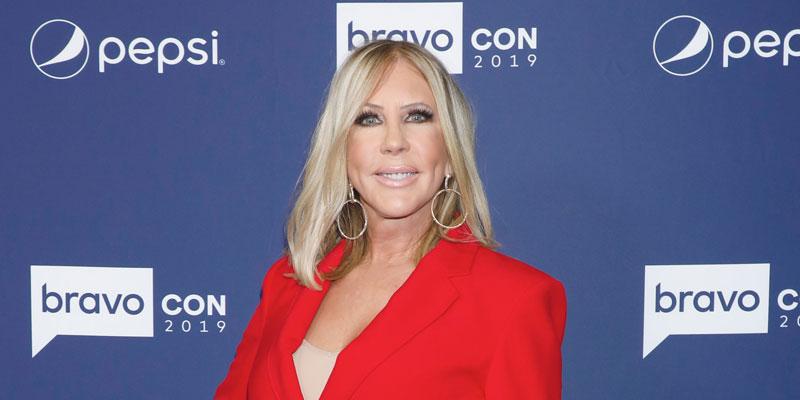 Vicki Gunvalson took to Instagram to plug her new Whoop It Up with Vicki podcast on Thursday, February 13. She teased fans with what to expect from her latest project, and hinted that she would share some untold stories from her time on Real Housewives of Orange County.
Article continues below advertisement
"Hey everybody, it's Vicki! If you've watched my journey on Real Housewives of Orange County, you know that my love is big and it's a big deal in my life. You've heard about my marriages, my romantic relationships ... how much I adore my kids and my grandchildren, and even how much I love to work at my office. Well, it's just about Valentine's Day and I want to tell you about something new in my life that I absolutely love and have been keeping it a secret. Anyways, it's my podcast Whoop It Up with Vicki. What better name than that?" Vicki, 57, said in the video.
Article continues below advertisement
She continued, "It will be premiering soon as part of the Westwood One podcast family. My Whoop It Up podcast will cover behind-the-scenes stories you've never seen on Real Housewives, my takes on pop culture, and the issues I really care about. Every episode will also have expert information about financial planning and security that everybody needs to know more about. Keep following me to find out which day we'll be airing and to listen. All you have to do is take your phone, go to Apple podcast, and subscribe to my super fun Whoop It Up podcast. I promise you're going to love it, and I'm going to love bringing it to you. I can't wait to share everything with you. Don't forget to subscribe."
"Awesome!! Love you!! Don't know if I will be able to watch the RHOC without you on it," one fan wrote in the comments section of Vicki's post. "Can't wait. You will always be the Queen of the OC," another person added. "Start your own show on a different network!!" a third fan urged.
Article continues below advertisement
Vicki broke the news that she would not be returning to RHOC on January 24, and costar Tamra Judge followed suit just days later. "I will always be the OG of the OC, but it's time to say goodbye to The Real Housewives of Orange County. It's been an incredible ride for 14 years and I want thank all of you for your support, for your love and for 'whooping it up' with me along the way. I've been working on new projects that will be exciting, empowering and inspirational. My podcast with Westwood One will be launching soon and I will have much more to say about this on Whoop it up with Vicki. I hope you will join me with my new journey so please stay tuned. I love all my fans, and I want to thank Bravo and Evolution for this incredible experience which my family and I have will never forget," Vicki wrote on Instagram.
Article continues below advertisement
"Vicki and Tamra have a one-year non-compete clause in their contracts. They will have to get special permission to film any other television shows for the next year," a source told RadarOnline.com.
Will you subscribe and listen to Vicki's new podcast? Sound off in the comments below!