REALITY TV
Brandi Glanville Hints Denise Richards' Exit From 'RHOBH' Was 'Calculated Timing' After Affair Drama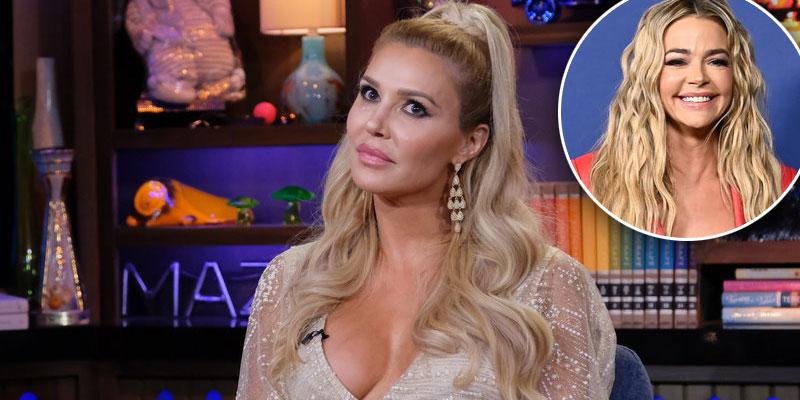 Glanville — who claimed she had an affair with Richards throughout the season — also confirmed that she "shot Watch What Happens Live" on September 8, so she wouldn't be able to speak about Richards' departure from the reality show. "I wish I saw the end of this reunion," she said. 
Article continues below advertisement
Season 10 has been filled with lots of drama, to say the least, and Richards and Glanville have been prominently featured — especially after the mom of two claimed she slept with Richards on her movie set in April 2019. 
"I had been out with her and her husband Aaron and I knew that they have, like, an understanding, like she could be with girls if she wanted to," Glanville said during a July episode of RHOBH. "The first night we met, something happened." 
Article continues below advertisement
CAST SHAKE-UP? FORMER 'RHONY' STAR KRISTEN TAEKMAN MOVES FROM NYC TO LOS ANGELES
According to Glanville, Richards insisted they should stay in the same room together. "There was no rollaway bed and so I just slept in the bed with Denise," she said. "I was uncomfortable. The kids were downstairs and we were in the loft and there was no door. And I just couldn't get into it." 
However, the Starship Troopers star — who is married to Aaron Phyphers — maintained her innocence and denied that she was ever involved with Glanville. "I did not have an affair," she told The Washington Post in July. "If I had an open marriage, I would be open about it." 
Article continues below advertisement
However, host Andy Cohen asked the former model why she called Glanville "a good friend" during BravoCon in 2019. "Look, I feel like you're trying to discredit this, and that's not cool, because I've done a lot of stuff," she said. "I've never socialized with this person in my entire life." 
Some of the ladies were skeptical about the Wild Things actress and even asked her if she had kept Glanville from coming to the reunion. "I owe her nothing. She's not a friend of mine," she insisted. 
Glanville seemed to have the last laugh on social media since she acknowledged that she has "never had sex with anyone else on the cast but if I could pick, I'd choose Erika Jayne."