REALITY TV
Derek Hough Replacing Len Goodman As Judge On Season 29 of 'DWTS': 'I Can't Wait'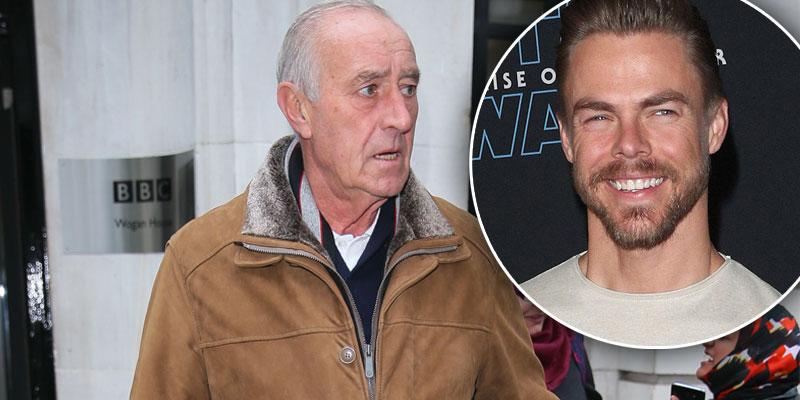 After Derek Hough teased he would be a part of Dancing With the Stars season 29 last week, the dancer revealed he will be a judge on the upcoming season. "I'm back!" the 35-year-old told Good Morning America on Tuesday, September 8. "This is going to be so much fun, but you better watch out because I am the one giving out the scores now. So, get ready."
"Man, I am so excited to be back in the ballroom," he shared. "It's like coming home, you know. Being a part of that show for so long, amazing memories and experiences and triumphs and failures and all the things. I am excited, man. I can't wait."
Article continues below advertisement
So, will the handsome hunk be tough with the contestants? "I mean, listen, one thing I can't hold or hide my expressions, I am very physically, obviously," he said. "But I will be fair. I will be honest, but I am excited. This is such an amazing show that is just so close to my heart, so being back, I am just so excited about it. I think I will be a fair judge, I will be a fun judge, but more importantly, I want to try to inspire and motivate these celebrities to have the best possible time they have as they get better each week. Yeah, it's going to be fun. I am excited."
Hough — who has been on the show for 17 seasons — can relate to what the contestants are going through since he was on the other side of the judges' table not too long ago. "I understand. I will be very empathetic and very compassionate as well," he admitted.
TYRA BANKS LOOKING TO SETTLE OLD SCORES AS DWTS EXECUTIVE PRODUCER
However, the six-time mirrorball trophy winner reassured fans that he won't be favoring any of the pros since they're his close pals. "There is a lot of love and mutual respect there," he said. "Also, too, what I am judging — the focus is on the celebrity, the focus is on their journey, is on their improvement, and that will be my focus and for me, it's such a special experience to be a part of, and I want each of these celebrities to have that special experience and so to be a judge, to help them and serve them in some way is what I am here to do."
Article continues below advertisement
Hough doesn't have any preconceived notions of the contestants — Kaitlyn Bristowe, AJ McLean, Chrishell Stause, Carole Baskin, to name a few — who will compete on the upcoming season. "The show is a wonderful place to get somebody's side of their story and the other side of somebody's character, who they might be and who they are. So, for me, I am just curious as everyone else," he revealed. "I am going into this with curiosity. I like to give people the benefit of the doubt, give them an opportunity to show another side to them. So, I am curious, I am looking forward to all of these amazing celebrities. I think there will be some really great dancers this season from what I see."
TYRA BANKS ADMITS PRESSURE OVER HOSTING SEASON 29 OF 'DANCING WITH STARS'
DWTS will look a little bit different this season as Tyra Banks is the new host of the show after Tom Bergeron and Erin Andrews were axed. Nonetheless, Hough "loves" the model. "She has an amazing energy, she is super creative, so I am really looking forward to working with her as well. She's going to be great," he said.
In July, Hough spoke about the surprising shake-up but acknowledged the changes wouldn't be bad. "For me, I'm always sort of a cheerleader for the show to succeed … especially for shows I've been a part of," he told Bevy Smith on Bevelations on SiriusXM's Radio Andy. "I want Dancing with the Stars to succeed and do well, and I hope it does."
Article continues below advertisement
However, sources told OK! that Len "doesn't think there is anything wrong with the show" and is frustrated with the ongoing casting changes. "As far as Len is concerned, he would never have replaced beloved host Tom Bergeron, but no one asked his opinion," the insider divulged.
"Tyra has taken over completely. She is an executive producer as well as the host and wants to change the show to a point where it's long-time fans won't recognize it anymore. The only person that is standing up to her is Len, which as you can imagine isn't going over well," a studio insider told OK!
Dancing With the Stars premieres on Monday, September 14, at 8 p.m. EST on ABC.
https://www.iheart.com/podcast/1119-naughty-but-nice-with-rob-55547728/episode/prince-harry-unleashed-following-150-million-71167465/?embed=true