REALITY TV
Heather Rae Young Slams Chrissy Teigen's Comments About Her Job: 'You Can Come To Our Office'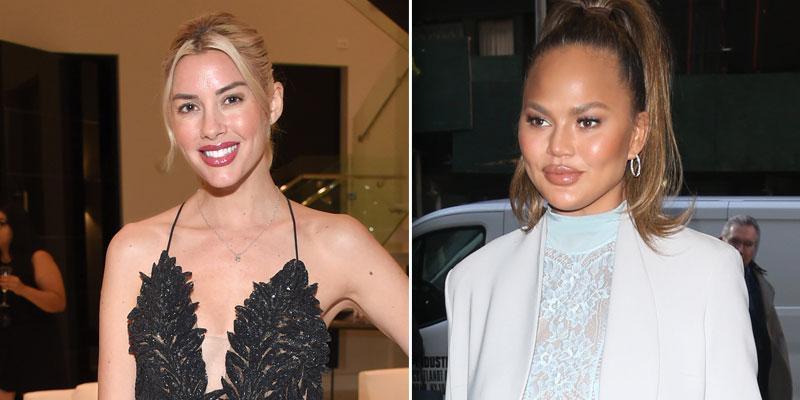 Selling Sunset star Heather Rae Young slammed Chrissy Teigen after the model didn't believe her job as a real estate broker was legitimate.
"My response to that is that I have had my real estate license since 2014," the 32-year-old told KTLA. "I've been with the Oppenheim Group since 2015. I sold my first house within three months of having my license. It was a $7.2 million house. A week later, I sold a $1.5 million condo and you can look up the proof."
Article continues below advertisement
THE TRUTH BEHIND 'SELLING SUNSET': THE SECRETS & SCANDALS OF THE CAST
Young also invited Teigen, 34, to "come to our office and visit us" if she needs anymore proof that the reality stars actually have real careers. "We've all been in the office for years and have known each other for almost six years. Maybe because she doesn't know us doesn't mean we're not real real estate agents," she said.
The blonde beauty was confused as to why Teigen hasn't seen them around town. "We are a boutique agency," Young explained to Access Hollywood. "But she has seen the show. She obviously has heard of us at this point so, I don't know where she's being hiding under a rock. We all are very active real estate agents and we are very, very busy at the moment."
Earlier this month, the cookbook author took to Twitter to reveal she was obsessed with the Netflix show. However, she wasn't fully buying the idea that cast — who show million-dollar listings in the Hollywood Hills — were actually selling houses. "I just watched all of Selling Sunset after watching everyone talk about it for so long!" she wrote. "I don't even think anyone on it is as mean or insane as you guys said?"
Article continues below advertisement
The soon to be mother of three concluded her Twitter rant, writing, "I will say, I look at L.A. real estate a lot and have never seen any of these people lol either have our agents, who I have obsessively asked."
MORE ON:
The Oppenheim Group
Article continues below advertisement
He added that "even a superficial investigation" would show "more than 50 years of combined licensed real estate experience from these agents."
Oppenheim also responded directly to Teigen at the time of her tweets, writing, "Chrissy, thanks for watching our show! Regarding your agent's knowledge of members of my team, I respectfully don't know him either although that doesn't mean that he isn't successful and didn't just sell you a stunning home in Weho (seriously, I love your new house)."
Article continues below advertisement
Fitzgerald, 39 — who recently revealed she was legally married to her husband, Romain Bonnet, before their nuptials aired on television — told Page Six, "I love her," adding she was absolutely "fangirling" when she found out Teigen watched their show.
"I'm sure she'll see us around or she'll end up wanting to buy one of our properties at some point soon," she told the outlet. "Chrissy, call me up!"
After Teigen's tweet went viral, Chrishell Stause, 39 — who is going through a very public divorce from This Is Us star Justin Hartley, 43 — poked fun at the situation on her Instagram page. "Staging starts tomorrow, hits the market Monday. I'm really a real realtor — LOL!" she wrote.