STYLE
Styled by Stassi: My 5 Favorite Holiday Looks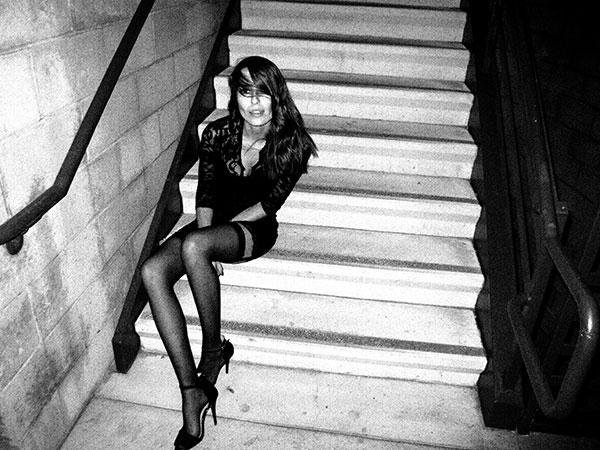 Vanderpump Rules' Stassi Schroeder is OK!'s newest style star! Each week, Stassi will be giving you a peek into her chic world to hear about the fashion trends she's loving and how she's using them to style herself and her friends.
The holiday season is my favorite time of year, not just because of spiked eggnog, but because it's the best excuse to get dolled up on a regular basis. With endless Christmas parties and holiday events flooding our schedules, there are plenty of opportunities to break out our most glamorous glittering looks. While it would be nice to go out and snag a new dress for each soiree, most of the holiday season is spent saving our pennies for Christmas gifts and plane tickets. It's easy to get somewhat discouraged with our party attire, but I have some tips to help you feel holiday-ready with your wardrobe this year. All you need are a few key pieces to add an element of wintery glam.
Article continues below advertisement
Lace—This luxurious fabric is a favorite go-to of mine for the chilly weather. It adds an element of sex-appeal to your wardrobe, and manages to feel edgy and feminine at the same time. Lace is tricky, as it can sometimes come off as "cheap looking" if worn incorrectly. To prevent this from happening, try lace in muted colors and don't overdo it. If a lace dress is too much for you, try a great pair of lace booties or lace stockings.
Statement Jewels–It's no secret that I am a sucker for statement jewelry. I've always believed that the best way to update a look is to update your accessories. I love classic well-tailored clothing that can stand the test of time, so when a holiday party rolls around, I take my classic pieces and pile on sparkly jewels. For your next party, take one of your LBD's and add a bold statement necklace for an easy festive look that takes only moments to put together!
Velvet–Velvet is another opulent fabric that oozes elegance. I love velvet pieces in decadent jewel tones, as it lends a certain richness to any outfit. While velvet is fancy and refined, the heaviness of the fabric will also keep you warm in snowy nights.
Touch of Sparkle–The holiday season is the season of sparkle. Many of us tend to shy away from sequins and glitter throughout the rest of the year, but during Christmas all bets are off! A gold sequined jacket can update your work pantsuit, and a great sparkly mini skirt can be paired with a cozy sweater. Again, just try not to overdo it. It's best to keep the shine at a minimum so as not to look too flashy.
Jumpsuits—The jumpsuit is my favorite alternative to the holiday dress. Jumpsuits can easily go from day to night, and always offers a polished put-together look. If you're not a frilly dress type of girl, try a black strapless jumpsuit that you can update with different jewels and accessories.
In this look, Kristina Kelly wears a black lace-sleeved dress with tights and elegant simple heels. The look is refined, edgy and feminine all at once… and not to mention, totally holiday party appropriate!
How to Style a Classic Sheath Dress
Here are some of my favorite holiday staples: