STYLE
Why Kelly Rowland's Baby Will Have One Super Impressive Shoe Collection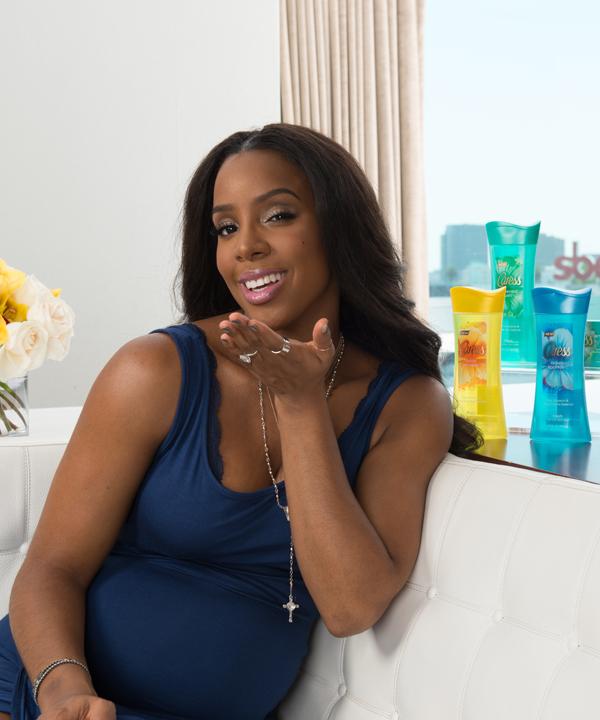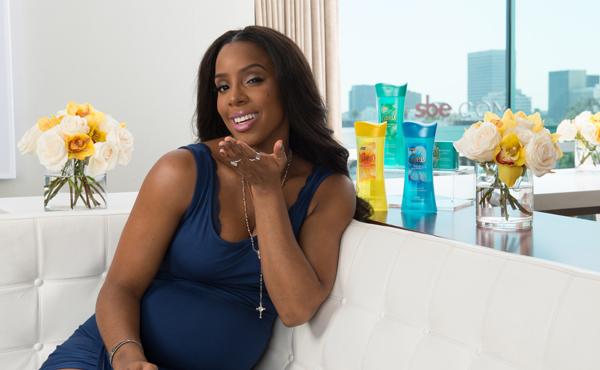 Celeb babies have the coolest gear—super cute clothes and shoes even you'd be jealous of. And we have reason to believe that Kelly Rowland's baby boy is going to have the coolest kicks around.
While chatting with mom-to-be Kelly Rowland about her partnership with Caress' #AmpYourFab Selfie Contest on Facebook (a really cool collaboration with major prizes that you can check out HERE!), the celeb opened up about her VMA nomination, gave us some quality selfie-taking tips, and even spilled on her pregnancy. Yes, and her baby's shoe collection. Take a look!
Article continues below advertisement
OK! Magazine: How do you feel about your VMA nomination?
Kelly Rowland: I'm very excited, especially because it's with a social message. Do you know what I mean? You can express yourself through music but also have something to say.
PHOTOS: 12 Celebrities Who Are Open About Breastfeeding
OK!: Tell me a little bit about the #AmpYourFab Selfie Contest with Caress.
KR: It is the coolest thing. You know how selfies are completely taken over our culture right now. All they do is take really cool selfies and upload them to Caress' Facebook, and I actually shout out the winner live on the red carpet. I feel like everybody gets a chance to express themselves in their own way. It's a really cool campaign, and I hope everyone gets involved. They have to get involved because I'm definitely going to be checking out some selfies myself. Trying to get some inspiration for the VMAs!
OK!: So do you have any secrets on how to take the best selfie?
KR: Always pull the camera a little bit above your face. You don't want to take the selfie from up under your chin. It's not a good angle. Lighting is key.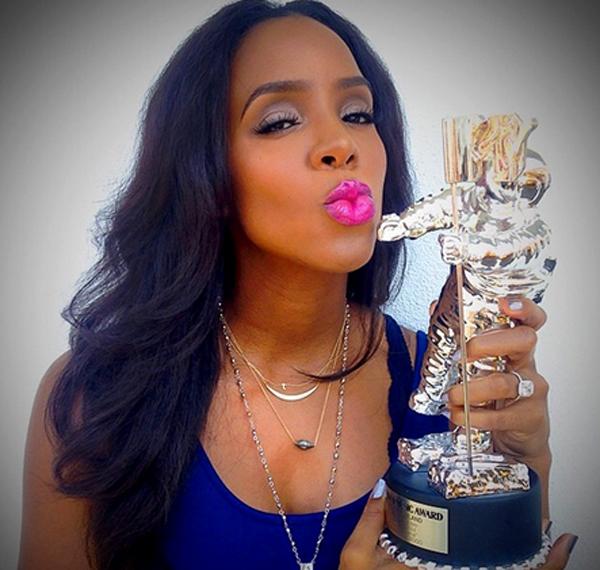 OK!: I've heard that. Do you look for natural light?
KR: Yes, I do. I look for natural light. The right angle—and you have to know your face. Selfies actually teach you a lot about your face.
Article continues below advertisement
OK!: You've worn some pretty amazing dresses to the VMAs. Do you have a favorite?
KR: It was a black dress with gold embellishments and feathers on it. It was sexy. A lot of cleavage there!
WATCH: Gretchen Rossi's Mind-Blowing Secrets to Removing Stains
OK!: Last year's VMAs were really eventful. What's one thing you'd like to see happen at this year's VMAs?
KR: I'm always surprised by the VMAs. You never know what happens in that night. There are really no rules.
OK!: Congrats on your pregnancy. How has your style changed now that you're expecting?
KR: I just want to be comfortable. I do. That night at the VMAs, I want to be comfortable, but of course, still fabulous.
OK!: What are some go-to beauty products you're loving right now?
KR: I'm really using a lot of natural products right now, like shea butter and coco butter. Stuff that smells good and is good for stretch marks.
PHOTOS: Kate Hudson By the Numbers: Get the Scoop on Her Massive Net Worth
OK!: Are you craving anything in particular right now?
KR: Anything between two pieces of bread is just fine with me.
OK!: Have you found any amazing baby products so far?
KR: My husband is buying the baby every new sneaker on the block right now.
Will you enter Caress' Selfie Contest? How many sneakers do you think Kelly Rowland's baby already owns? Tweet @OKMagazine and leave a comment below.