VIDEOS
The Little Couple Worries About Son Will's Health, Bill's Concerned Jen May Be Overprotective Mom!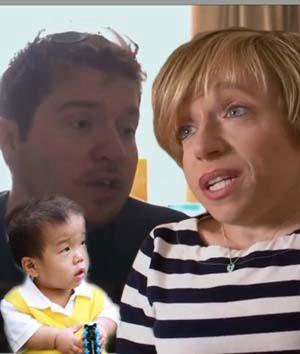 Article continues below advertisement
Before being allowed to take Will back to his new home the three-year-old has to undergo an in depth medical check and Bill is concerned Jen's overprotective mom side, combined with her medical expertise—she works as a neonatologist at the Texas Children's hospital back home in the States—could stand in their way of getting the all clear!
OK! News: Watch The Little Couple Bond With Their Son Will!
"Will needs to be checked out to make sure he doesn't have any infectious, contagious diseases before he heads to the U.S.," explains Jen.
Article continues below advertisement
"I won't go crazy!" The mew mom promises. "I just want to look in his ears. I just want to make sure before the trip he doesn't have an ear infection, he doesn't have pain."
OK! News: The Little Couple Are Adopting A Little Girl From India!
"Bill's afraid if I bring up something that's a problem that it could potentially slow us down from getting on a plane or getting Will home," Jen later explains to the camera.
"By bringing up all these things you may just scare the heck out of those doctors and and actually do more harm than good," Bill warns.
OK! Photos: The Little Couple Stars Show off Their New Son
"It may be difficult for me to separate pediatrics and being mom," Jen admits, "but at the same time I know I definitely don't want to be Will's doctor.
"I know I am going to be looking for stuff though, just because that's the way my brain thinks!"
To find out if Will gets the all clear, watch the full episode of The Little Couple on TLC, Tuesday 9/8 central.
What kind of parents do you think Bill and Jen will be? Sound off in comments below and tweet us @OKMagazine